Arnold Schwarzenegger Terminates Gasoline With His Custom Electric Mercedes G-Wagen
No more Hummers for the Governator.
Kreisel Electric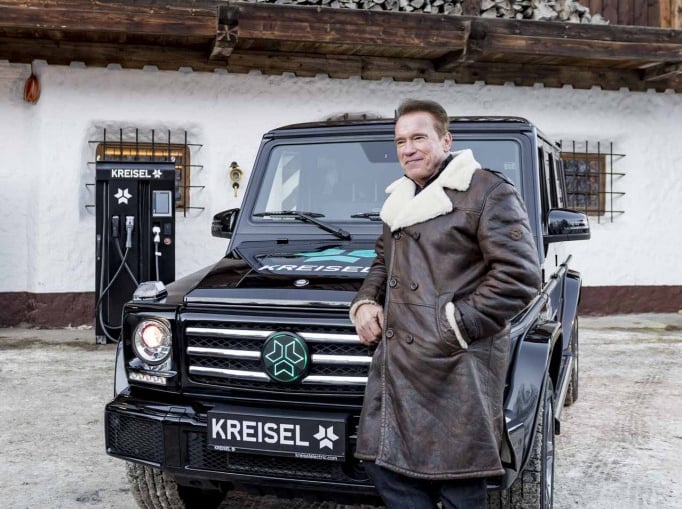 Arnold Schwarzenegger singlehandedly sparked the emergence of General Motors' Hummer military-look SUV brand when he legalized an Army humvee for street use and captured the imagination of fans who also wanted massive off-roaders. Now, The Governator has translated that love of rough-and-ready 4x4s into environmentally friendly terms, with the creation of an all-electric Mercedes-Benz G-Wagen.
Austrian electrical specialist Kreisel Electric has built the muscular Austrian ex-pat a 490-horsepower electric Mercedes G-Class that has a "realistic driving range" of about 185 miles. 
It also accelerates to 62 mph in 5.6 seconds and has a top speed of 115 mph, which seems like plenty for an off-roader.
The electrified 4×4's battery pack stores 80 kilowatt-hours of juice, which is slightly less than that of the 90 kWh Tesla Model S P90D. Like the Tesla, Kreisel promises that this EV's battery pack can be quick-charged to 80 percent of its capacity in 25 minutes.
Electric car makers like to quote that number because as batteries near a full charge, the recharging rate slows down.
Schwarzenegger says that he will bring the Mercedes to his home in Los Angeles to help promote EV use. "This amazing off-road vehicle as a clean and fast electric car? A dream has become real!" crowed the excited actor.