These Porsche 911 Customs Are The Ultimate Automotive Upgrades
Singer Vehicle Design transforms the storied 911 into stunning custom supercars.
The late 1980s. Somewhere in the wilds of the English countryside, I get my hands on a tired Volkswagen Mk1 Golf. Not the sprightly GTI of legend. Rather a wheezing 1.3 GLS on bicycle tires. In keeping with its wine-colored paint job, it drinks more oil than petrol, but still makes the 6.5-mile twisty country lane run to school in under six minutes. Complete with hedgerow scratches, tire squeals, fading brakes and shaking heads from other petrified road-users. 
The four-speed manual stick shift works overtime searching a gearbox that feels like a wooden spoon stirring drippy cake mix. Meanwhile the London City Boys wear red braces, pinstripe suits, flash watches, and speed by in bright red Porsche 911 Turbos. A piece of kit all wheeler-dealers aspired to. Not because they loved driving them. But because of the message they sent.
Porsches would slowly go from being badly-engineered Volkswagen Beetle offshoots, to wide-boy 911 whale tail widow-makers, to docile Turbo S doctor's chariots. Somehow a car that never should have shone became the shining example of Calvin Coolidge's most memorable motto. Persistence won. And I am thankful it did. For without Ferdinand Porsche's greatest creation having survived through the decades, Singer Vehicle Design founder and creative director Rob Dickinson would never have picked up a wrench and decided to hotrod the car to the point where "everything is important." 
I first came across Singer in the company of a friend based in Monaco. Sadly I never got to take his restored Porsche 911, the "Monaco" commission, for a ride. But I often pondered whether the reality could ever match up to the level of hype surrounding Dickinson's shop. In a world of sparkling new machines costing more than a country estate in rural France, why would someone want an old Porsche tinkered with by an English ex-rocker based in Los Angeles? I am trying to be critical as I answer that question both for myself, and for the schoolboy inside me. As the sum of money required to persuade Mr. Dickinson to focus his time and attention could be applied to the combined purchase of a spanking new Lamborghini Huracán and a Bentley Continental GT, with pocket money left over for Cars & Coffee. 
So how on Earth is this even possibly a smart thing to consider? For I can categorically tell you that it is. With only one caveat: You must share a schoolboy's appreciation of all things analog. Of a driving experience so pure it literally sings. There are some things that money cannot buy. For everything else, there is Amex. If you have one of the fancy black ones you could do a lot worse than trying your luck with Rob, then sitting and waiting until a car comes your way, which will take control of the situation much like Mike Tyson at his peak. As Iron Mike liked to say, "everybody has a plan… until they get punched in the mouth." Well, a Porsche 911 Reimagined by Singer is that proverbial punch in the mouth. Frankly, it will floor you, your mates, and every other character you know with pretensions of having a fancy car. 
Provided only that you love driving. Heel and toe, precision gear change, dialed-in sort of driving. Man and machine in perfect harmony driving. Not 246 mph in a straight line down a closed road in Nevada driving. More like slightly in excess (well, perhaps completely ridiculously in excess) of the speed limit on a country lane designed by a chap with a penchant for spirited driving. This car inspires a desire to take it places. Not to show it off. But to selfishly drink in with greedy pleasure the magnificent feeling of having caught a unicorn in the wild and gotten away with riding it. The PCH, the Stelvio Pass, Edinburgh to Islay, and any number of bonkers trips could be had in this thing. All with a shit-eating grin spread so far from ear to ear you may just be mistaken for a sociopathic Joker.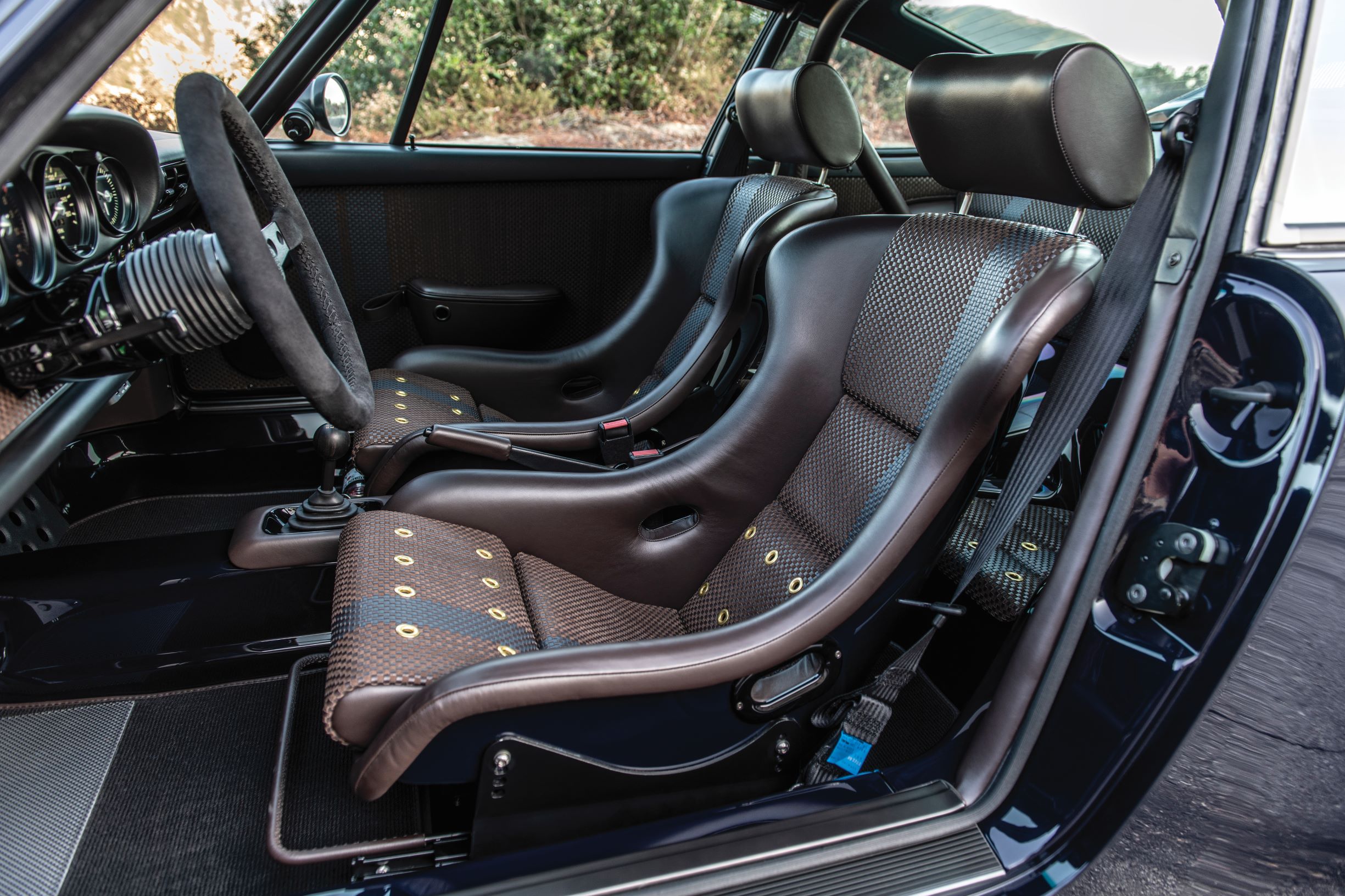 It is simply that good. And you honestly do want to drive it like you stole it. I was lucky enough to get behind the wheel of one of the newest commissions delivered, dubbed the Sine Qua Non restored by Singer. Entrusted to Rob's care as a 1990 Porsche 911 964 C2, the car was then stripped back to the frame before receiving the Singer Vehicle Design treatment. This is the Wolverine of Porsche 911s. Strengthened. Lightened. Upgraded everything. And clothed in any number of color and detail combinations inside and out to your spec. 
It's 4.0 liters of prime German technik, reimagined and re-engineered to a sticker somewhere far north of Singer's starting restoration price of $475,000 plus the donor car. As you would hope with a machine of this caliber, its owner is not a bean-counting wretch of a man who wants to put it in a glass chamber. Despite the fact that it will no doubt appreciate at a higher rate of knots than the S&P 100. He's quite the character. With some GT racing chops and a penchant for experiences. Which he got in spades when he bought this. That is for sure. 
https://www.instagram.com/p/B7BsxNzBpAR
The Sine Qua Non is a thinly-disguised 1970s-style rock 'n' roll rocket ship expertly forged into a whole that is so much more than the sum of its magnificent parts. Solid. Planted. Quick. From the hand-built Ed Pink Racing Engine, to the retro perfect gauges, Getrag G50 six-speed stick shift gearbox, and tactile ebony wood gear knob, everything is thoughtful. Everything is right. Balanced. Purposeful. Tight. No more, and no less, than is required for the balance that is perfection. 
I could continue to wax lyrical about the man-hours spent building this car, or the meticulous attention to detail and perfection of execution that has gone into its realization; but I won't. It is not that all the technical magic is irrelevant, or that the incredible focus and hard work that has gone into creating such aesthetic and engineering excellence is unrecognized. It is simply that that is to miss the point. 
https://www.instagram.com/p/B6VxcCnByZh
This is not a car. This is a means of transportation for your soul. And all of the in-depth technical improvements and subtle aesthetic tweaks are what make the magic. Without them this would just be another very expensive toy. But it isn't. It is a time machine that takes you to places beyond the wildest dreams of the kid inside us all.  
Singer's Rob Dickinson Talks Philosophy, Performance and Porsches  
In 2009 Rob Dickinson, former singer and guitarist for '90s Brit rock band the Catherine Wheel, founded Singer Vehicle Design in California. Before embarking on a music career, he had studied industrial design and did a stint at Lotus. A longtime car guy, the first ride he upgraded was a 1969 Porsche 911E, known as the "Brown Bomber," which he made into a "café racer-style 911 that I could drive around L.A. and take to the track." The overwhelming response to the customized car led to the birth of Singer. 
What is Singer to you? 
It's a philosophy really. We combine in-depth knowledge of design icons with cutting-edge engineering, modern material science and highly bespoke services. The Porsche 911 Reimagined by Singer represents what happens when that philosophy is applied to an iconic air-cooled sportscar. Carbon fiber bodywork, enhanced engine performance, highly evolved dynamics, and the ability to tailor the dynamic response and aesthetics of your car to suit your preference for touring, fast-road or track performance… So I think there are elements of both curating and perfecting in what we do. We understand the heritage and perhaps we are underlining and introducing some of these aspects to a new audience for the first time. 
Why focus only on air-cooled Porsche 911s? 
That's testament to the [air-cooled] 911 being such a special car, not just for the aesthetics and the driving experience but in terms of its heritage at iconic races like the Targa Florio and Le Mans. On road, track and rally stages it's won everything, and that DNA makes the car such an engaging machine. We're around them all day and we still want to drive them home. 
Do you still work on the cars yourself? 
I don't wrench on the cars now—though in the early days it was all hands on deck! Now Singer has expert teams working across areas including engineering, procurement, fabrication, mechanical assembly, electrical systems, interior trimming, quality assurance, and test driving, as well as client relations, sales and marketing and more. I have a design team and studio now and remain intimately involved in the overall direction of the company. 
What will be Singer's legacy? 
The Singer philosophy is to distill the essential elements of an experience like driving— what makes a car deliver an emotional connection, whether it's visually or dynamically. We're guided by the mantra "everything is important," so we'll go to whatever level of detail is required by the collaboration with our clients. And we go beyond the mechanical objects themselves. What we have started to call the Singer experience is our program to provide clients with bespoke experiences centered around their cars. Any legacy will be built on insisting that all these elements are recognized and preserved so that truly engaging, jewel-like machines are around for a long time yet. 
https://www.instagram.com/p/B5qJ6j_BpDD