The 376-Foot Hydrogen-Powered Aqua Could Be the Superyacht of the Future
Dream boat alert.
Any superyacht the size of a small skycraper is impressive, but the ultra-luxurious 376-foot Aqua by Sinot Yacht Architecture & Design and Lateral Naval Architects is creating a buzz at the Monaco Yacht Show for another reason: its high-tech power plant. 
"With every project, I challenge my team and myself to surpass ourselves," Designer Sander Sinot told Forbes. "For development of Aqua we took inspiration from the lifestyle of a discerning, forward-looking owner, the fluid versatility of water and cutting-edge technology to combine this in a 112-meter superyacht."
That "cutting-edge technology" is a new propulsion method that uses a combination of electricity and liquid hydrogen, which is stored at -423.4 degrees Fahrenheit in two 28-ton vacuum isolated tanks. 
According to Boat International, the proton exchange membrane fuel cells convert hydrogen into electrical energy that propels the vessel and powers auxiliary systems. The system is quieter than combustion engines, and because the only byproduct is water, it's also eco-friendly. 
"Imagine AQUA at open sea, moving water with water," Sinot said of its performance capability, "at 17 knots with a range of 3,750 nautical miles, AQUA could be solidly in the forefront of its superyacht peers."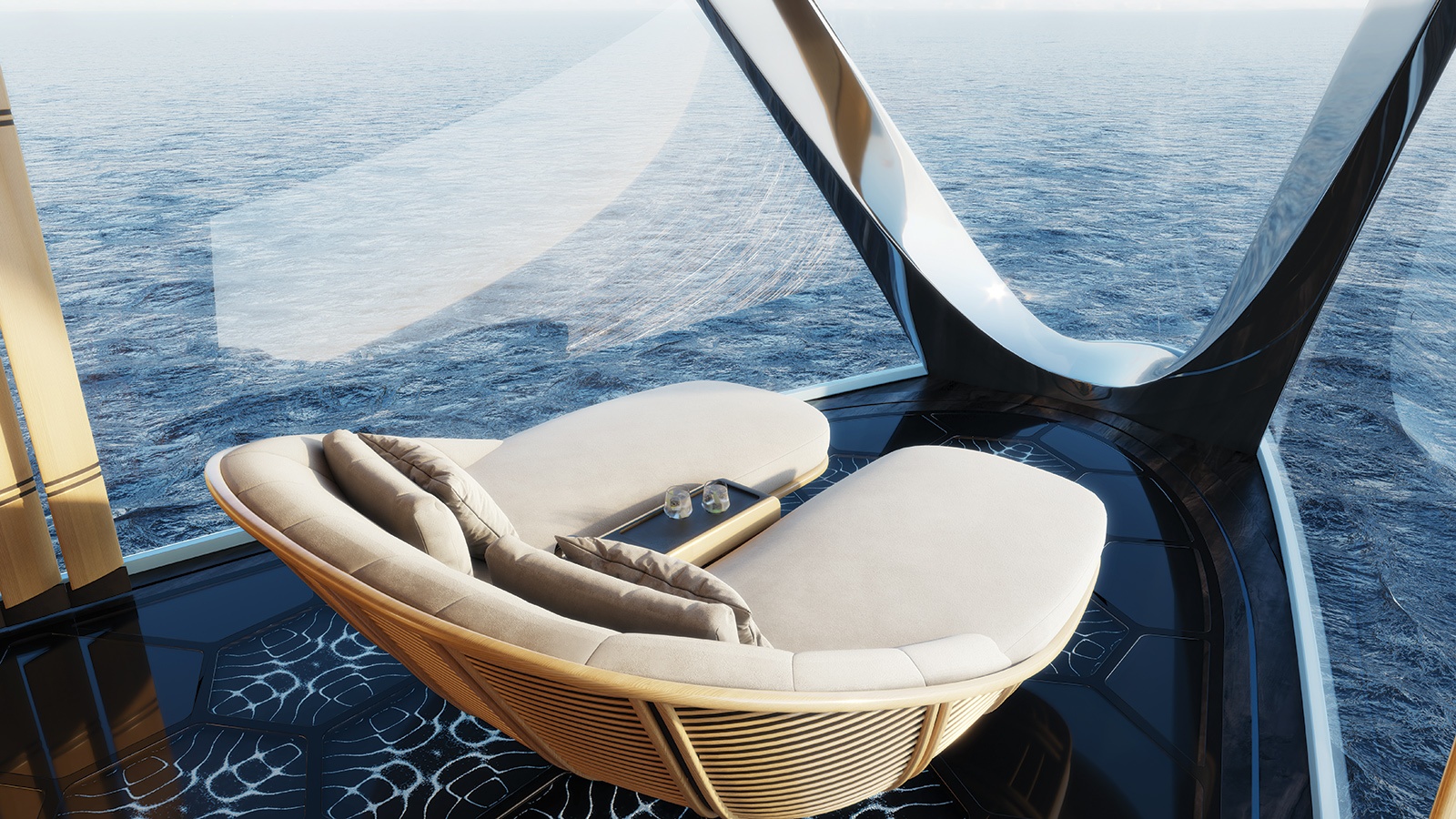 Not to mention, it'll also match competitors in the style and amenities departments. Renderings show five decks of total opulence and floor-to-ceiling windows. The hull is sculpted, carved and intersected by glass to mimic the look of waves.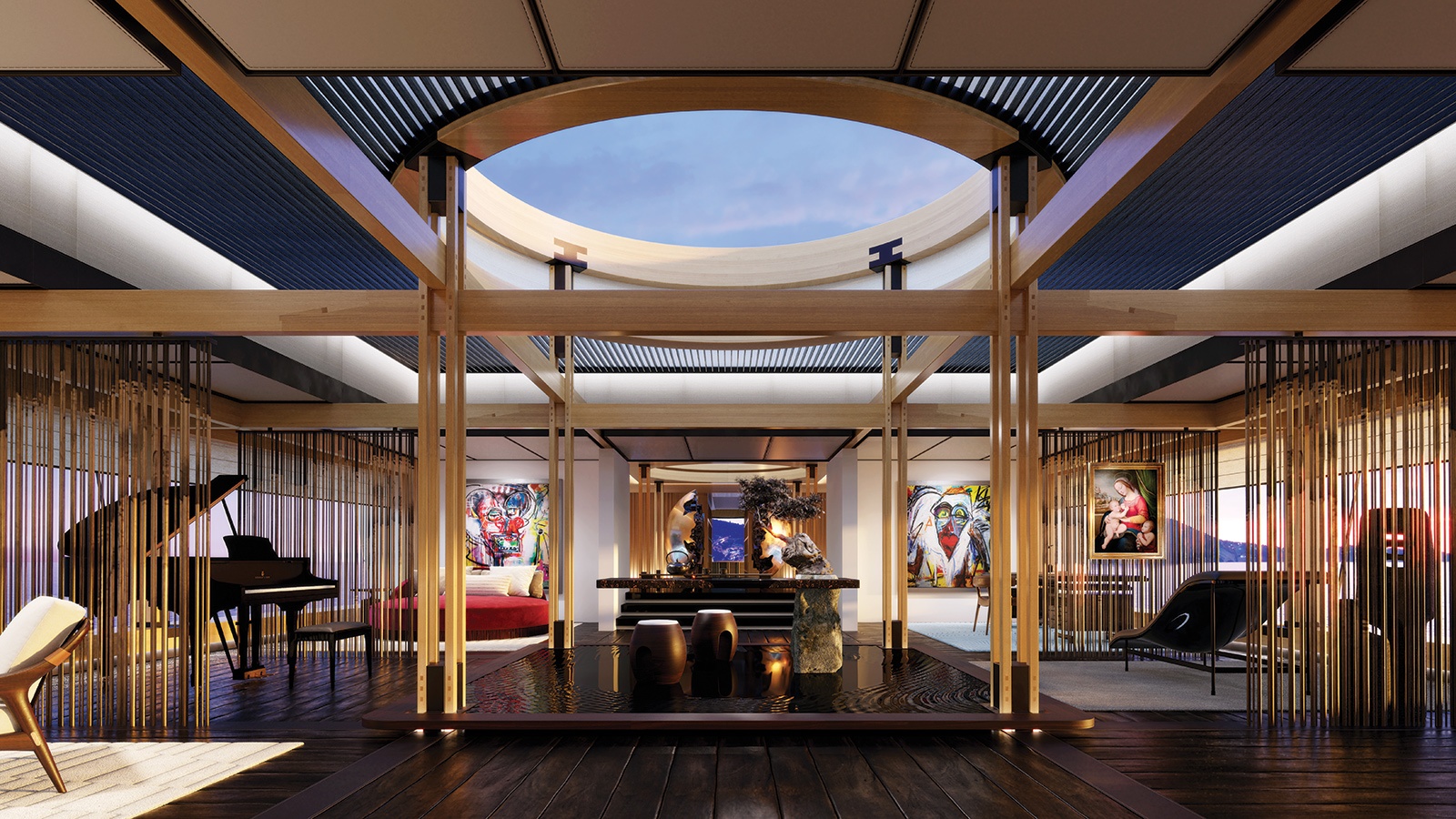 Up top is a beach deck that surrounds a cascading pool. Luxurious VIP state rooms and guest cabins are also located on the beach beck, which sits close to the water's surface. 
The next level is an upper deck that's divided in two. One side is an open-concept owner's pavilion with rooms separated by finely crafted wood screens. The other side is the Aqua room, which offers passengers the best views of the sea available aboard.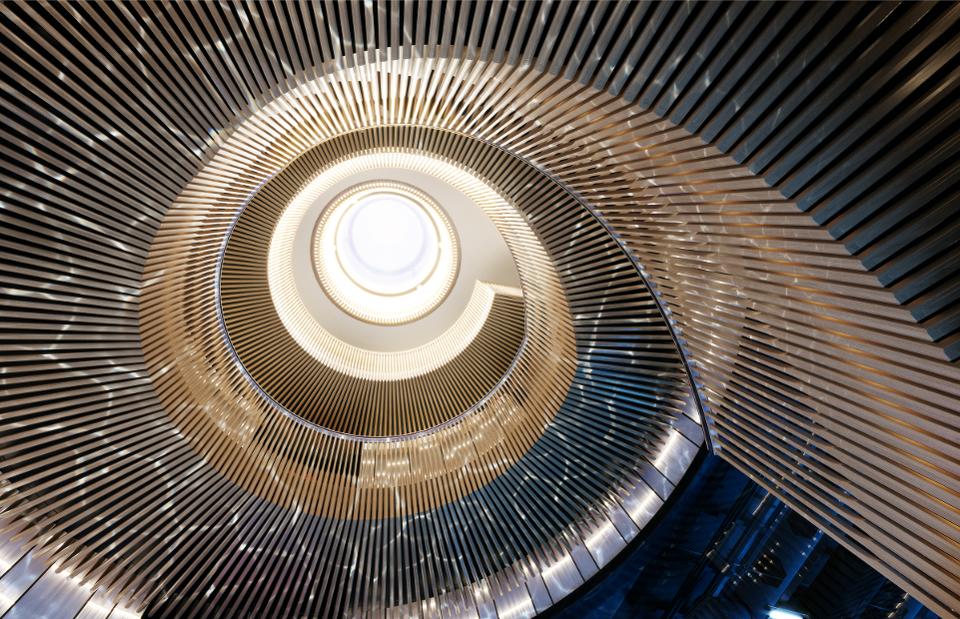 Below deck is an indoor health and wellness center with a water massage room, yoga space and workout floor. The most striking feature might be a giant spiral staircase that provides access to all decks, as well as a look at the glass-enclosed hydrogen tanks.   
Hopefully some multimillionaire mogul can pay to make the Aqua reality.