This is the Snow-Camo Lamborghini Huracan You've Been Waiting For
For when a regular Lambo just isn't flashy enough…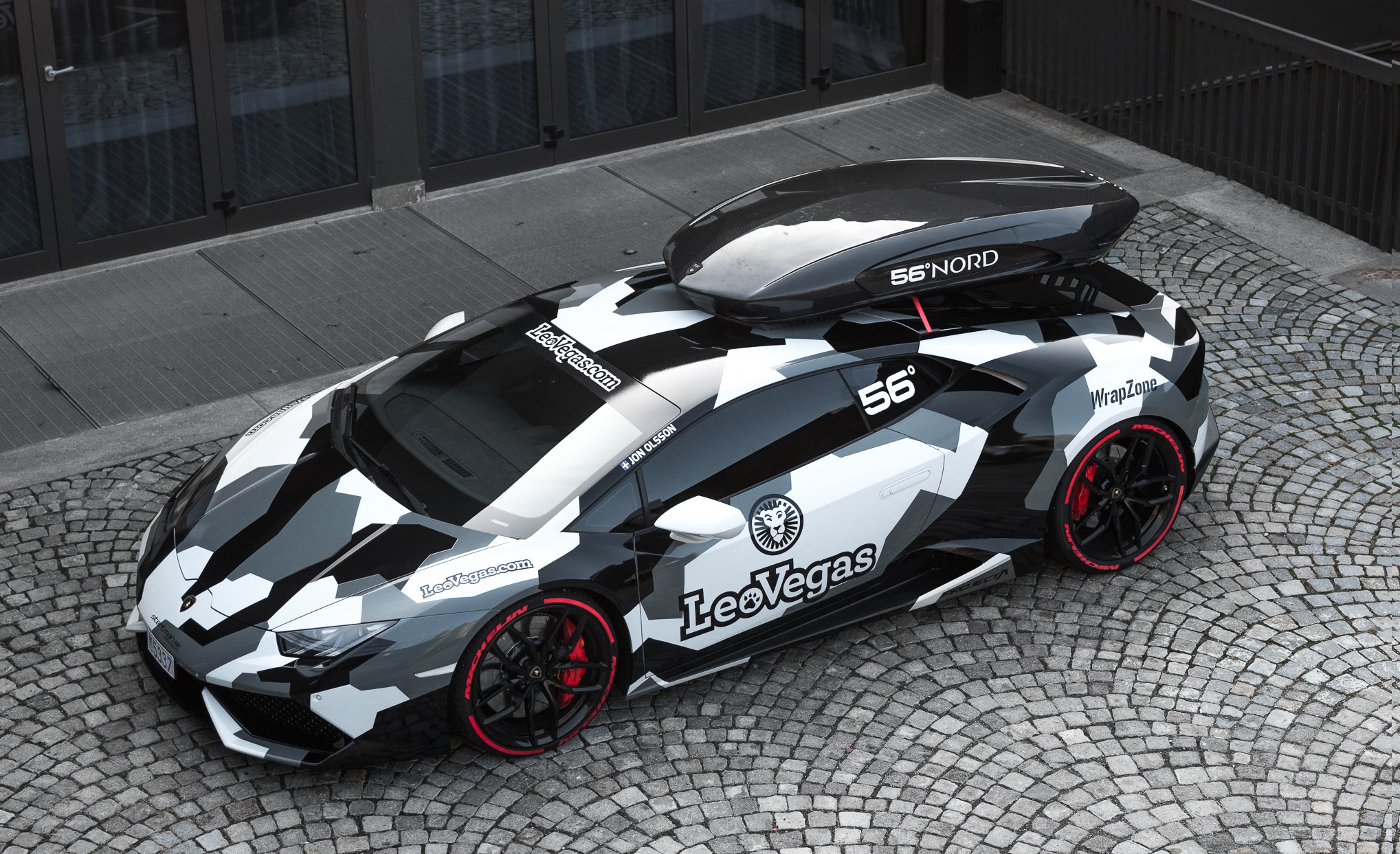 It's probably faster to list the incredible supercars pro skier Jon Olsson hasn't owned than the ones he has, but his ride for the upcoming World Cup season is his most extreme yet: a customized 2016 Lamborghini Huracan.
The car wears Olsson's signature snow camouflage livery, plus a 56° Nord rooftop ski box for his important work equipment. The camo is a wrap provided by Wrapzone using Olsson's design.
Swedish tuner Stertman Engineering built the car for Olsson, installed the $32,995 supercharger kit from VF-Engineering to boost the Huracan V10 beyond the factory specification of 602 horsepower, which is clearly inadequate for driving to ski resorts in the Alps all winter.
The kit employs the same Eaton 2300 roots-type supercharger that Chevrolet used on the Corvette ZR1. VF rates the blower at 805 horsepower, but Stertman added its own upgrades beyond the kit for even more power according to Olsson, who said "this is quite a bit more extreme so the car is just wild!" on his blog.
The car explodes from 100 kph to 200 kph (62 mph to 124 mph) in just 5.3 seconds, which he says compares with the 5.0 seconds needed by the Bugatti Veyron.
The police won't be caught by surprise during such runs, because Stertman also bolted on a titanium Akropovic exhaust system. On the intake side, they added Eventuri carbon fiber intake runners, and Olsson has ordered a more revealing engine cover to help show off the upgrades.
Driving through the chilly weather to ski races is unsuitable for the carbon ceramic brakes available for the Huracan, so Olsson specified high-performance cast iron rotors from Girodiscs. 
What makes less sense, considering the likelihood of snow, is that he lowered the car using K&W suspension components. "I know its a bit lower than your ideal winter transporter," Olsson acknowledged. "But who ever said epic was always practical?" he added.
Epic indeed.