These Mini F1 Grand Prix Cars Might Be the Most Fun You Can Have On Four Wheels
Sometimes bigger isn't better.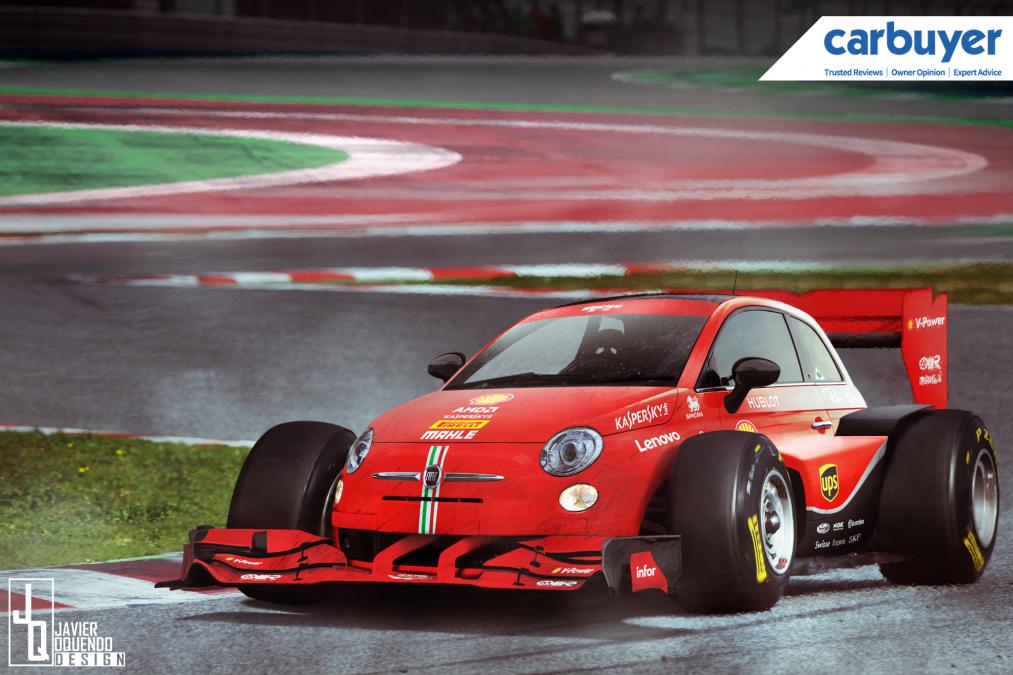 Formula One race cars are purpose-built thoroughbreds. Usually. But designer Javier Oquendo has dreamed up wild notions of turning European subcompacts like the Fiat 500 into full-on F1 racers. Check out some of his racy visions below.
Designboom reports:
This funky idea by UK media company dennis publishing and automative designer Javier Oquendo proposes some radical new changes to Formula One racing. The new league would have major car companies take their tiniest line of cars and turn them into racers for a miniature grand prix. 
Needless to say it would pose new challenges to drivers and engineers alike undoubtably providing an interesting racing experience for viewers. Here's what these little race cars would look like complete with massive tires, fins and sponsor decals. 
Ferrari's Fiat 500
Ferrari is a Fiat brand, so it makes sense to pair the adorable Fiat 500 with the racer from the legendary Prancing Horse. Oquendo might have hit on the one way to make Ferrari even more popular in Italy.
Red Bull's Aston Martin Cygnet
Red Bull drivers Daniel Ricciardo and Max Verstappen were probably looking forward to their new company cars when Red Bull signed a deal with British brand Aston Martin, but they might not have considered the short-lived, now-discontinued Cygnet city car as one of their possibilities. Here is the Cygnet, converted for race duty.
Sauber's Alfa Romeo MiTo
As with Red Bull's Aston Martin deal, Swiss team Sauber is partnered with Alfa Romeo this season, making the Italian brand's stylish MiTo supermini the ideal subcompact makeover candidate for the team.
Toro Rosso's Honda S660
Red Bull's Italian sister team, Toro Rosso ("Red Bull" in Italian) features Honda-provided gas-electric hybrid power units this season, making Honda's S660 minicar the ideal match for this team. .
Mercedes-AMG's Smart Car
The world champion Mercedes-AMG team doesn't need a partner, because Mercedes builds its own minicar, the Smart. Here's what it might look like if it were a little less smart and a lot more sexy.