Inside The Brooklyn Workshop of America's Most Stylish Bicycle Builder
This is where art meets bike.
Here's a trivia question: When Ralph Lauren—he of world conquering taste and discernment—wants a custom bike, where does he go? The answer is Ascari Bicycles (you'd be forgiven for not knowing the name), the brainchild of Helio Ascari, a 40-year-old Brazilian native who's been making bespoke bicycles since 2011. 
A former model for Ferragamo and Gianfranco Ferré, Ascari has the bearing of someone who inhabits his physicality effortlessly, the result of an early life spent working with his hands in a steel factory, and later with wood. He decided to put his mechanical expertise in auto body repair to use building custom bikes, and a few years ago, an introduction to Lauren transformed his enterprise.
"A guy like Ralph Lauren has seen pretty much everything there is to see in the world," says Ascari, holding a custom gold handlebar in his tightly organized South Williamsburg studio. 
"I knew I had to create something special. We sat down for about an hour and a half talking about everything—design, but also life in general—and for me, just a guy from southern Brazil, the meeting with Ralph was a big endorsement for my dream." The bike—a year and a half in the making—now sits in Mr. Lauren's office.
More than style totems, Ascari's bikes are the physical embodiment of his technical skill. He creates the handlebars, brake levers and fenders of each piece by hand and uses parts that would satisfy even the most exacting gearhead: cranksets from Rene Herse of Boulder, Colorado; hubs from Chris King in Portland; headsets from vintage-inspired dealer Curtis Odom in San Diego; wooden rims from Ghisallo in Como, Italy. 
Most of his frames are constructed through the fillet brazing process, a lower temperature method of bonding tubes that results in stronger connections than welds, which drives the average price for one of his creations to about $20,000 (conventionally welded options start at $6,000).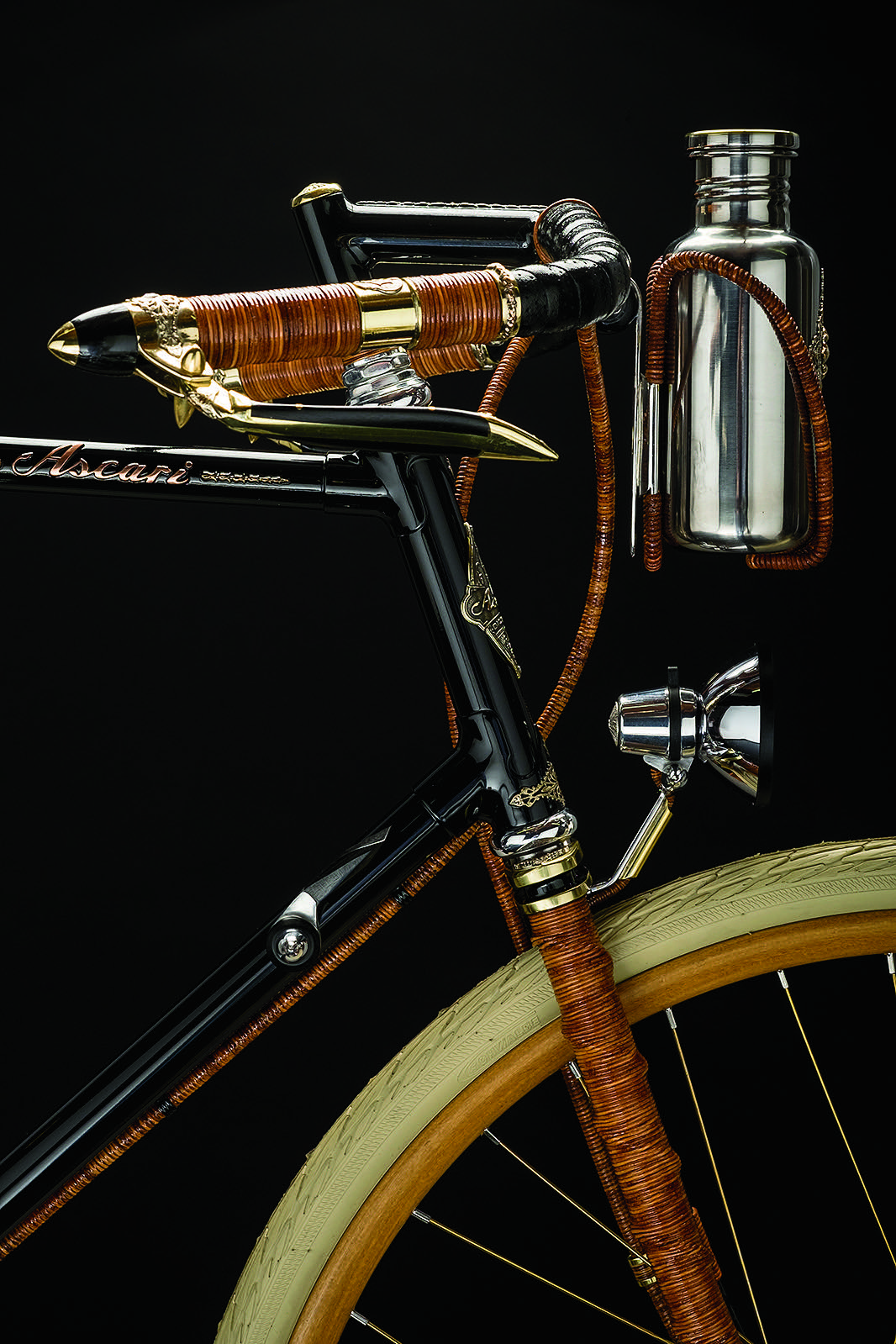 For Ascari, each project begins with an idea that's greater than its constituent parts. He recently completed a one-off  for a Japanese client, inspired by the construction of the Bugatti Atlantic. "I really like to compare my work to classic cars—the kind of thing you maybe only ride on the weekends and during the rest of the time put on display," he says. "It's like a functional art piece." 
For the body, Ascari used Columbus chromoly tubes from Milan and nickel–plated brass rings around the fenders; he hand-applied white gold, ebony and diamonds (client's choice) to the brake levers. The entire process took four months, and visiting the master builder in the studio, you can see why. Though he has two staffers, Ascari operates largely on his own, moving from one operation in his small atelier to another, painstakingly wrapping leather around handlebars or carving brake shifters out of wood. 
One-of-a-kind pieces take time, and most projects take several months to complete, from the casting of custom parts to painting and finishing, which can include materials like rubies and brass. But actually getting off  the waiting list takes even longer—Ascari is currently accepting appointments for a year from now. Be sure to tell him we sent you, though, and he just might be able to work something out.