This Mind-Blowing Superyacht Has Room for a Car Collection and Private Waterfall
It just might be the craziest yacht concept yet.
Considering the decadent explosion of expensive toys now available to seafaring gazillionaires with money to burn, superyachts are becoming increasingly insane. 
Take the CF8 concept dreamed up by Dutch design firm Sea Level Engineering. The 240-foot vessel's name stands for "cars and family in 80 meters," a nod to the ultra-luxe ship's capacity to house a fleet of cars, should the owner want to unleash a custom Bugatti or Bentley at whatever exotic destination the CF8 visits. 
Of course, you'll want to pick the right supercar. Yacht company Camper & Nicholsons recently teamed with Briggs Automotive to build the Marine Edition Mono—a lightweight, salt-proof vehicle made especially for life at sea.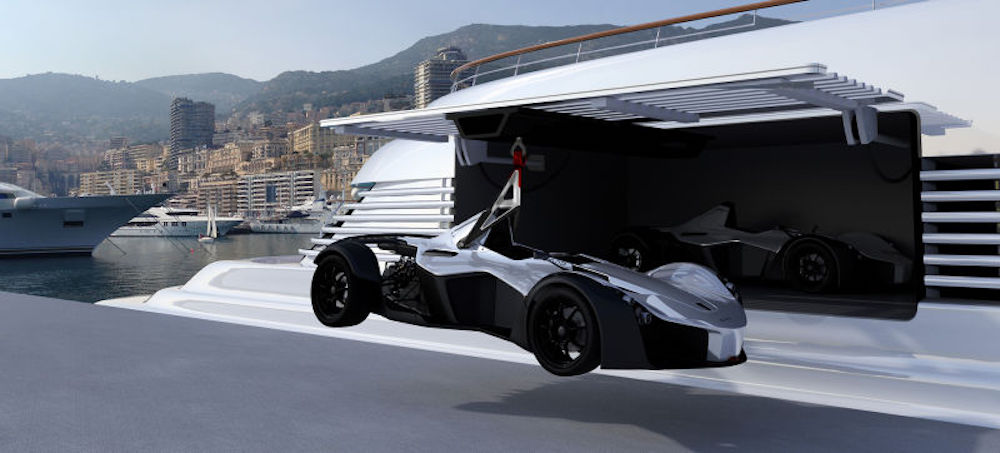 But an incredibly ostentatious car showroom isn't all that the Cf8 has going for it—the yet-to-be constructed billionaire's wet dream will also boast a waterfall flowing from the top deck to a swimming pool in the middle of the ship. 
Plus, there are plans for a helipad, movie theater, Jacuzzi, gym, eight guest cabins and even a personal DeepFlight Dragon submarine. Because sometimes bringing your favorite supercars onboard a superyacht just isn't over-the-top enough.