Test Drive: Piloting Jaguar's Final V8 Sports Car in the South of France
The F-Type R 75's supercharged 575 horsepower engine hits 0 to 60 mph in 3.5 seconds.
Marking the final model year of the Jaguar F-Type—first produced in 2013 and designed in homage to the Jag's legendary E-Type—and celebrating 75 years of Jaguar's iconic sports cars, the limited-edition F-Type 75 is a force to be reckoned with. Even more so the F-Type R 75, which boosts the "base" F 75's horsepower from 450 to 775—making it one of the fastest F-Types ever built.
A limited number of each variant are being produced, and this is Jaguar's last-ever V8-powered sports car, and one of its last ICE cars period, as the marque moves to an all-electric vehicle lineup. So it was only fitting that Jaguar presented the fire-breathing thoroughbred to international media with a drive event in Monaco and the South of France.
In 1948 Jaguar launched the legendary, and now highly-collectible XK120—favored by the likes of Clark Gable and Humphrey Bogart—as the world's fastest production car, cementing its reputation for building beautiful sports cars as thrilling to drive as to gaze at. 75 years later, the F-Type 75 models are maintaining the tradition in high style.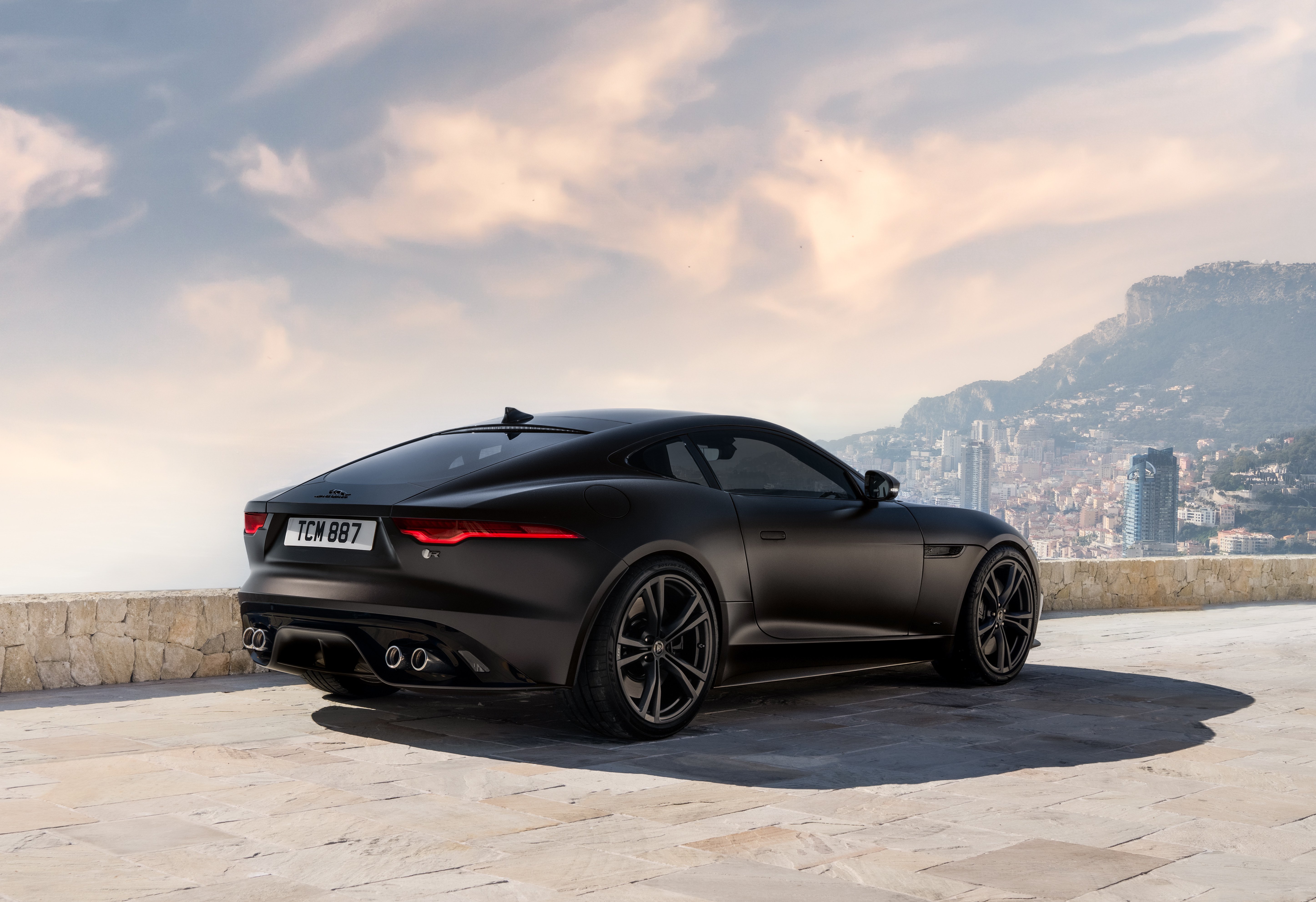 The six-figure F-Type 75 editions, available in both coupé and convertible variants, can be distinguished from their brethren by unique interior and exterior design elements and "carefully curated specifications," including an exclusive Giola Green paint option. The most badass combination being the F 75 R coupé in matte black.
Offered exclusively with all-wheel drive, the F-Type R 75's supercharged V8 delivers 575 horsepower and 700 Nm of torque. This gives it blistering performance, enabling it to crush the 0 to 60 mph sprint in just 3.5 seconds, while its maximum speed is (an electronically limited) 186 mph.
Design cues are a bit subtle but emphatic once you notice them. Gloss black 20-inch wheels are standard on all F 75 models, while wheel centers and grille badges have been changed from red to black, with the R and R-Dynamic badge accent colors now black and grey instead of red and green. There are also discreet badges on the front fenders depicting the F-Type's silhouette, while the interiors also feature 75 badging.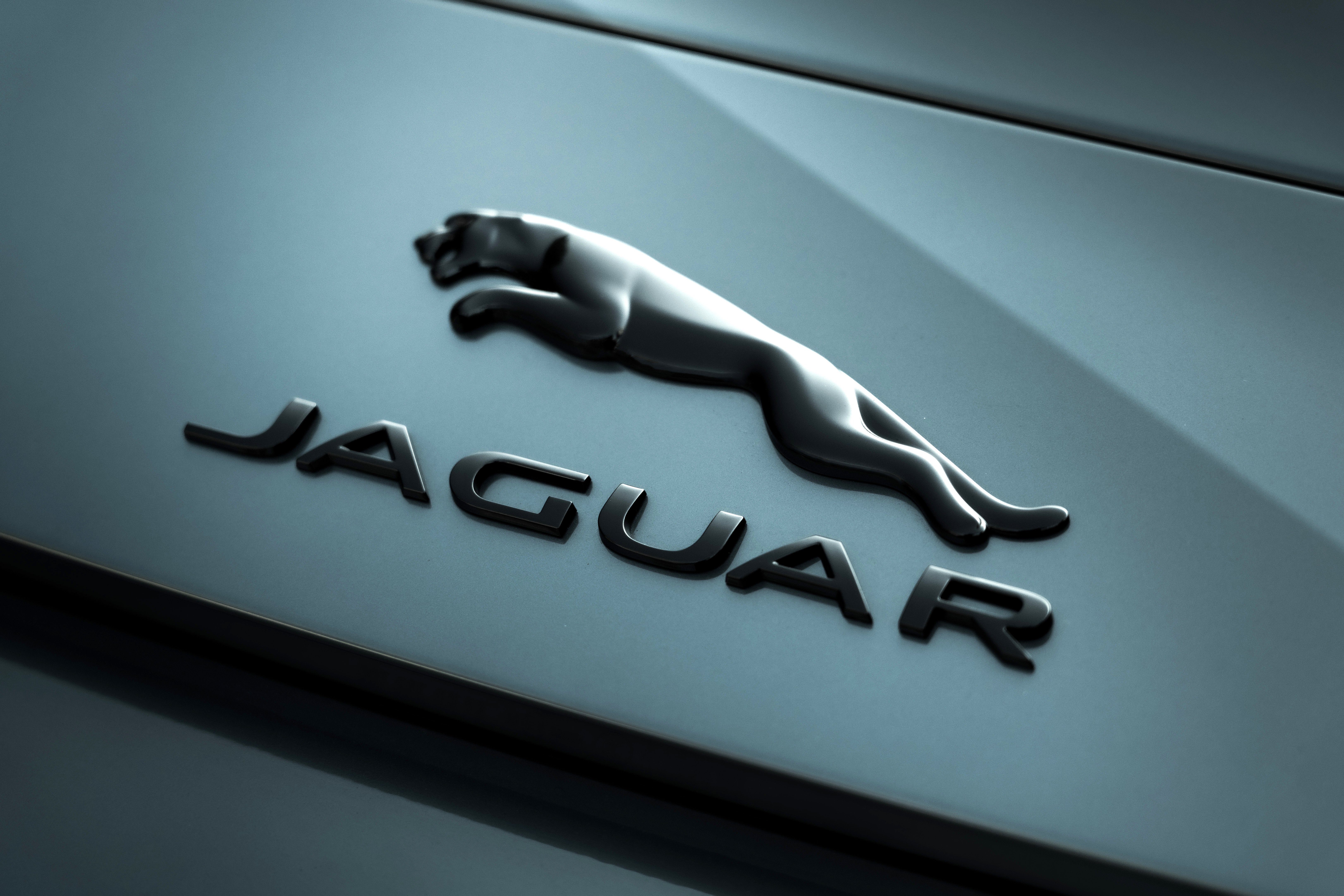 "For 75 years Jaguar has been renowned for producing extraordinary sports cars that deliver performance, agility and maximum driver reward," notes Matthew Beaven, Jaguar Land Rover Chief Designer, Exteriors. "The F-TYPE special editions hold true to these principles, adding unique interior and exterior design details to celebrate this lineage before Jaguar becomes an all-electric brand from 2025."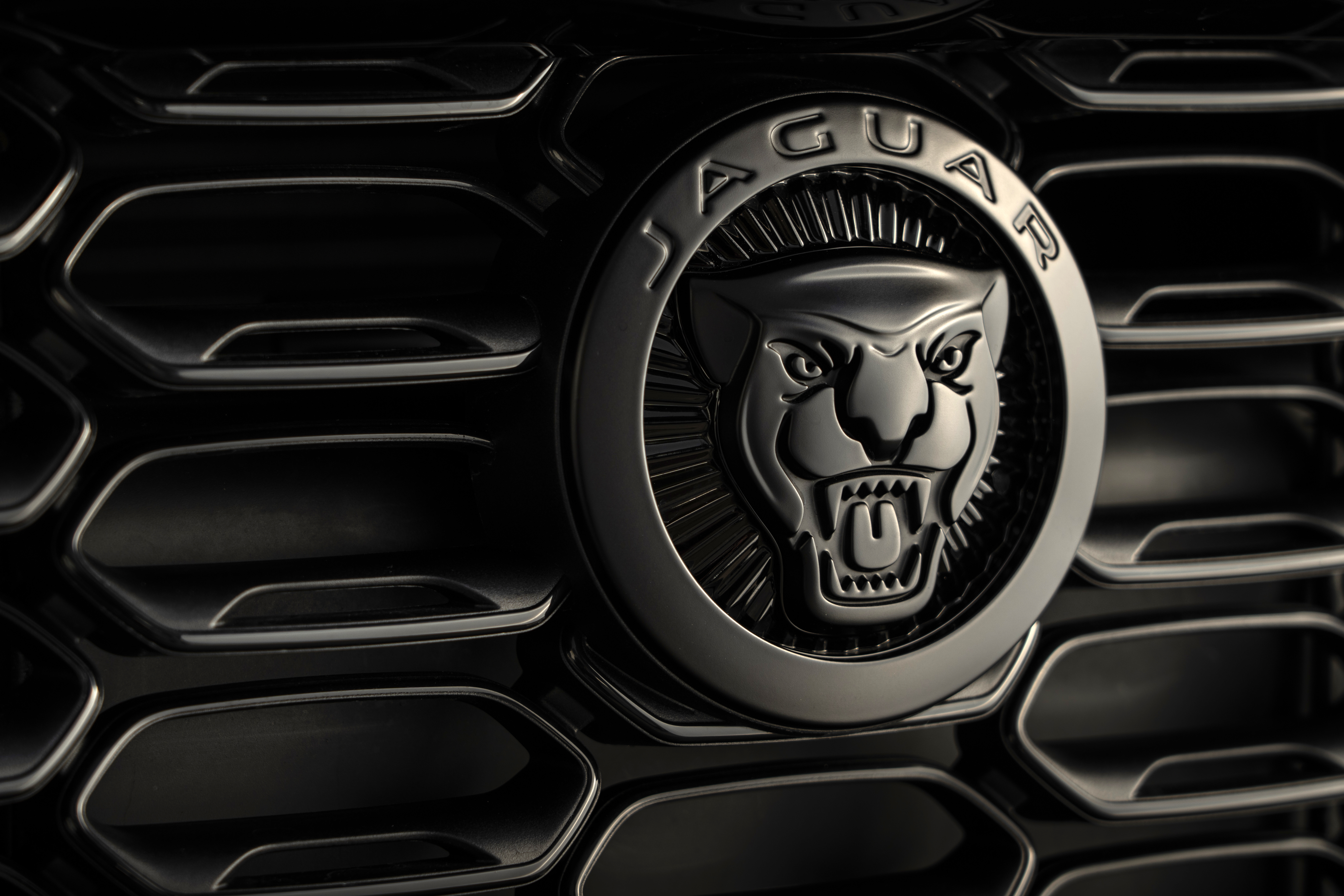 The F 75 models' powerful, responsive 5.0-liter supercharged V8 engines are paired with an eight-speed Quickshift transmission with full manual control using either the SportShift gear selector or the steering wheel-mounted paddles. The engines are made at Jaguar Land Rover's Engine Manufacturing Centre in Wolverhampton, UK.
The front-engine two-seater's body structure, sculpted from light, stiff aluminum, pays homage to the flowing lines of famed Jaguar sports cars from the XK120 to the E-Type, XKSS, and more. This is most evident in the "liquid metal" surfacing of the clamshell hood with its elegant sweep inspired by iconic Jaguar models such as the C-type and D-type.
The car's rear haunches meanwhile "enhance the inherently dramatic, purposeful form, and sweep downwards to the slender rear LED lights with their signature 'chicane' pattern. Quad, outboard exhausts, featuring subtle etched R branding, emerge from the rear diffuser and signal that this is not a sports car to be trifled with.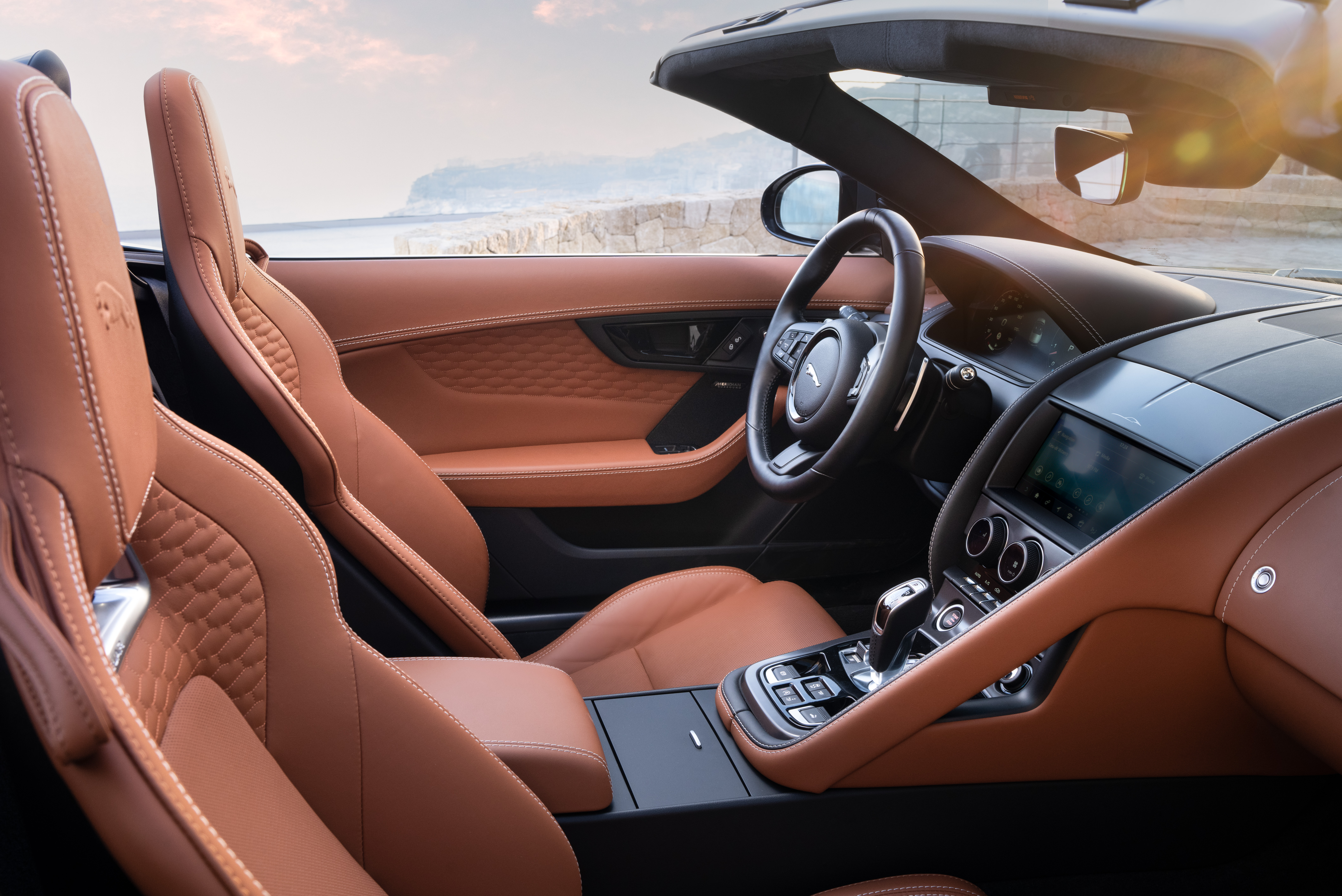 Inside she is no slouch either. "Combining Jaguar craftsmanship, exquisite, details and rich materials and finishes deliver a heightened sense of luxury and sportiness," as the marque puts it. "The driver-focused interior is a pure expression of the car's elegance and performance of the F-Type." Full Windsor leather is standard on the special editions.
For the launch event Jaguar established its headquarters at the new Maybourne Riviera hotel, a glittering five-star architectural gem perched on a cliff above Roquebrune-Cap-Martin with incredible views of Monaco. The itinerary included plenty of pulse-quickening road routes, punctuated by extremely fine, Michelin-star meals. And of course we did a victory lap through the streets of Monaco before returning to the Maybourne.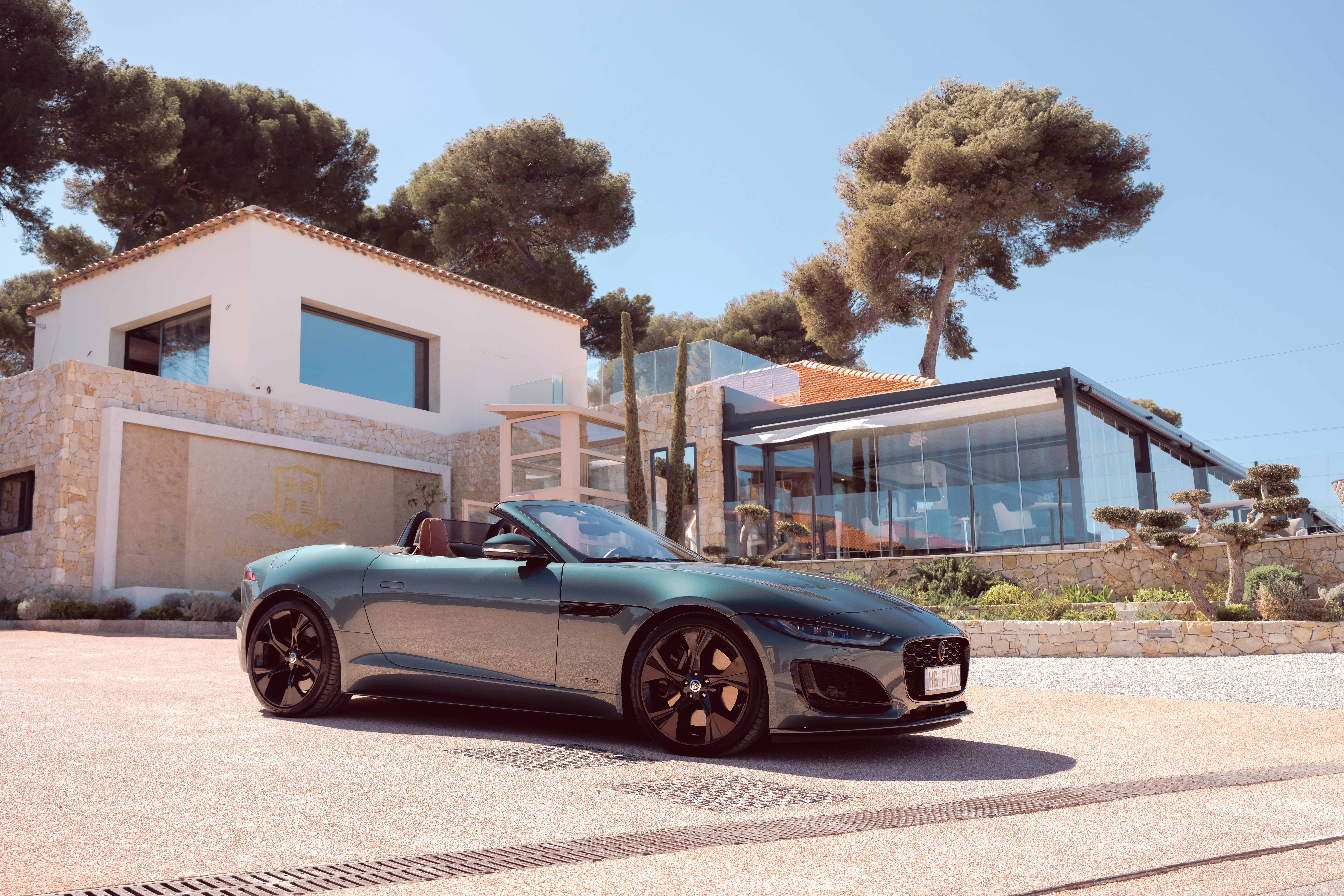 Jaguar had booked private rooms at incredible restaurants, such as the three-Michelin-star Mirazur, that are normally very hard to get into; in some cases they were hosting us in a private capacity. At Mirazur, Chef Mauro Colagreco's menu is "totally rooted in the link between heaven and earth and the influence of the planets on plants, [with] purified, pictorial and colorful plates that play on textures and associations… expressing this moving intelligence of nature."
One thing that was immediately apparent as we attacked the winding roads above the Côte d'Azur: the car's advanced double wishbone front- and rear suspension, meticulously tuned electric power- assisted steering (EPAS) and Torque Vectoring by Braking make this the most agile F-Type ever, balancing out all that raw power.
As famously dashing model and automotive enthusiast David Gandy told British GQ, even after 13 years the F-Type is "still one of the prettiest cars on the road. The fact is everybody would drive an F-Type because they're so desirable. The beauty of this car is the sound of it—even the V6, but the V8s are the ones."
And nothing sounds as enthralling as the F-Type R 75 powering along a mountain pass in the South of France, exhaust roaring as it declaims its impressive bloodline with every flick of the paddles. We cannot wait to see how the next 75 years of Jaguar sports cars adds to the legend.