The Brabus Shadow 900 Black Ops Speedboat Gets Stealthy Special Edition
Get dark with this blacked-out, 900-HP speedboat.
Brabus Marine—the watercraft-centric offshoot of the same German aftermarket tuner specializing in blacked-out Mercedes-AMG supes—is evolving is 39-foot Shadow 900 Black Ops speedboat.
Fresh off its debut at the Cannes Yachting Festival, the Brabus Shadow 900 XC Cross Cabin Black Ops Signature Edition is another watercraft collaboration with Finland's renowned Axopar Boats. For this iteration of its prestigious Red Dot Award-winning Shadow 900 range, Brabus went even darker by coating the exterior in the brand's own Graphite Black paint. Complementing flashes of black chrome badges are embedded in the hull, while red Signature Stripes add a touch of contrasting color.
The palate continues inside, where the leather sweet are swathed and gray and black leather with contrasting red accents—a departure from the primarily red and white upholstery featured in previous Shadow 900 examples.
A new, standard front sun lounge is accessible via supercar-style gullwing doors, and the driver's dashboard is equipped with touchscreens, backlit switches, and a multifunction steering wheel with finger-tip controls for near-effortless actuation. Captains can run navigation, monitor the engine, or control on-board entertainment and driver-assist features from Brabus' updated user interface.
For this edition, Brabus added new smart safety features—a G-Shock sensor aids in the braving of rough weather, and a 1st Mate System gives a user's phone the ability to conduct man overboard monitoring or send distress signals via a connection to a fob.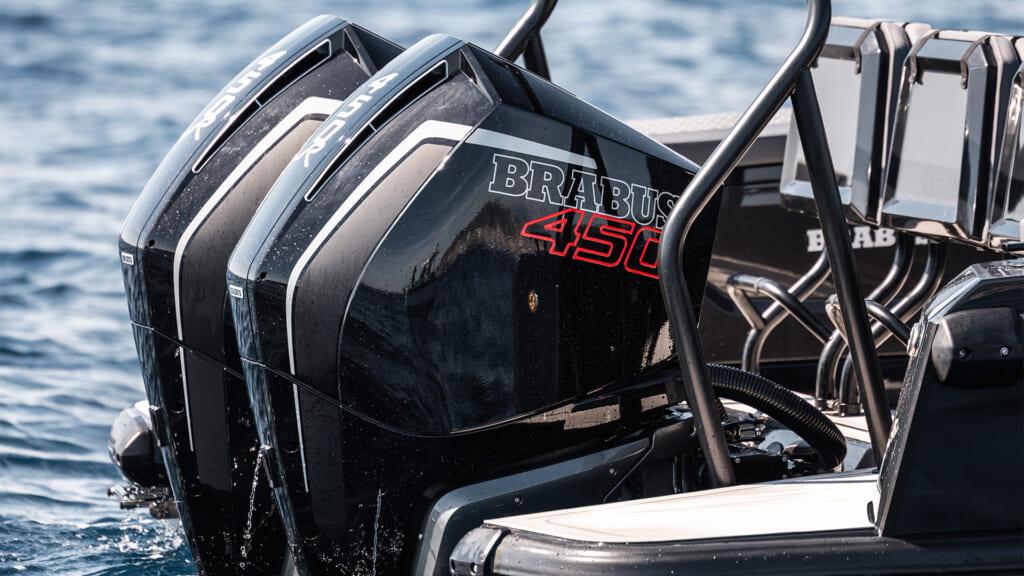 The excellent powerplant hasn't changed for the XC Signature Edition. A combined 900 horsepower come from a pair of Mercury Marine's latest outboard 450R Verado XL 4.6-liter V8s, good for a top speed of 55+ knots (63-plus mph) and a cruising speed of 40 knots (46 mph).
If interested, contact Brabus here to inquire about owning the Brabus Shadow 900 XC Cross Cabin Black Ops Signature Edition