The Polaris RZR Pro R Factory Is The Most Extreme UTV Racer Ever
The world's wildest UTV features unparalleled power and a "spaceship"-like cockpit.
(Polaris)
My introduction to the world of side-by-side racing was so exciting, it was sickening. Sitting shotgun in a UTV helmed by a decorated off-road racer, I whooped and hollered as he committed vehicular terrain-slaughter in the Mojave Desert.
At highway speeds, we flew over whoops that would bottom-out a Ford Bronco in its crawler gear. We glided through deposits of jagged rocks and soared across sand flats at close to 100 mph. As someone with virtually zero experience driving on any unpaved surface, the hot lap left my adrenaline flowing and my stomach churned.
It was likely the most extreme foray into side-by-side racing that's ever been. The vehicle, after all, was a Polaris RZR Pro R Factory, a UTV that's far more extreme than any model currently on the market. And the driver was Cayden MacCachren, one of three Polaris Factory Racing Program team drivers.
"Factory" is the operative word. Polaris, a proprietor of ATVs, UTVs, snowmobiles, and Indian Motorcycles, carved out a little piece of motorsport history in early 2023 with its debut of the first-ever UTV-class factory racing program, featuring a purpose-built race UTV and a manufacturer-backed team to run it.
According to Polaris, all other UTV race teams operating right now essentially modify stock UTVs independently and receive varying degrees of support from the manufacturer.
The primary motivation behind this undertaking goes without saying. Polaris-supported independent teams have already captured many titles—notably an overall win at the 2022 Baja 1000, the finale of the SCORE World Desert Championship. Polaris believes its factory racing program will not only increase the manufacturer's win rate, but dominate UTV racing outright.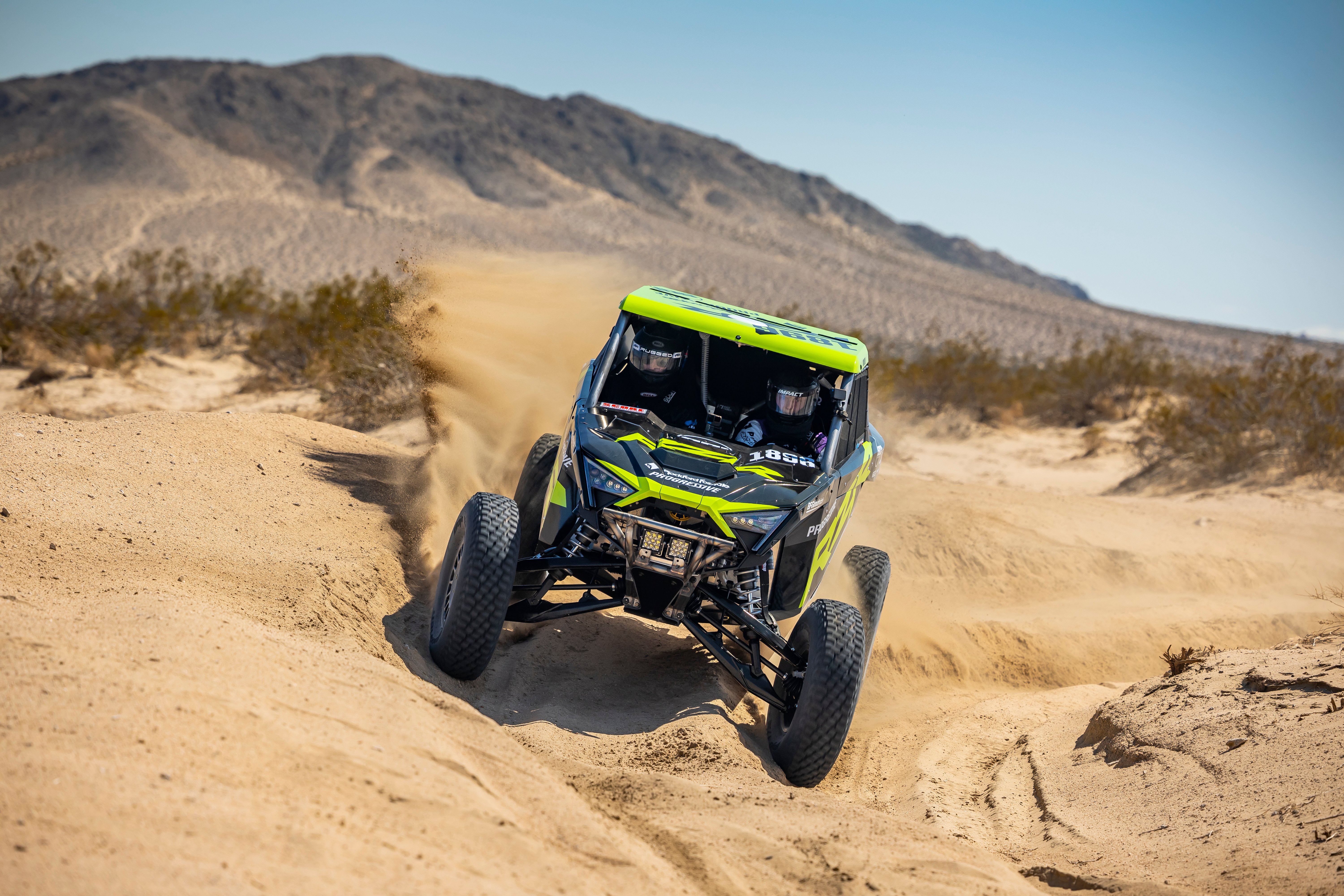 "The leadership of our company are racing enthusiasts. They love being competitive. They said, 'Let's do something different. Let's make a bold statement,'" Reid Wilson, Vice President of Polaris Off-Road Recreation, told me.
"It wasn't a hard sell to start [the Polaris Factory Racing Program], because this is who we are as a company. We have a culture based on winning and fighting to get to the top of the podium."
The formation of the program could even be considered a no-brainer, given that the race-only Factory vehicle is heavily based on the Polaris RZR Pro R, which is widely regarded as the best side-by-side money can buy.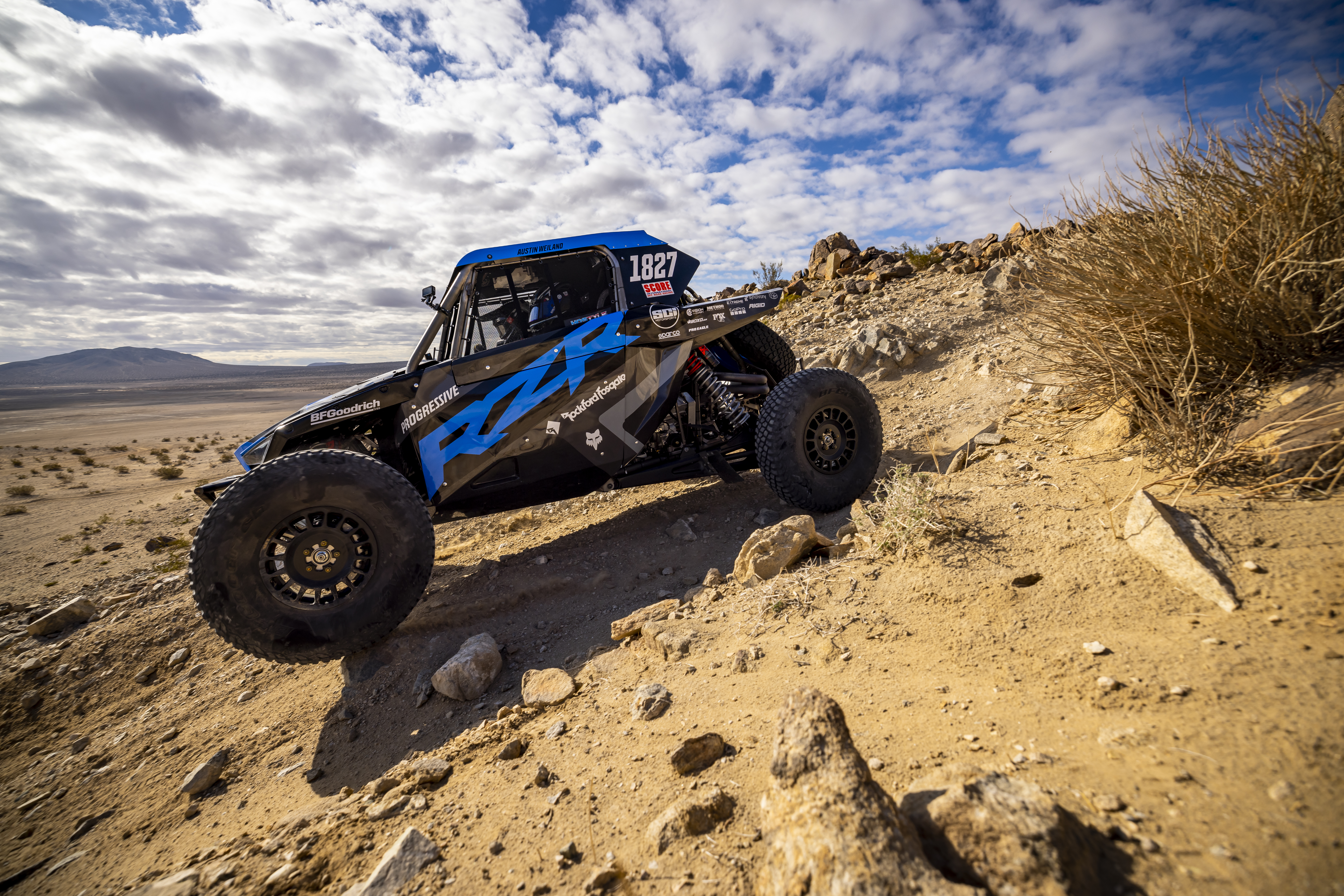 The RZR Pro R features the most powerful stock engine in the UTV industry—a 2.0-liter four-cylinder that sends 225 horses through a continuously variable transmission.
The suspension allows 27 inches of usable travel up front and 29 inches of travel in the back, which are numbers that the experts at UTV Driver accurately describe as "bananas." Its one-piece chassis is coupled with a one-piece roll cage and boxed steel A-arms. It rides on a customer's choice of 32- or 33-inch tires wrapped around five-lug wheels.
I had the opportunity to drive the RZR Pro R after my hot lap. I encountered many of the same features that I'd seen MacCachren navigate just hours prior, only I seldom pushed past 45 mph. The ease with which I could handle treacherous terrain—again, with zero experience—surprised me.
But what impressed me most was the suspension of the RZR Pro R that I was trailing. There wasn't a sign of struggle—the radius rods seemed to almost hug large whoops, and shocks reciprocated like engine pistons on choppy bumps.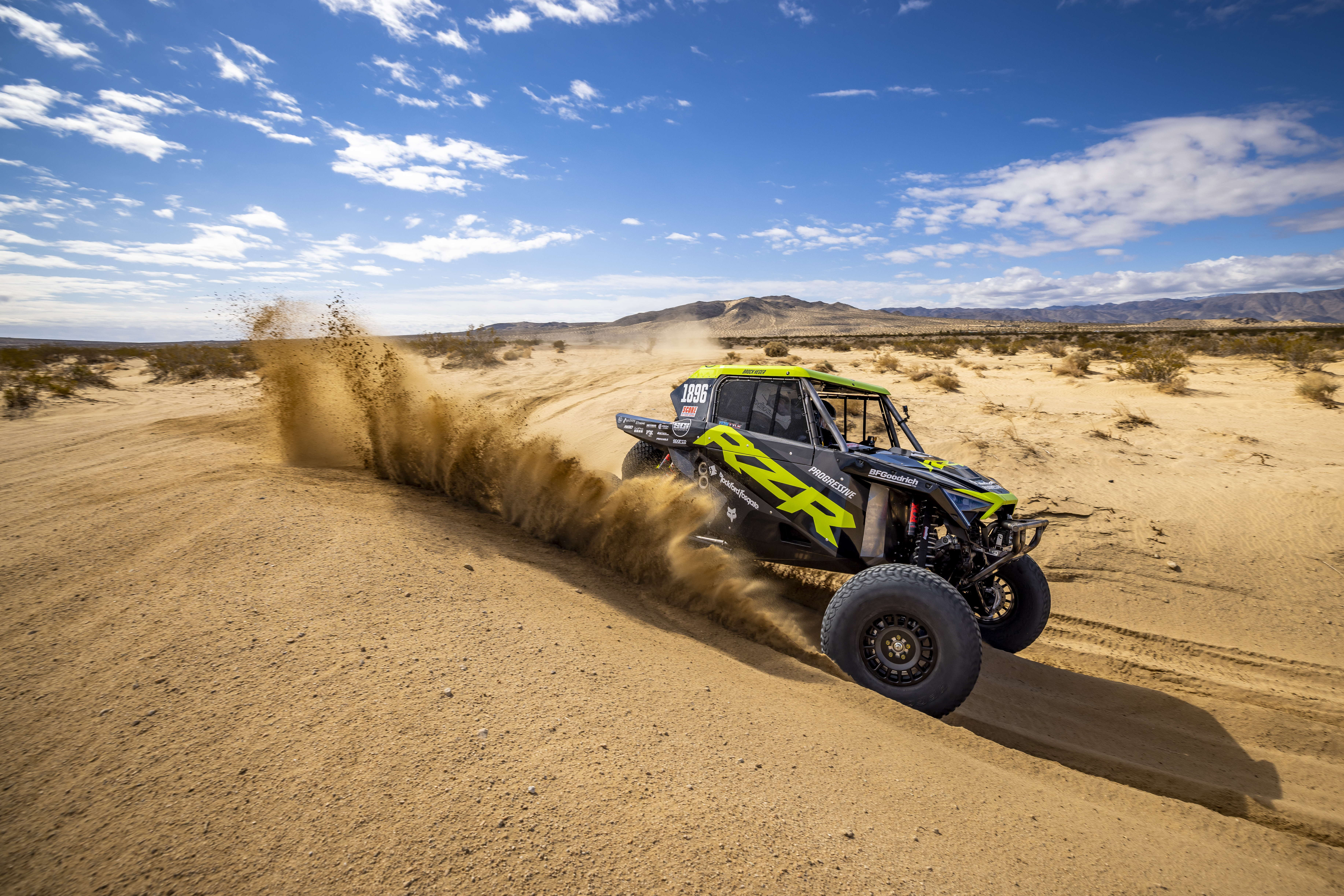 The RZR Pro R Factory, then, builds on what's already regarded as the pinnacle of stock UTV performance. And the upgraded components were all engineered in-house.
"The new parts that you see were welded inside a Polaris factory. They were drawn and designed by Polaris engineers," said Robert Wilmot, Polaris Racing's Technical Director. "When we work with our satellite teams, they decide things and we work to give them information. We were able to take it to the next level by providing that factory engineering."
Those engineering efforts were intense and largely focused on either shedding weight or increasing power. The radiator package, for instance, went through eight or nine iterations in CAD before a unit was selected for a rearward relocation.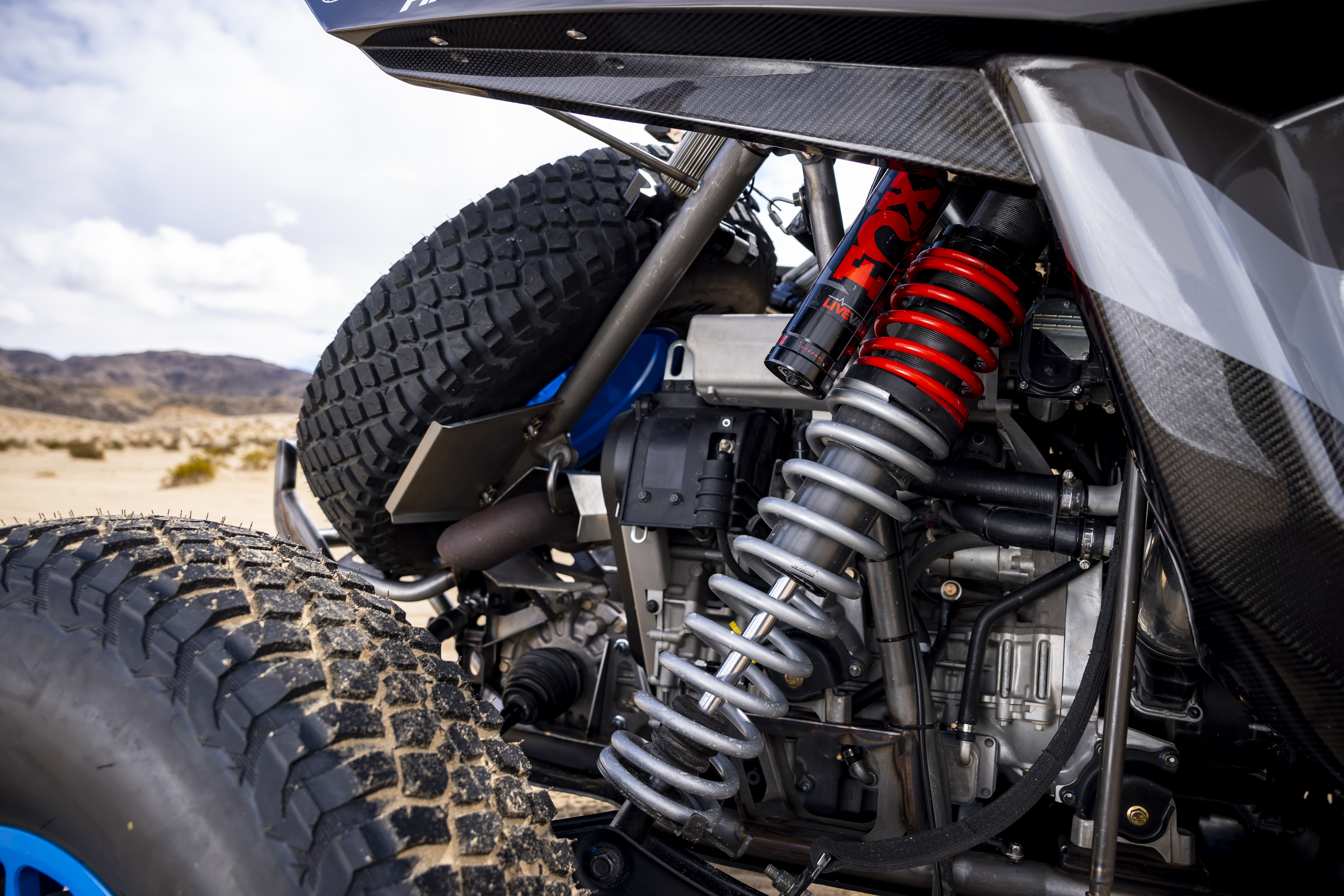 The chromoly chassis was developed to be light, stiff and legal in accordance with FIA regulations. The transmission features better bearings and internals. The engine and exhaust are mostly stock, but a custom tune enhances drivability at speed and ups the output. Wilmot declined to disclose a final horsepower figure, but the top speed increases from 90 mph in the RZR Pro R to well over 100 mph in the RZR Pro R Factory.
Then there's the interior, which is loaded with all kinds of buttons, switches, gauges and displays. As racing driver Austin Weiland puts it, "The cockpit is like a spaceship."
"We can adjust some of the shock settings on the fly. The co-driver has a GPS in front of them. We've got override buttons—so say something fails, we can push it and continue. And then we have radios, a fire suppression system, and the actual Polaris Ride Command–the same unit is in the stock car as well. That's the brains."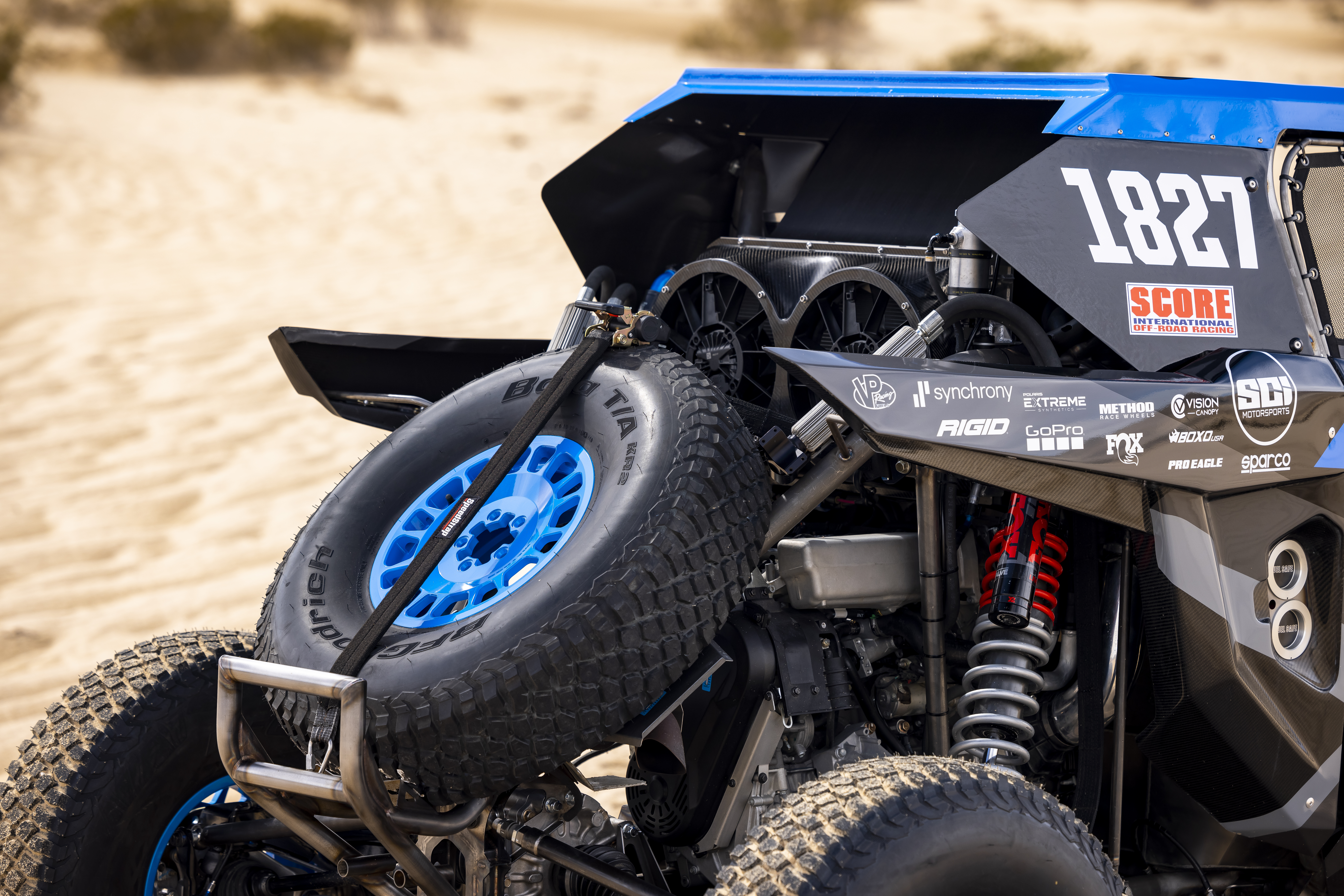 In between each hot lap with members of the media, the drivers—Weiland, MacCachren, and Brock Heger—conferred with their team to dial-in the settings ahead of the RZR Pro R Factory's race debut at the King Shocks San Felipe 250 on April 1.
Expectations were realistic headed into the first event of the SCORE World Desert Championship, and the team performed admirably, securing fourth-, sixth- and 10th-place finishes out of a field of 17 Pro UTV Open class drivers. 
Four more races are on the SCORE schedule, the finale being the grueling Baja 1000 in November. The immediate stakes are bragging rights and trophies, but there's also another, longer-term goal for the RZR Pro R Factory—Polaris wants to eventually sell it.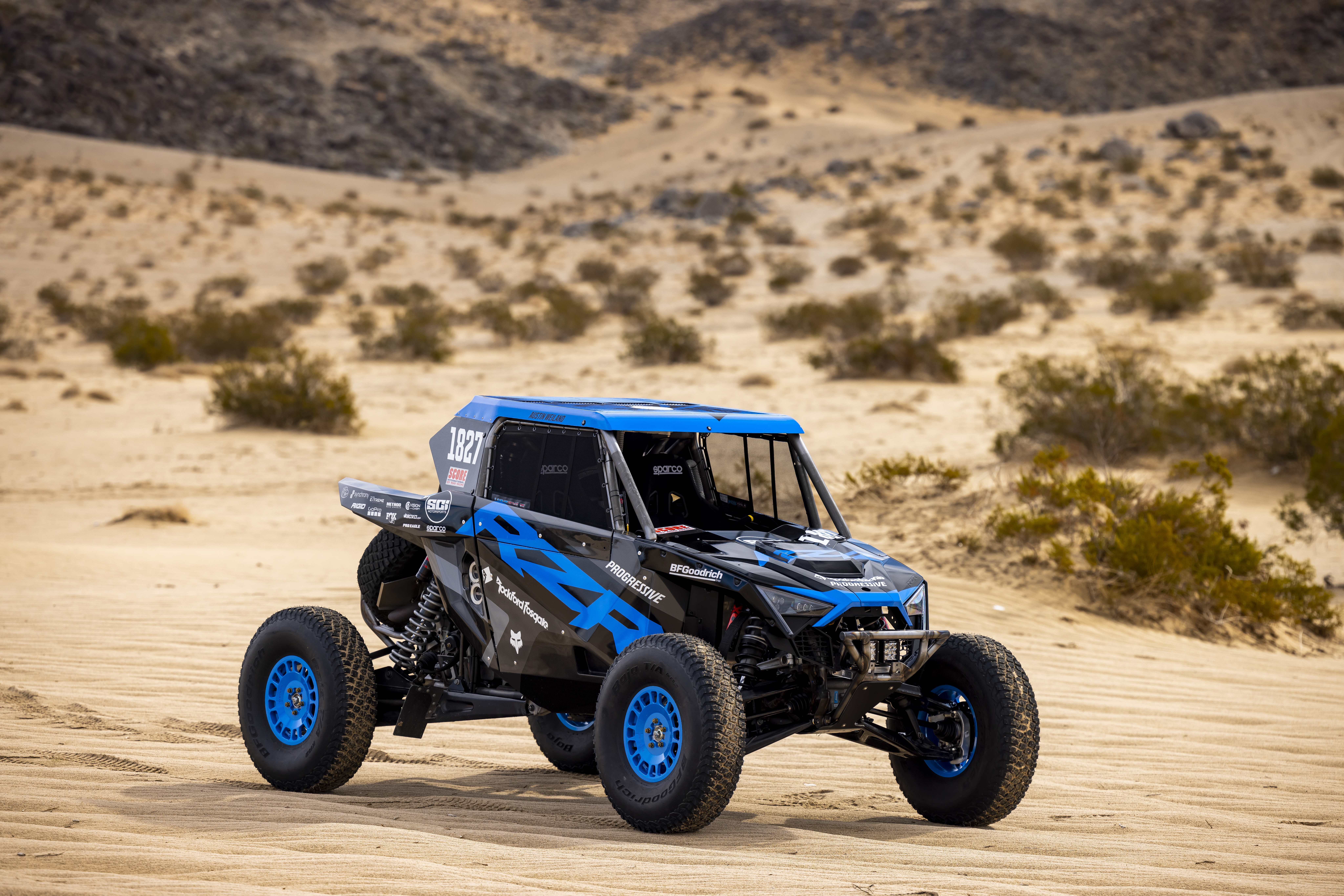 "We want to provide a platform for people who have a dream of going to race the Baja 1000," Wilmot said. "If you've got the means and you're willing to learn—we don't want to put anybody over their head—this is a tool for them to go do it. That's our aspiration. We're not there yet. We hope to get there."
As the saying goes: Win on Sunday, sell on Monday.