The Wraith Black Arrow Is Rolls-Royce's Final V12 Coupe
The last Wraith pays tribute to the land speed record-setting Thunderbolt, history's fastest V12-powered automobile.
As the 2023 debut Rolls-Royce's first all-electric car approaches, the luxury coach car maker is bidding farewell to V12-powered coupes with a final, limited-edition Wraith.
Being the last of its kind, the Black Badge Wraith Black Arrow pays homage to the fastest V12 automobile ever built. One might assume Lamborghini or Ferrari would have laid claim to that distinction sometime in the past decade, but it was an eight-wheeled behemoth dubbed Thunderbolt that set the record long ago in 1938, never again to be broken.
Propelled by two Rolls-Royce V12 "R" airplane engines, the seven-ton monster clocked an astounding 357.5 mph at the helm of one Captain George Eyston on the Bonneville Salt Flats, the legendary land-speed testing grounds. To ensure the aluminum-bodied behemoth could be seen at-speed under the singeing desert sun on a bright white surface, Eyston painted a large black arrow surrounding a yellow central circle on Thunderbolt's sides.
That takes us to the Black Badge Wraith Black Arrow. In a nod to Eyston's yellow tracer, the V-struts, wheel pinstripes, bumper inserts and ring surrounding the Spirit of Ecstasy appear in Bright Yellow.
The complex exterior paint coat features a full color graduation between the front's Celebration Silver and rear's Black Diamond—the transition in between is achieved through a glass-infused Crystal hue that was applied in varying numbers of layers over a Black Diamond base coat. The technique creates an apt motion blur effect, as well as a subtle texture inspired by crusted salt.
Inside open-pore Black Wood doors, the gaze is immediately drawn to the dashboard, which features a single sheet of black-coated aluminum embossed with a blueprint of the outgoing Wraith's V12 engine. The dashboard clock also gets black-tipped hands in reference to the Thunderbolt's black arrows, along with "Bonneville" and "357.497" inscriptions.
The armrests, seat gussets, transmission tunnel, door detail, door panniers and lower dashboard panel are all finished in "Club Leather," a new material boasting a greater sheen and deeper black than natural-grain leather. The front seats and steering wheel are covered in contrasting yellow leather.
And of course, there's Rolls-Royce's Starlight headliner, which in this application depicts the Milky Way as it would have appeared over the Salt Flats on September 16, 1938, the day Eyston broke the V12 speed record.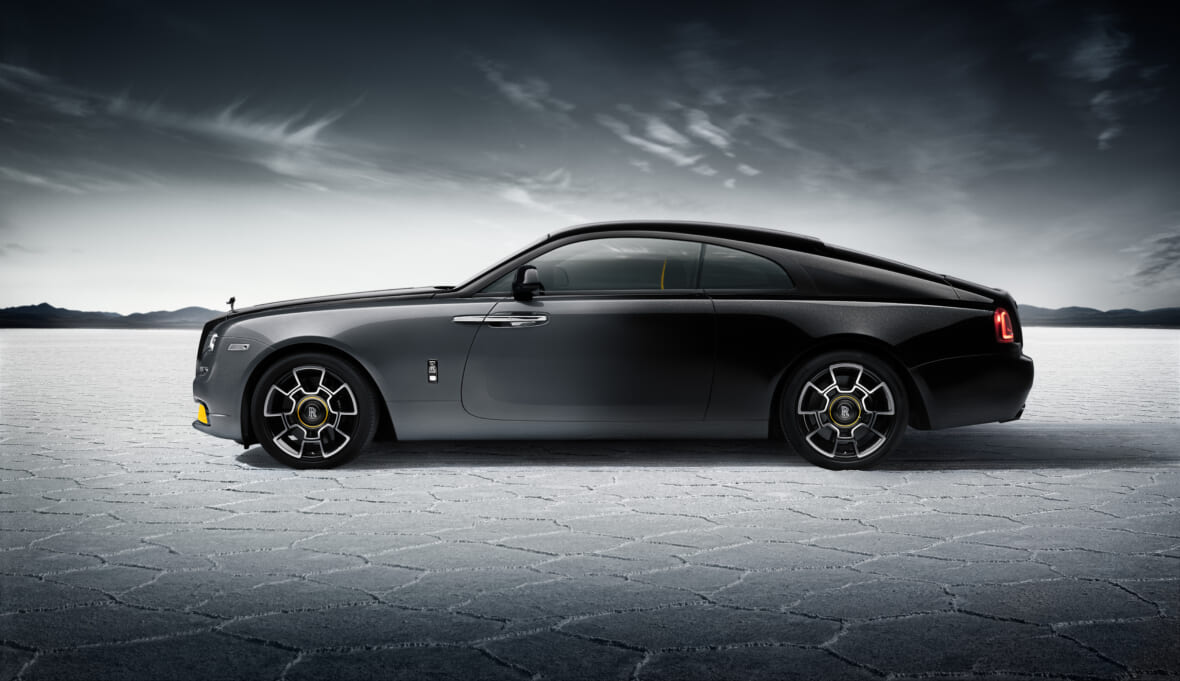 All 12 examples of the Black Badge Wraith Black Arrow are spoken for. For the right price, perhaps a 13th could be commissioned through Rolls-Royce's Bespoke division.