This Custom Bentley Continental GT Azure Celebrates An Icon's 70th Birthday
A historic example of the classic Bentley R-Type Continental serves as this one-off Continental GT's muse.
Many of Bentley's buzziest recent models have been focused on the present and future, like first-ever hybrid Flying Spur or the top-shelf, Mulliner-showcasing Batur, a sort of unofficial swan song for the for Bentley's W12. But the British marque looked into the past at one of its most seminal models in crafting this new one-off Continental GT Azure.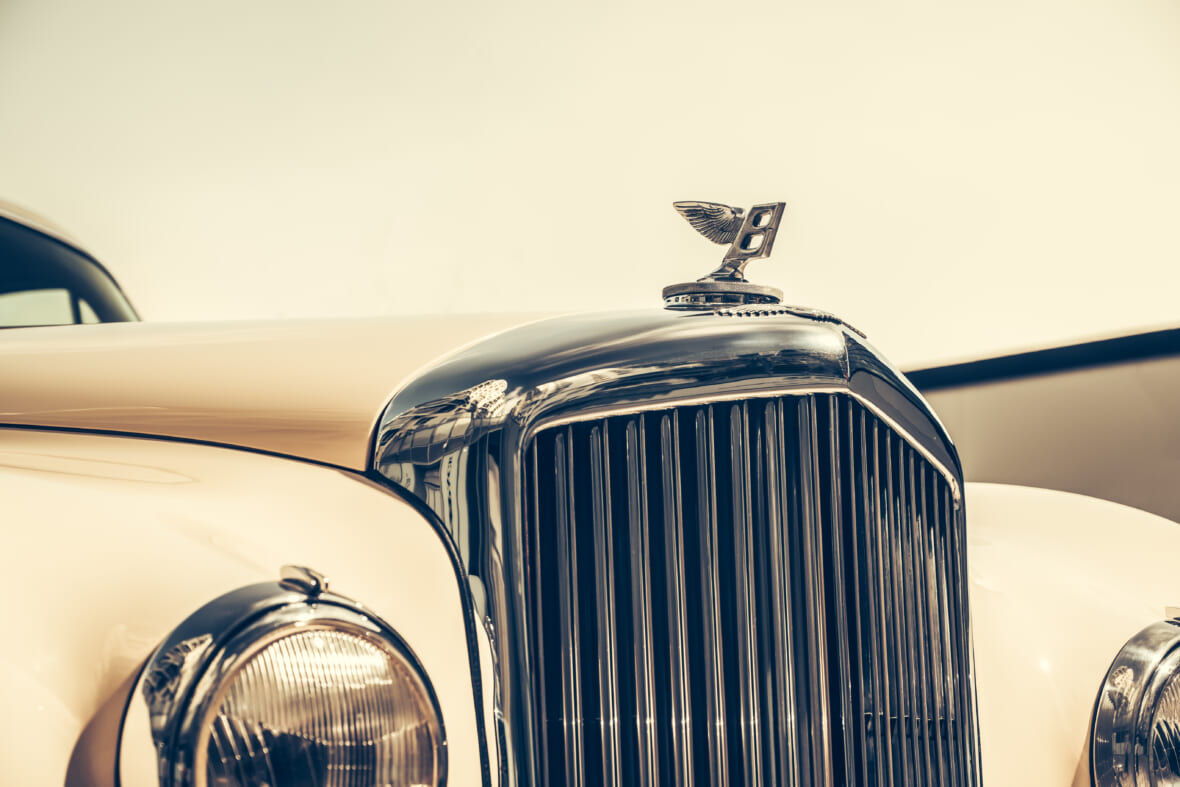 The inspiration broadly comes from the R-Type Continental coupe, which reigned as the world's "fastest four-seat luxury saloon" upon its 1952 launch.
This coupe-ified version of the four-door R-Type Continental benefitted from comprehensive refinement, including an uptune of the 4.6-liter six-cylinder inline engine to 155 horsepower, a higher final ratio drive ratio, more aerodynamic lines, and aa weight-saving aluminum diet.
Only 208 Bentley R-Type Continentals were produced. But it's a single covetable example, which is nicknamed "JAS 949" and housed at Bentley's Heritage Garage in its Crewe headquarters, that informs the one-off Continental GT Azure.
Celebrating JAS 949's 70th anniversary, the hand-painted color is a modern interpretation of 1950s "Old English White" white. The liberal application of chrome also harks to its muse, and while the wheel size has increased from 16 to 22 inches, they're still hand-finished in a polished black, per the original.
Inside, Cricket Ball leather reflects the JAS 949's cladding, while Belgua leather piping helps bring back the original cabin's delicate lines. Bentley also opted to leave the Burr Walnut veneer as open pore to more closely channel the texture of the original patinated finish. Yet another nod to the original is the cross banding on Australian straight grain veneer, which was given a update via gold accenting.
However, this one-off Continental GT Azure is modern where it matters most. The front seats have six programmable massage settings, Bentley's anti-roll system smooths out the ride, and safety is increased via a suite of driver-focused tech including a heads-up display and an infrared camera-powered Night Vision system that identifies pedestrians.
And we'd be remiss not to mention the supercar-worthy performance of the 550-hp 4.0-liter V8, which propels the Continental GT Azure to 60 mph in 3.9 seconds on the way to a 198 mph max speed.
This unnamed Continental GT Azure celebrate the R-Type Continental is just one example of what's possible through Mulliner's Personal Commissioning Guide. Click here to learn more.