This Custom Land Rover Defender Is Inspired By The Iconic Chinook Helicopter
This over-the-top Defender channels the famous twin-rotor military chopper inside and out.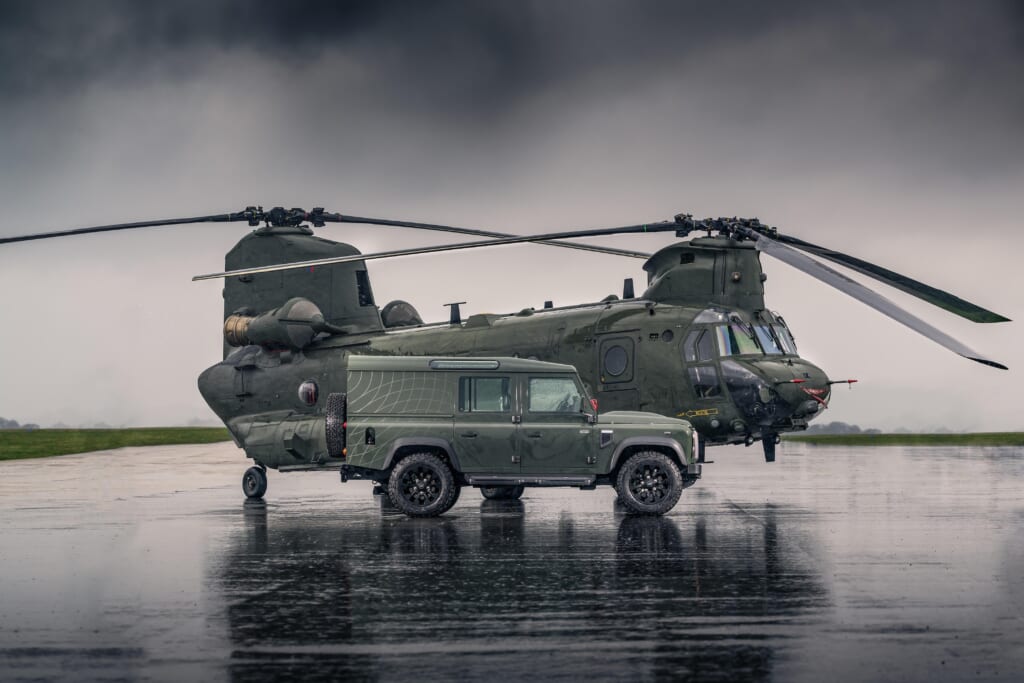 Cue the Creedence Clearwater Revival—this custom Land Rover Defender channels the Chinook, one of history's most iconic military choppers.
British customizing firm Tecniq built the specially commissioned "Q40" 2013 Defender 110 in honor of one of the Royal Air Force's longest-serving aircraft, though anyone who's ever a seen a Vietnam war movie will recognize the Boeing-made Chinook CH-47's distinct twin-rotor design—a graphic representation of which is depicted through the swirling grid painted over the Defender's rear.
The overall palette featuring complementary shades of gloss and matte dark green are matched to the RAF's Chinook camouflage, while hand-stitched marine leather wraps anodized aluminum door handles. Tecniq also added a carbon fiber grille, hood and wheel arch extensions further elevate beyond the 2013's factory spec.
Inside, there's a "twin zoned" 2+2 seating configuration with carbon fiber racing seats upholstered in hand-stitched Bridge of Weird leather and sheepskin inserts in a nod to the Chinook's seating configuration.
The entire interior mirrors the chopper's, with a selection of darky upholstery, quilted roof lining, as well as various "tactile, precision-engineered materials" and elements that aim to deliver a militaristic feel, such as webbing taken from the Chinook's load bay in the trunk and submarine lighting.
Tecniq also equipped a handful of mechanical upgrades, with a new ride-improving chassis that borrows from the company's Classic Racing department, programmable dampers, upgraded pushbars, six-piston brakes, and a 2.3-liter turbo four-cylinder from a Ford Mustang that sends 307 horsepower through a bolstered six-speed transmission.
The buyer, who paid around just over the British Pound equivalent of $154,000 to acquire the one-off Q40 Defender by Tecniq from Bonhams, got more than just a militaristic ride.
The lot included a genuine Chinook crew members' flying suit, a signed commemorative image of the British SUV and helicopter, a Squadron pin, and an invite for four to London's prestigious RAF club in central London for a meet-and-greet with veterans who've flown Chinook missions.
In other words, the buyer is a fortunate son.