This Futuristic Flying Bus Could Solve China's Huge Traffic Problems
This is straight out of 'Blade Runner.'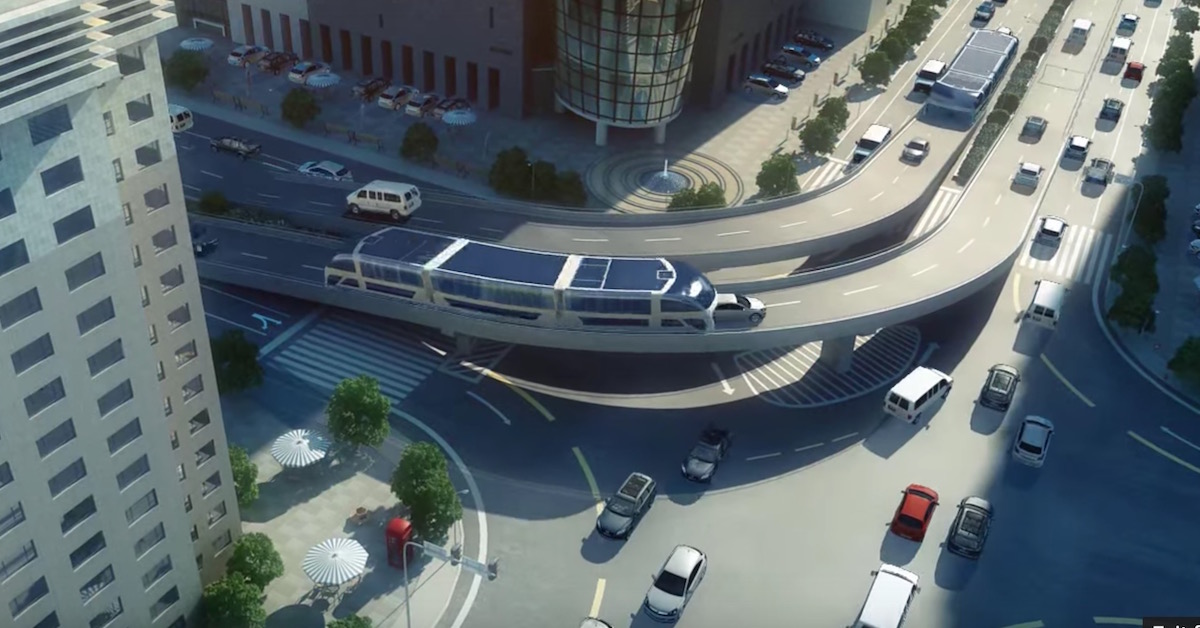 Despite access to some of the most extensive metro systems in the world, citizens of Chinese cities face constant states of gridlock. In a bid to come up with more public transport options, developers have unveiled an ambitious plan for a bus that looks like it was conceived for a sci-fi film.
At the Beijing International High-Tech Expo, designer Song Youzhou debuted a proposal for a massive elevated bus that straddles thoroughfares and passes directly over traffic. From a bird's-eye view, it looks like some space-age beast that swallows up cars and then spits them back out.
Below, check out a virtual demo of the bus as well as a model unveiled at the recent expo:
https://www.youtube.com/watch?v=APybYjcm_j4
If cities get on board with the proposal, it could pay dividends. Each bus holds 1,400 passengers, the equivalent capacity of 40 regular buses. This mega-bus would run on electricity (partly drawn from solar energy), which would cut 800 tons of fuel and 2,480 tons of carbon emissions each year. Each bus will cost around $4.5 million, one-sixteenth the price of installing a new subway train.
Nonetheless, there are concerns that sight of a giant overhead bus may distract drivers. Designers argue that the busses work seamlessly with existing roads. They come with emergency breaks in case any traffic collisions block its tracks, and the emergency evacuation slides are a particularly neat feature.
Time will tell if it all pans out. Five cities—Nanyang, Qinhuangdao, Shenyang, Tianjin and Zhoukou—have agreed to construct test tracks beginning later this year. If those succeed, these huge commuter innovations could eventually make their way to megalopolises like Beijing or Shanghai.