This Futuristic Superyacht Comes Complete with a 4-Person Drone Taxi
Never take a dinghy again.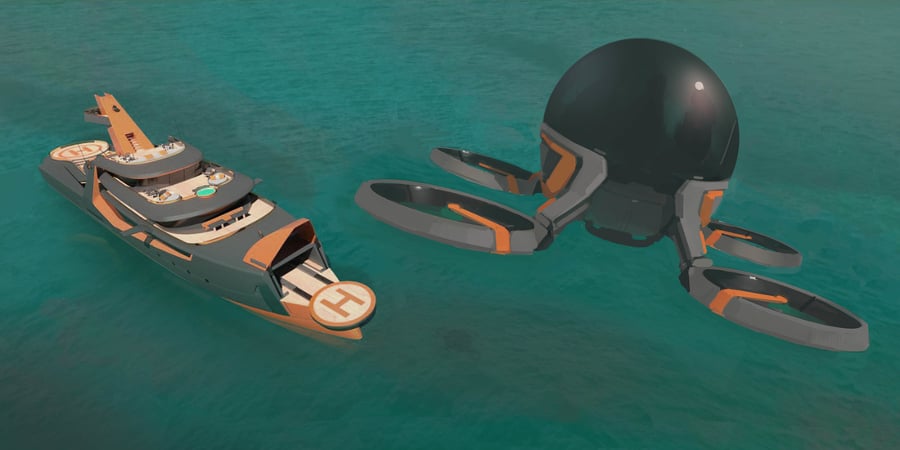 Wait, you still get to your yacht with a boring old helicopter instead of an autonomous drone taxi? And when you do, it doesn't detach its aft section to offer an independent vessel for exploring shallow waters? How 20th century boring!

Yes, with eyes on the upcoming Monaco Yacht Show, the 217-foot Time concept yacht that was created by Henry Ward Design collaborating with BMT Nigel Gee offers both of those ludicrously cool amenities.
Let's begin by looking at the aft section. Within the ship's gestalt superstructure docks a 59-foot floating lodge designed to detach and launch you on mini-expeditions where the vessel as a whole just can't go. More than just a simple dinghy, the swanky lodge offers ample living, dining and lounging areas, along with its own heli (or better yet, drone) pad.

Back aboard the main section, the aft topsides fold down to create a large splash pool and ample beach area. And for you active types, an inclined 26-foot climbing wall offers a nice on-board challenge, as it arches up over the glass-walled swimming pool. Or just relax and take in the vistas on Time's 49-foot high sky deck.
Powered by a twin azimuthing drive system producing 3000kW of total power, she's able to cruise at 15 knots, with a range exceeding 5000 nautical miles at her passage speed of 12 knots. In other words, you can go pretty much anywhere you want and completely enjoy the journey, as you should.
h/t: Forbes