This Dirty Dozen Are The Coolest Jeep Concepts Of All Time
Jeep's 12 best concept vehicles ever.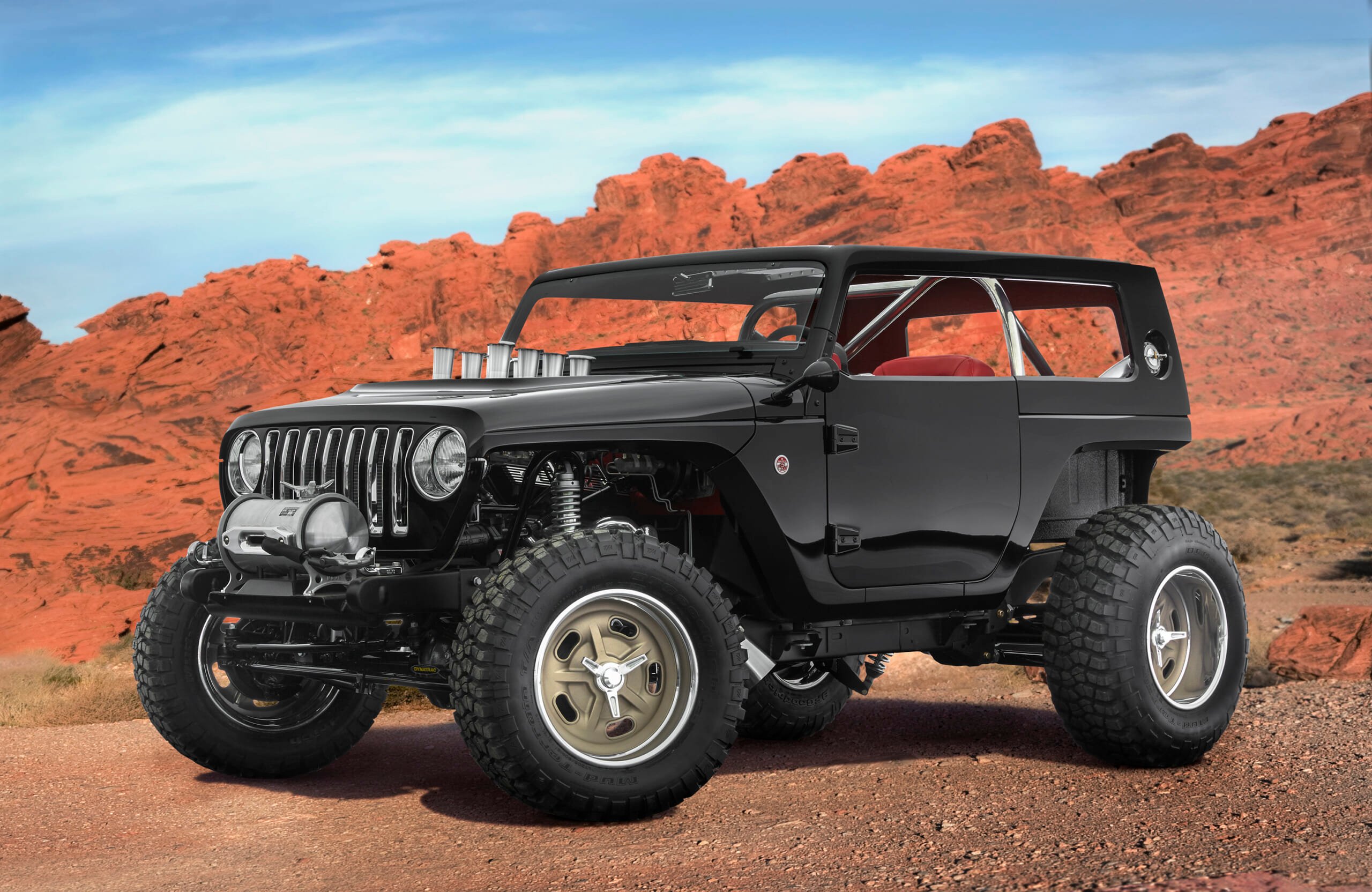 Everybody knows what a Jeep looks like, right? Four ballon tires, two round headlights and seven vertical grille slots, and there you go.
While this formula might seem constricting to design freedom, Jeeps stylists have shown with concept cars over the years that there is still a good bit of flexibility  in the recipe.
Sure, we know what a "real" Jeep looks like, but by blending the familiar elements with some influences like hot rods, historic Army Jeeps, dune buggies, and muscle cars to produce a fantastic variety of cool off-road rides.
1. 1990 Freedom
The Jeep Cherokee was always a cool offshoot for the off-road brand, but it lacked one of the best things about Jeeps: an open air cockpit. The folding soft top gives the creased-and-folded Cherokee the open-air attitude it lacked, though it seems few other changes were made to the popular SUV. It debuted at the 1990 North American International Auto Show.
2. 1998 Jeepster
The 1998 North American International Auto Show saw the debut of the dune buggy-flavored Jeepster concept. It rode on an adjustable suspension that boosted ground clearance off road and lowered for better efficiency on road, and it also was the first appearance of Chrysler's 4.7-liter V8 engine.
3. 2001 Willys2
Jeep named this stubby off-roader in honor of the parent company that built the original World War II Army Jeep. It debuted at the 2001 Tokyo Motor Show, where it showed off a carbon fiber body on an aluminum frame. This lightweight construction permitted use of a 160-horsepower supercharged 1.6-liter four-cylinder engine in place of the familiar brawny six-cylinders and V8s we're used to seeing under Jeep hoods.
4. 2001 Willys
The Action Green 2001 Willys concept debuted at Tokyo alongside the Willys 2, highlighting an open-air, futuristic dune buggy-influenced take on Jeep's design aesthetic.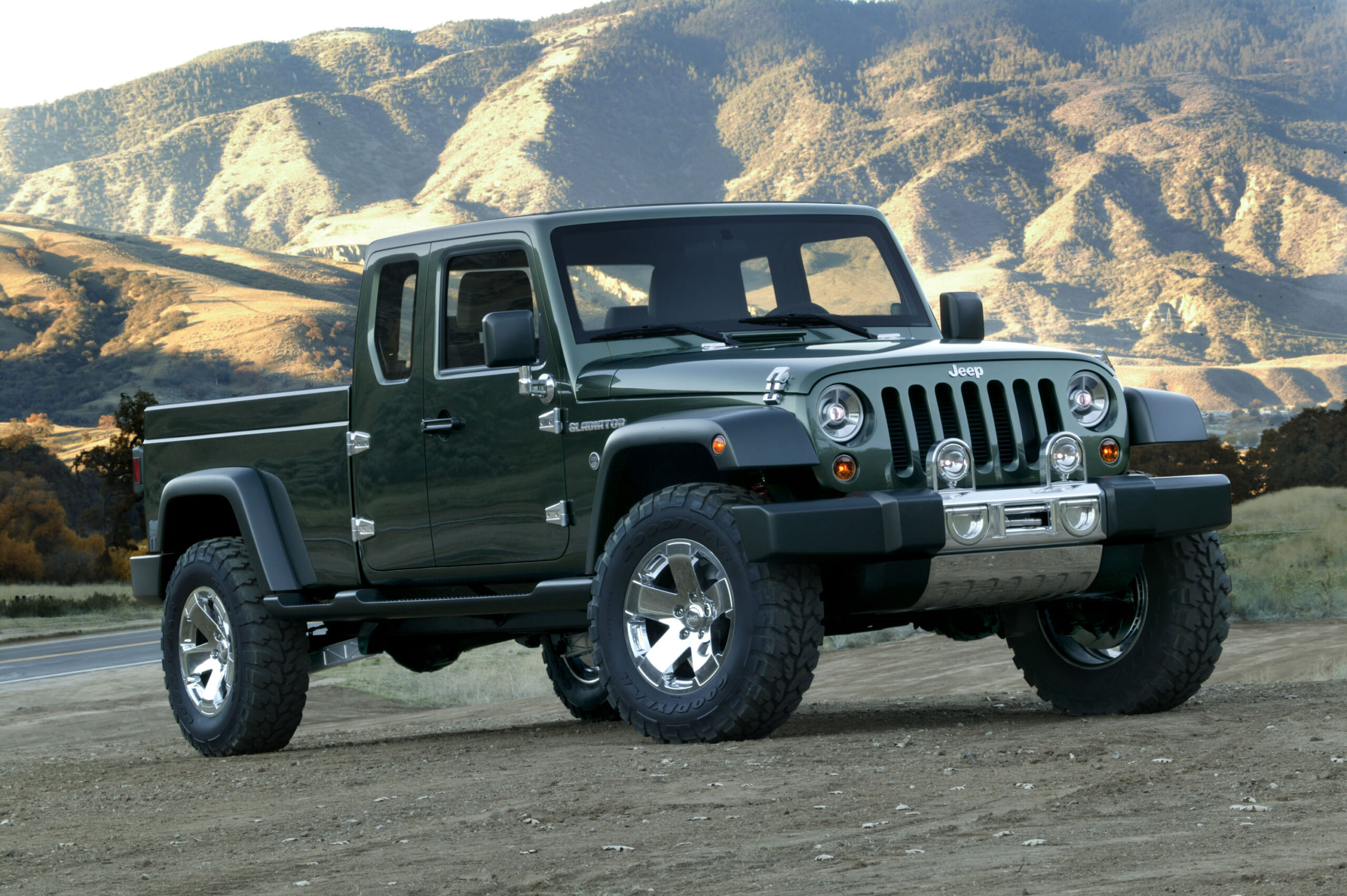 5. 2005 Gladiator
Jeep has long built popular pickup bed variants of its signature off-roaders, but those trucks have inexplicably disappeared in recent years. Jeep reminded us of the pickup's potential return back in 2005, with the Gladiator concept and it looks like the all-new 2018 Wrangler will finally see the return of a truck version.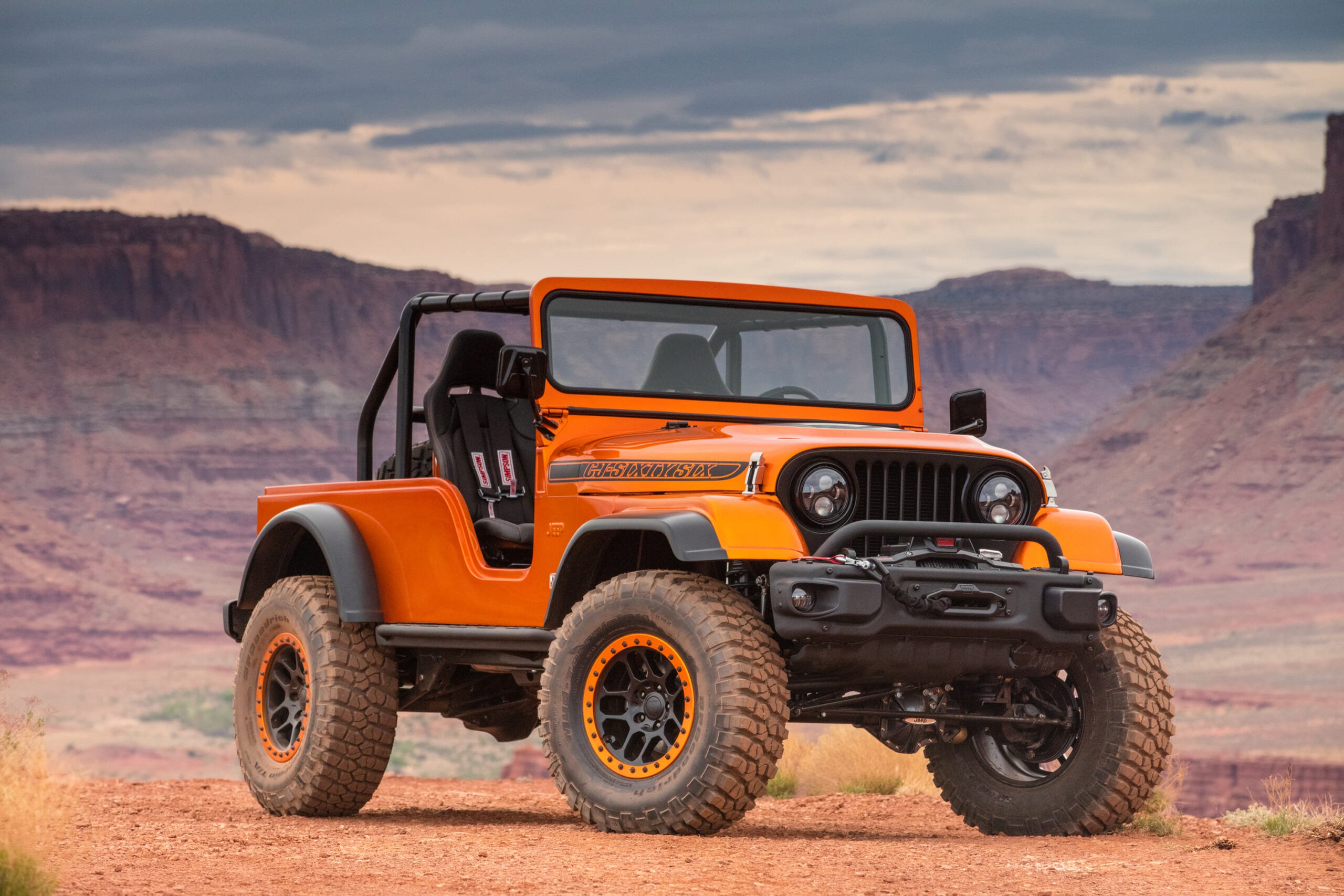 6. 2017 Sixty-Six
One way to evoke classic Jeep design is to use, well, classic Jeep designs. So in creating the Sixty-Six concept, Jeep's modern design department cheated a bit by recycling the body from a 1966 CJ-5 and installing it on the upgraded frame of a current Wrangler. We just know this blend of old and new works!
7. 2005 Hurricane
Combine a stripped-down topless Wrangler-derived body with V8 power and black paint and you have pretty nearly a perfect Jeep. That was the formula for the Hurricane concept at the 2005 North American International Auto Show and they could roll this out again next year and it wouldn't seem out of place.
8. 2012 Mighty FC
Weird, industrial-grade trucks like this classic forward-control Jeep are not the sort of thing you see every day. The Jeep FC 150 concept channels Jeep fans' love of trucks in a weird industrial-strength direction. The forward control model was actually built between 1956 and 1965, but this concept's body and bed are bolted to a 2012 Wrangler Unlimited chassis that's been beefed up with high-rise portal axles and 40-inch tires.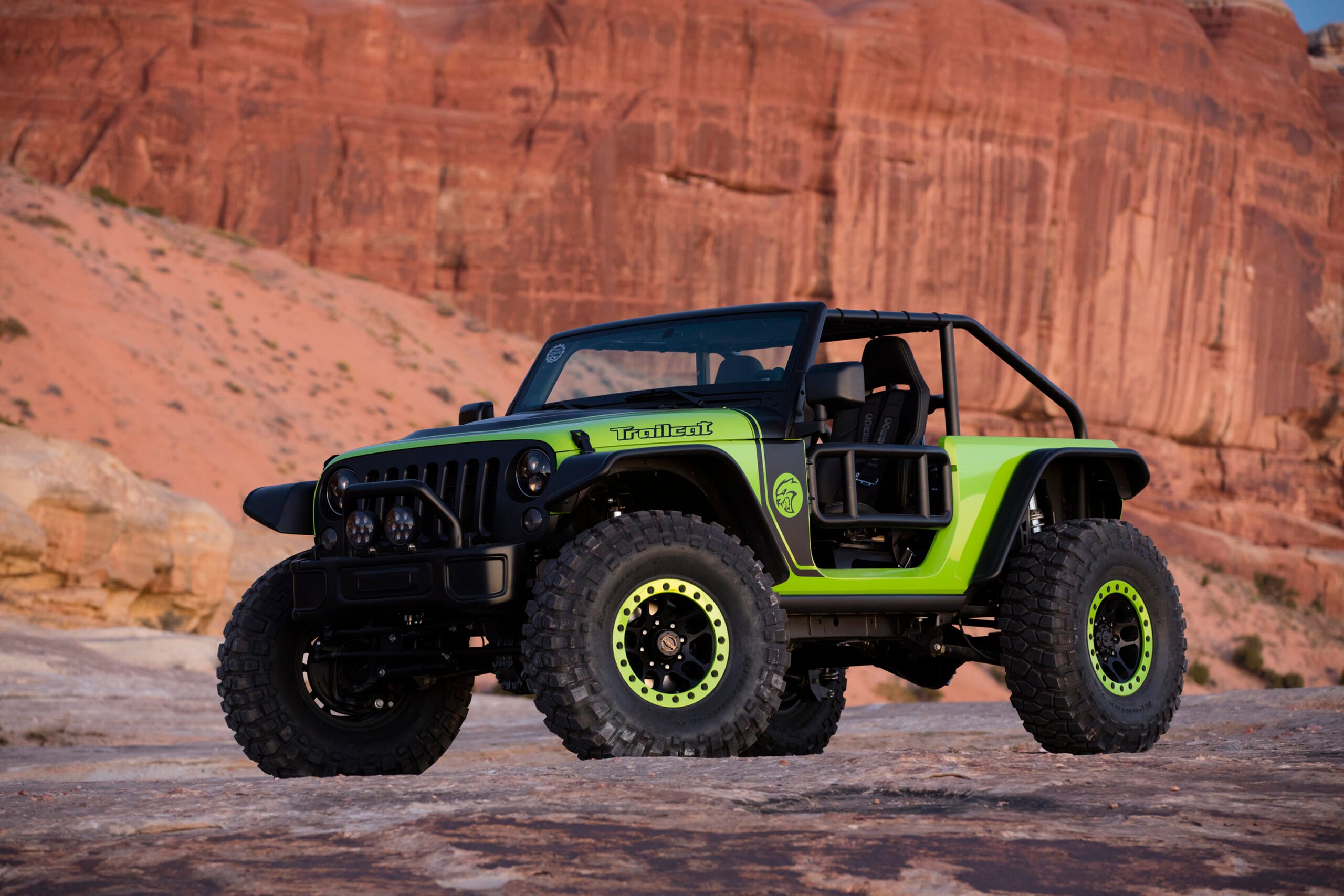 9. 2016 Trailcat
The Trailcat concept shows the potential for Chrysler's 707-horsepower supercharged Hemi engine in an insanely fast off-road weapon. Designers stretched the Wrangler's wheelbase a foot for increased stability and chopped the windshield two inches for reduced high-speed drag. Dana 60 axles and Fox shocks ensure that the Trailcat concept is no pavement-only Jeep pretender.
10. 2016 Shortcut
Jeep Wranglers have grown in size over the decades, so the Shortcut concept revisits the notion of a properly stubby Wrangler, dressed in period garb. This shortened (by a foot!) modern Wrangler has '50s-style plaid red low-back bucket seats and red steel wheels, but a modern 3.6-liter V6 engine and five-speed automatic transmission beneath the retro sheetmetal.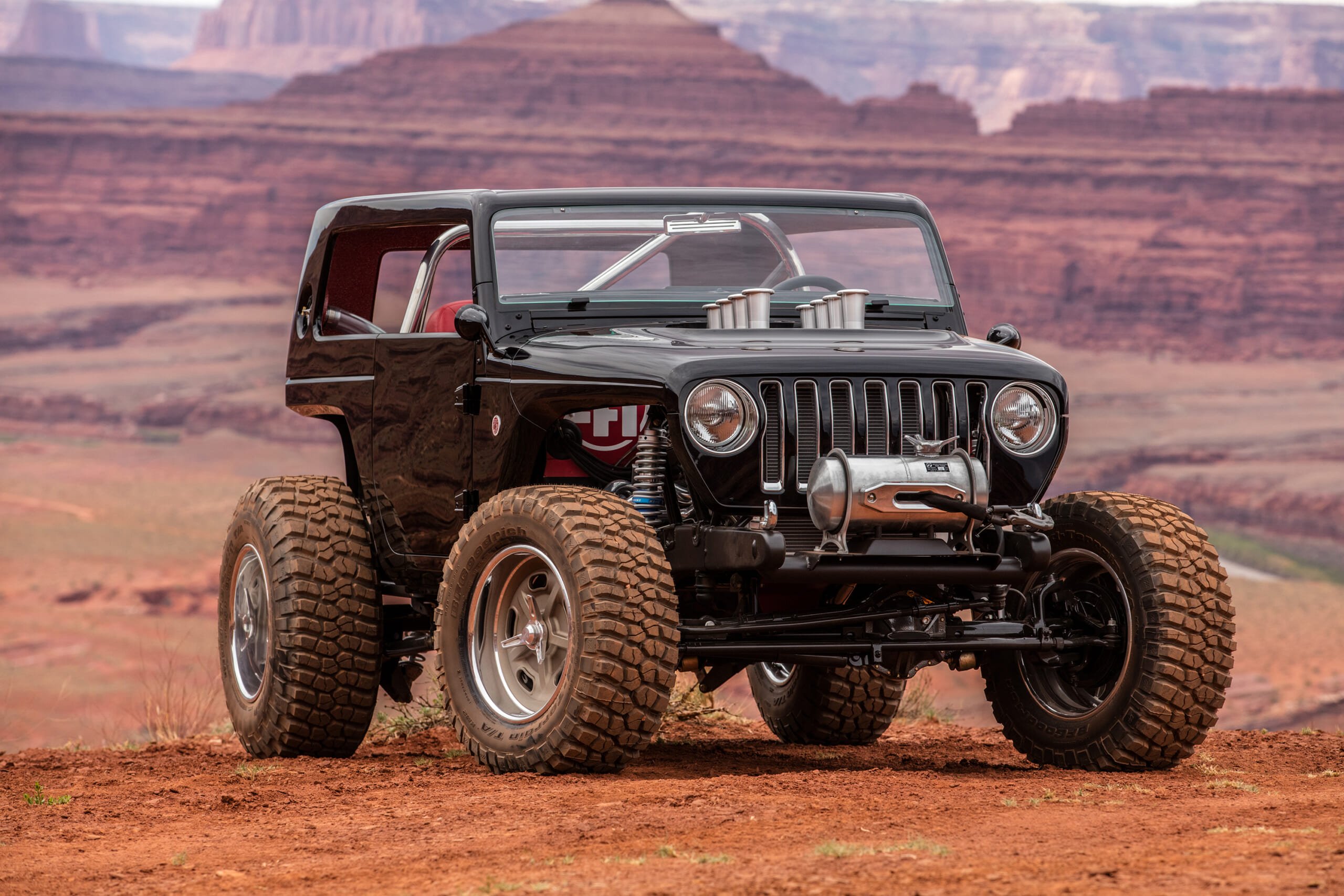 11. 2017 Quicksand
Hot rod meets rock crawling with the quicksand, a chopped-top Wrangler whose 392 Hemi inhales though the octet of intake stacks protruding through the hood. Open headers dump exhaust out behind the front tires, so bring your earplugs. It rolls on staggered 32-inch front tires and 37-inch rears, mounted on vintage-style "kidney bean" mag wheels.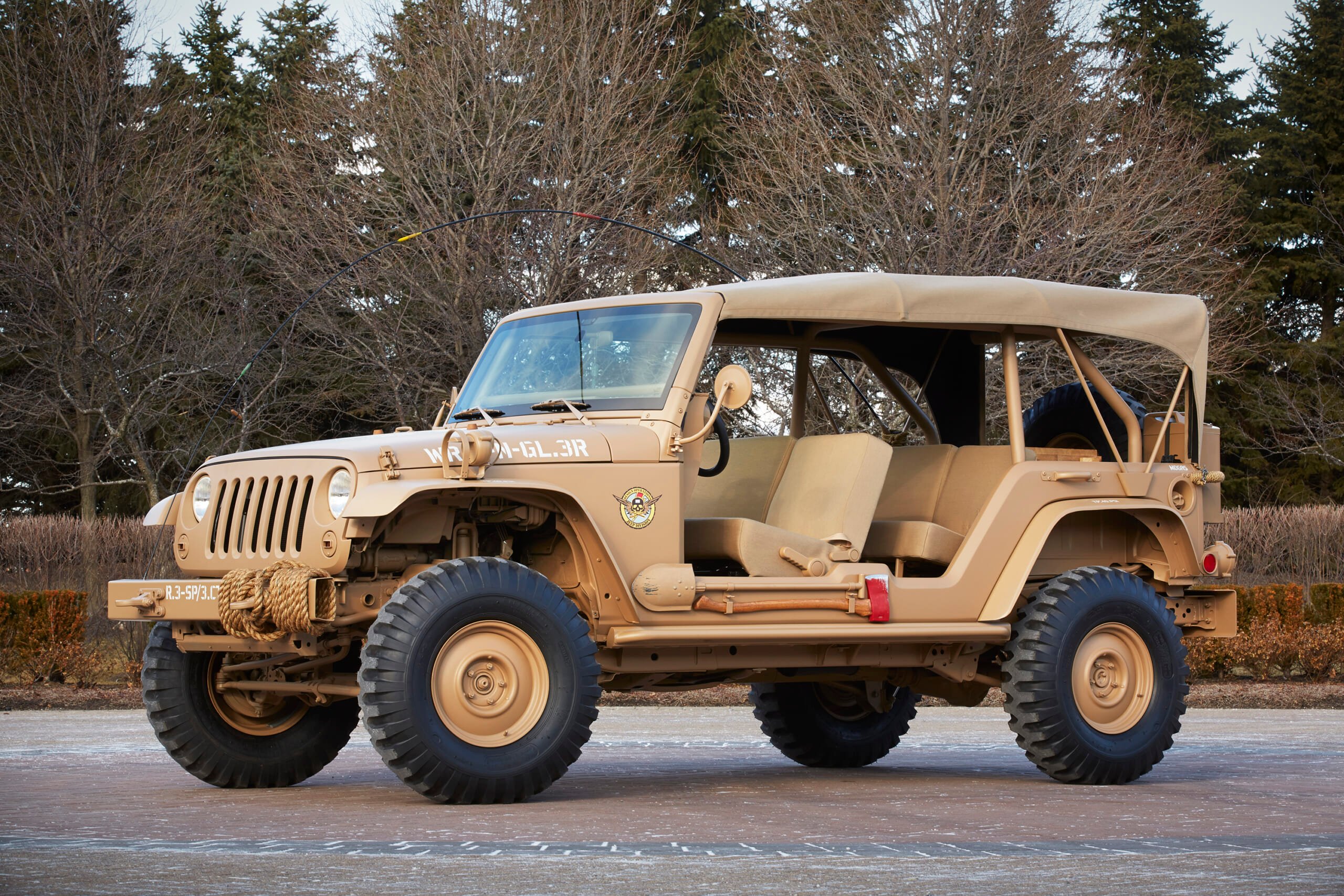 12. 2015 Staff Car
Every Jeep Wrangler, now matter how big it might have gotten in Unlimited trim and how luxurious it might be when decked out with all the options, still has the original military-based core deep down inside. That was the purpose of the Staff Car, a concept that hacks away all the overgrowth and gets the Wrangler back to its essentials as a military vehicle, though in this case with a back seat. The 16-inch steel wheels and Firestone NDT military tires complete the aesthetic.