These 6 Monstrous Muscle Trucks Are Some of the Baddest Machines Ever Made
Haul yeah.
Ford Motor Co.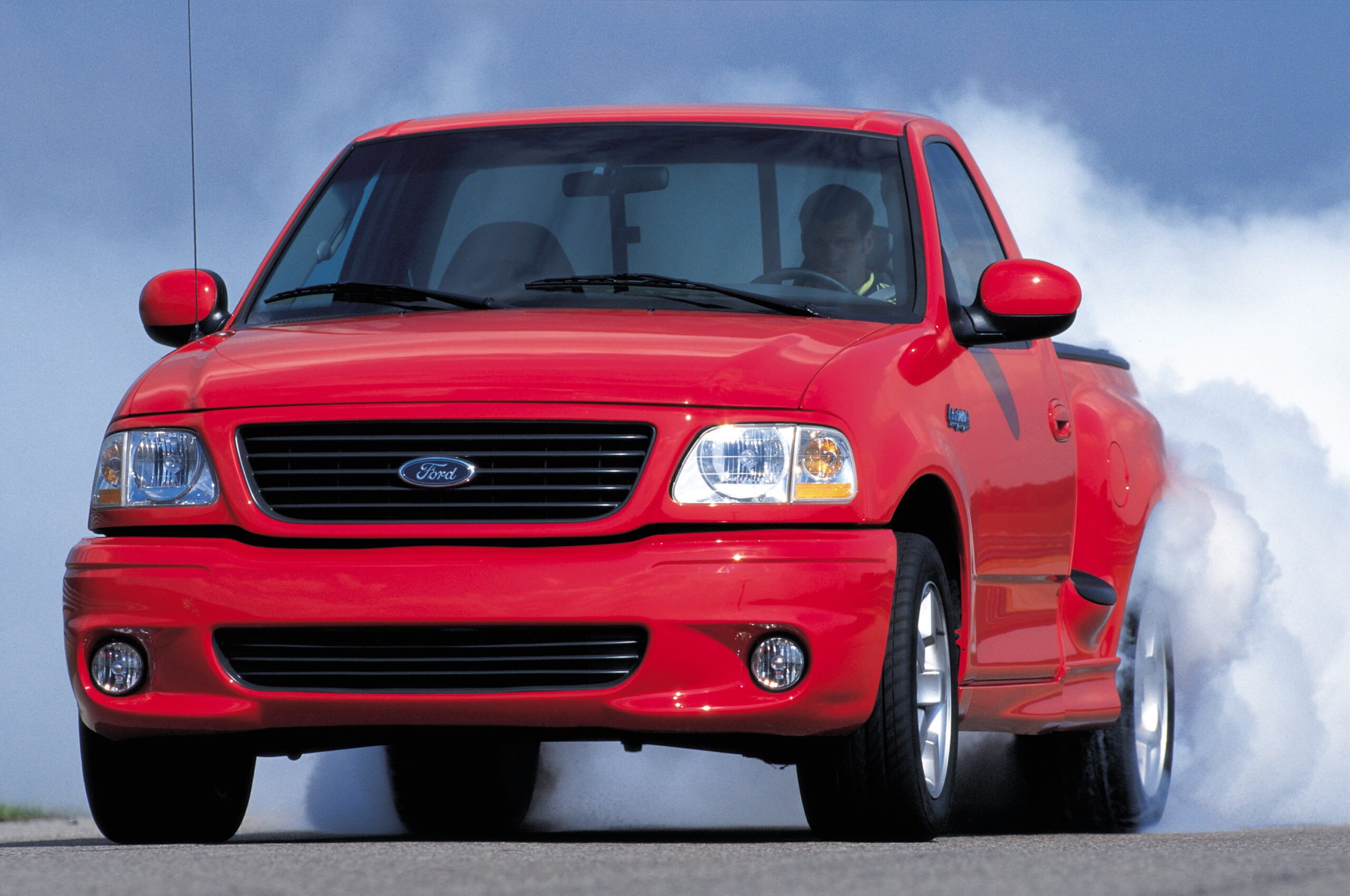 We're plenty familiar with burly pickup trucks, right? Sure, they are powerful for towing and hauling, but that's fat-strong, like the beefy guys who crush towering rec league softball home runs. What about fit-strong pro athletes? Yep, there is actually a group of fast-as-stink pickups that can run with anyone, and you didn't even need to pay someone to bolt in a Hellcat engine for you.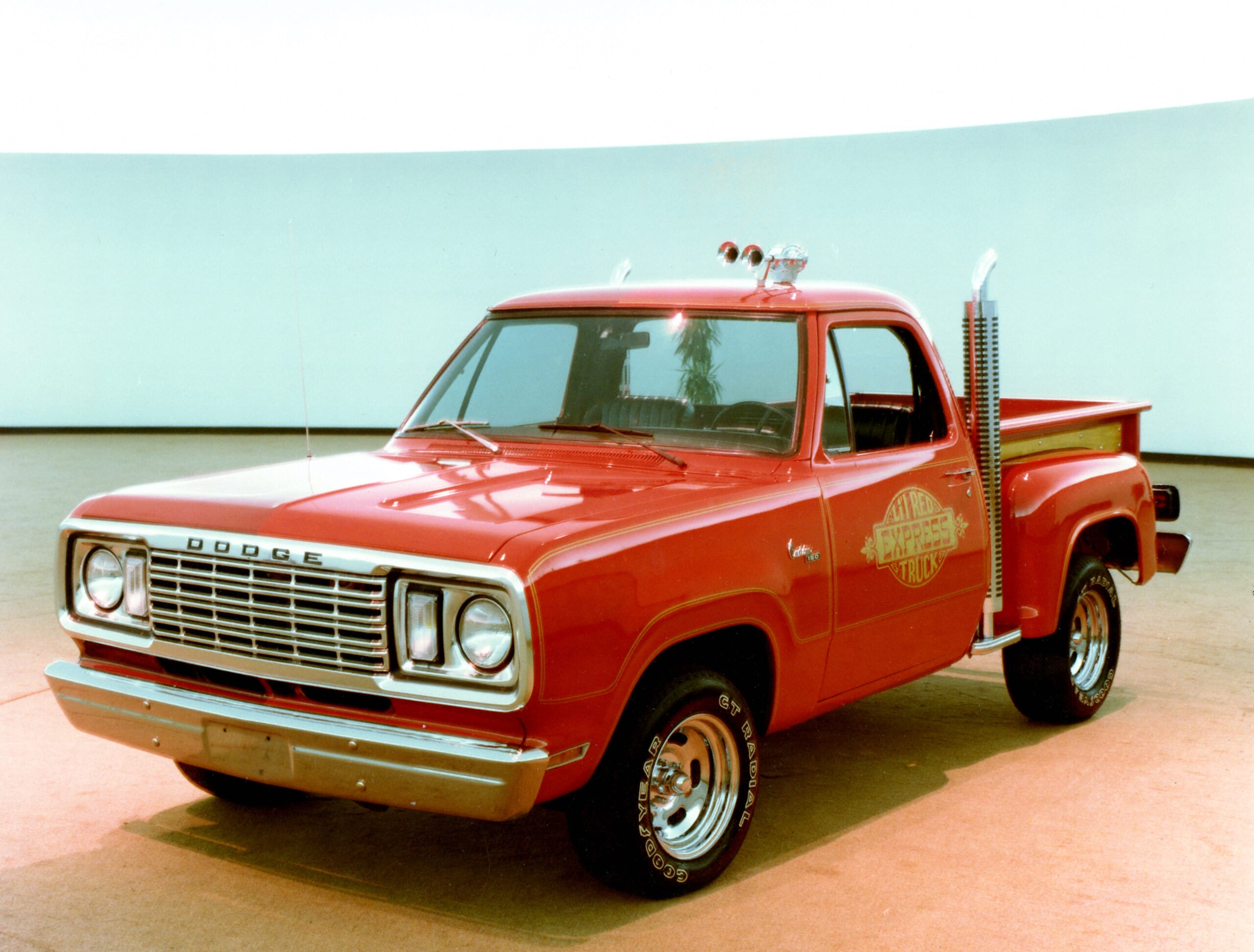 1. 1978-'79 Dodge Lil' Red Express Truck. The granddaddy of all hot-rod performance trucks, the Li' Red Express Truck was born when cars were being choked by the primitive efforts to limit their pollution in the analog 1970s. 
Pickup trucks, being work equipment, were exempted from these power-robbing restrictions, however, and some genius at Dodge realized that this meant it would be possible to built a hot rod pickup truck that was a throwback to the glory days of the muscle car wars.
The big rig-style vertical exhaust stacks were the pickup equivalent of muscle car side pipes, and the look pretty much demanded the inclusion of air horns on the roof.
2. 1989 Dodge Shelby Dakota. A decade later, Dodge turned to the tuning capabilities of Carroll Shelby to drop the company's small block V8 into its Dakota compact pickup truck. The Dodge Shelby Daytona produced entirely unremarkable 8.7-second 0-60 performance, but in the pre-Viper days, trucks were the only way to get V8, rear-wheel drive Mopar performance.
3. 1990-'93 Chevrolet 454 SS. As incredible as the Dodge Lil' Red Express was, it used that company's small block V8 engine. What about a similar truck that used a big block for its motive source? That was Chevy's thinking when it launched the 454 SS.
During these dark days, Chevrolet's big block 454 was rated at a paltry 230 horsepower, but the truck was quicker than most sports cars of its day.
Chevrolet revived the concept with the much quicker, all-wheel drive Silverado SS a decade later.
4. 1991 GMC Syclone. It wasn't only full-size trucks that could be souped up; GMC combined a turbocharged V6 engine with a full-time all-wheel drive system to produce a machine very much aligned with today's performance thinking in the Syclone.
Its 280 horsepower, lighter weight and all-wheel drive meant the Syclone out-gunned its big block 454 SS cousin.
5. 1999-2005 Ford SVT Lightning. Ford's first crack at a performance truck was actually the 1993-'95 Lightning, but it was Lightning 2.0 that really delivered performance and captured buyer's attention.
This truck employed a supercharged 360-380 horsepower (depending on the year) 5.4-liter overhead cam V8. It was rear-wheel drive, but a limited-slip differential let it put the power to the pavement, delivering quicker acceleration than a Mustang Cobra of the same vintage.
6. 2004-'06 Dodge Ram SRT10. The Viper's V10 engine was originally planned to be borrowed from the Dodge truck, so it made sense that eventually the sports car's 500-horsepower engine would find its way back to the truck. In 2004, that's what Dodge did, reportedly to let its Viper customers tow their cars with a similarly powered pickup.
Unlike the Ford Lightning of the same time, the SRT10 had an available manual transmission, making it fun to drive. However, unlike the Lightning, the SRT-10 never really seemed to live up to expectations at the drag strip. Still, its official ratings from Dodge included a 150-plus mph top speed and a 0-60 acceleration time of just over five seconds.
H/T: Hagerty