Toyota Made a Real-Life Tonka Truck, And It's Blowing Our Childlike Minds
Need.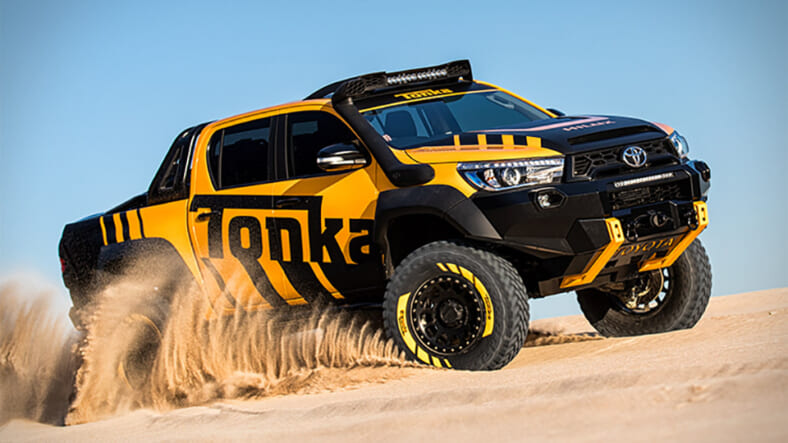 Toyota
Toyota's Aussie engineers know how to have a g'day, and they've brought us this fun Tonka truck-themed concept version of the HiLux compact pickup that the rest of the world gets as their equivalent of our Tacoma.
https://www.youtube.com/watch?v=LVHxDHyD_JM
We liked driving the Tacoma in snow, but this sand-ready Tonka HiLux looks like even more fun, thanks to upgrades like a 6-inch suspension lift and massive 35-inch off-road tires.
"The HiLux Tonka Concept is dramatic evidence that our local team loves to have fun, we're keen to explore new ideas and we're always looking to push the boundaries of what's possible," product design chief Nicolas Hogios said.
The HiLux wears a LED light bar on top and a 6mm-thick protective skid plate beneath, while the bed is packed with gear like fuel cans, fire extinguisher, axe, shovel, high-lift jack and storage boxes for recovery gear to pull out lesser vehicles when they get stuck.
A key difference between U.S.-market and foreign-market Toyota pickups is the drivetrain, and the HiLux is powered by a 2.8-liter diesel engine that enthusiasts would desperately love to get in the American Tacoma. Difficulty passing stringent U.S. pollution limits prevents that, alas. Just ask Volkswagen about that.
The HiLux name is probably best known to Americans for Top Gear's unorthodox test to destruction in which the beleaguered pickup withstood everything its sadistic English torturers could throw at it.
The HiLux Tonka Concept isn't above dressing up a bit, with a carbon fiber-skinned hood and tailgate, plus a rear spoiler to provide even more aggressive style than the yellow paint and black lettering already give it.
The Tonka theme has enduring appeal, as Toyota's American team produced a 580-horsepower supercharged V8 Tundra Tonka concept for the 2014 Specialty Equipment Market Association show and a Tonka 4Runner for the 2015 edition.
And we also previously saw Ford's 2015 commercial truck Tonka concept F-750.
These guys have repeated demonstrated the appeal of toy trucks writ large, so who's gonna finally have the guts to sell one at their dealers?