Bell's Hybrid-Electric Flying Car Will Be Available Via Uber by 'Mid-2020s'
The future is coming.
Bell Helicopter Textron Inc.
People of a certain age all make the same jokes about living in the 21st century. Jokes based on pie-in-the-sky sci-fi visions of the future about a world of sentient robots, daily, routine space travel, and flying cars.
No matter how hard Boston Dynamics or Elon Musk try, the first two aren't exactly happening yet. But the flying car? The five-seater Nexus hybrid-electric air taxi with vertical takeoff and landing (VTOL) ability that Uber partner Bell introduced at CES 2019 makes those an imminent reality.
There's a caveat, of course, reports The Verge—Bell only introduced a scale model at this year's Consumer Electronics Show, and "won't have a workable prototype until the company is on the cusp of launching a real service." 
So what will that prototype be like once it's introduced?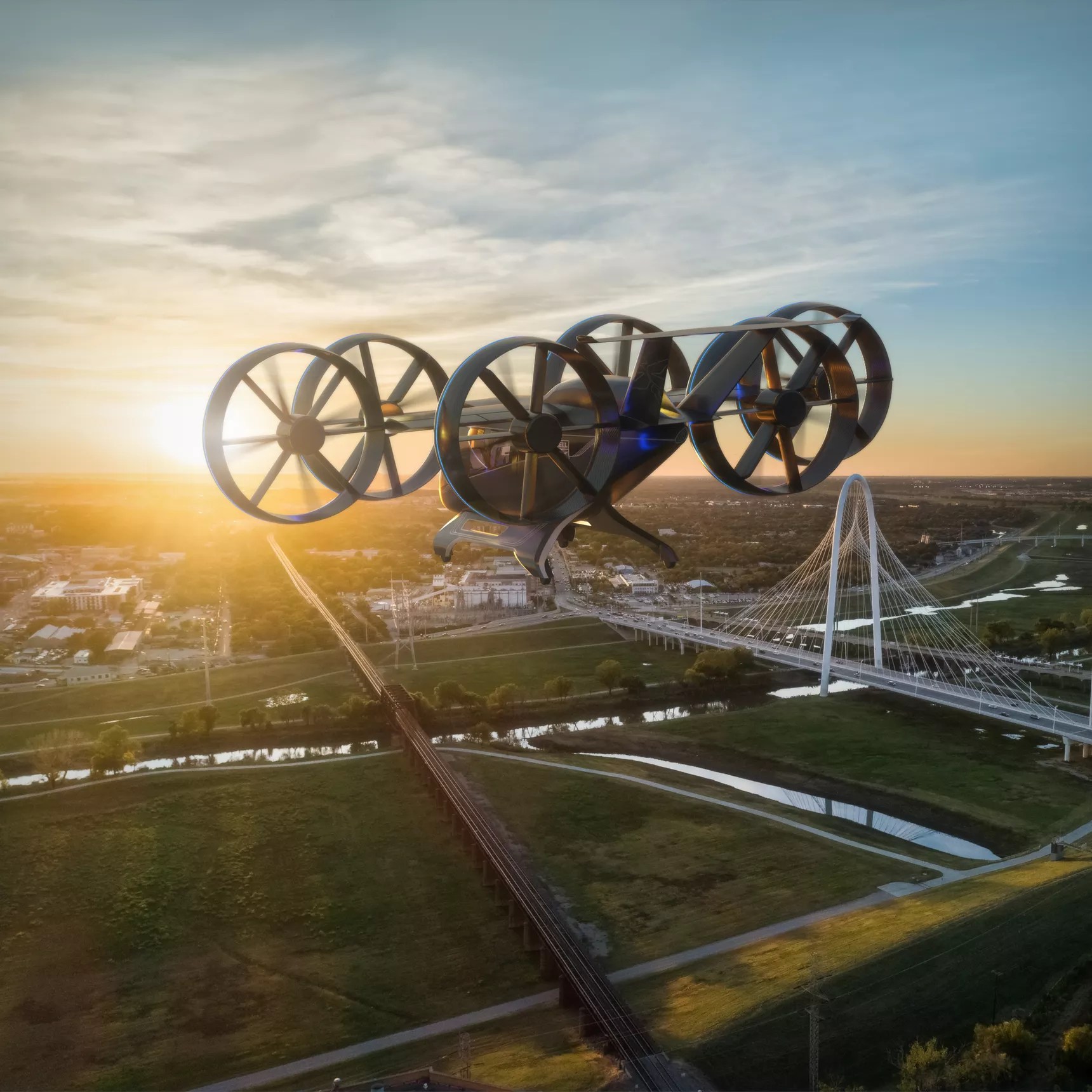 Bell director of innovation Scott Drennan told The Verge that the Nexus models they plan to have flying above select cities by the mid-2020s will "feel safe and comfortable." 
They will carry up to 600 lbs and be powered by a hybrid-electric engine, which will allow for longer flights.
While Drennan reportedly said the company went with the hybrid because they were considering "air taxi, or logistics services, or even just applications in the military," it appears they're also just trying to start at the front of the pack, because VTOL transportation is beginning to boom.
Current infrastructure, engineering, and regulatory issues aside, plenty of companies see where we're headed. The Verge reports:
…at least 19 companies are developing flying-car plans. These include legacy manufacturers like Boeing and Airbus, and small startups like Kitty Hawk, owned by Google founder Larry Page.

Meanwhile, Uber has made significant strides in partnering with a handful of aircraft manufacturers, real estate firms, and regulators to better its chances of developing a fully functional, on-demand flying taxi service.
Where Uber is concerned, Bell's Nexus may hit a snag, delaying the day when you can request a flight from the doctor's office to your apartment building. The ride-share giant is only looking for all-electric VTOL vehicles at the moment. 
However, Uber aviation director Mark Moore indicated that the Nexus prototype's hybrid engine is just one step toward "getting ready for all-electric solutions." Uber views itself as "the link" between this futuristic mode of transportation and its customers.
As amazing as it is to look at concept art and read about Uber's plans, that infrastructure issue will be the kicker. Just driving through most major cities is a nightmare at the ground level. 
Soaring above it all sounds awesome, but there are also utility poles, wires, and pigeons to consider. Okay, maybe not the pigeons.