The Ultimate Classic Porsche 911 Is Packed With Cutting-Edge Formula One Tech
And 500 horsepower.
The term "restomod" arose to describe the incredible work being done by automotive artisans who could preserve the classic appearance of an American muscle car while replacing nearly everything under the skin to create a machine that drives even better than it looks.
That might be the level to which Singer Vehicle Design has moved with its latest Porsche 911 project. Previously, Singer has done such exquisitely thorough restorations and upgrades that the shop is legendary.
But now, a partnership with Williams Grand Prix's Advanced Engineering department, with assistance from famed Porsche engine designer Hans Mezger, Michelin, BBS and Brembo, has let Singer create a mind-blowing confection that enhances the 911 flavor while using a fresh set of ingredients.
Singer customer Scott Blattner commissioned the company to transform his 1990 911, one of the generation that is code-named "964," into this Absinthe green wonder.
Yes, it still looks like a 911 and it still has an air-cooled flat six-cylinder engine sitting behind the rear axle, right where Dr. Porsche put it originally. But as with the recent AMC Javelin restomod from Ring Brothers, looks can be deceiving, especially when there are Formula One engineers on the job.
Williams collaborated with Porsche engine specialist Hans Metzger to develop a 500-horsepower 4.0-liter version of the car's original engine.
And that classic bodywork is not only carbon fiber rather than steel, but it has been subtly revised through computer analysis to reduce the 911's inherent lift, for greater stability at the speeds produced by the 500 horsepower engine.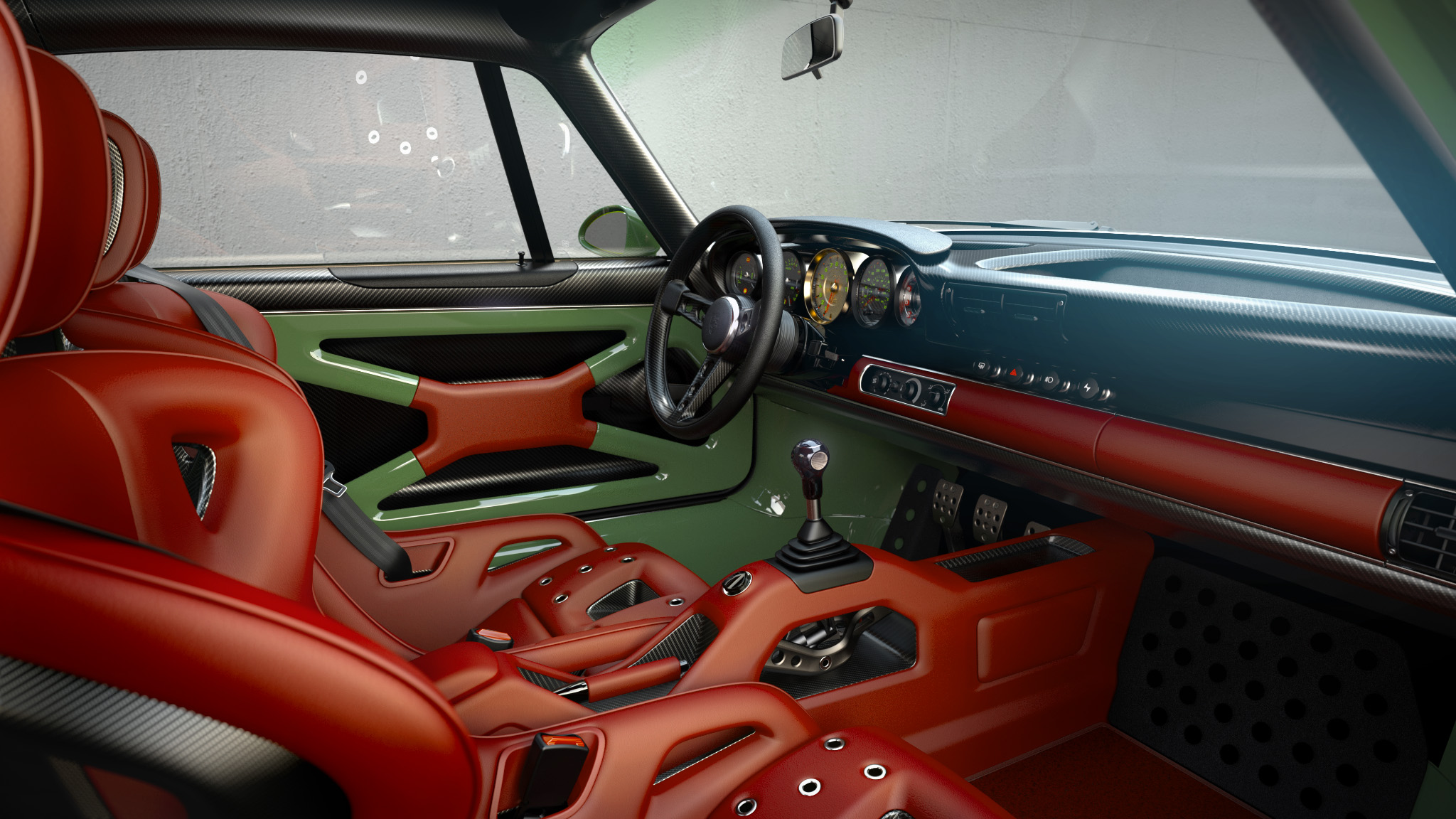 Racers being racers, of course they replaced the factory suspension with parts that have better geometry for improved handling and stability and that are also adjustable, because racers want to adjust their car's suspension to suit the track and the conditions.
And forget the factory transmission. Racecars use ones from British specialist companies, so this 911 received a race-spec six-speed from Hewland Engineering that features a lightweight magnesium case.
That and all the other expensive parts such as the titanium/iconel exhaust system contribute to a feathery curb weight of just 2,180 lbs. to be motivated by the 500-horsepower engine.
EXE-TC provides the racing shock absorbers, while the center-lock magnesium 18-inch wheels are custom-designed by BBS for this project, and Brembo provides the carbon ceramic brakes. The tires are today's performance car go-to, Michelin's Pilot Sport Cup 2s with a custom compound and construction.
"On a technical level, the study has been fascinating and has resulted in an incredible restoration with the benefit of top drawer resources and modern science," observed Singer Vehicle Design Founder and Creative Director Rob Dickinson. "Artistically it has been a second chance to connect with the machine on a new level."
Lucky owner Blattner enthused, "The results as applied to my car are extraordinary and we felt compelled to share with other enthusiasts exactly what this company is capable of when given the funds and the partners to excel at the highest level – we are all excited to be part of what we hope is a strong group of believers in this effort."
While Singer's usual work costs in the half-million dollar range, these Grand Prix-spec projects elevate the price into the realm of "if you have to ask." But the good news is that Blattner's Absinthe beauty is not a one-off. 
Indeed, the partners have established a new department at Williams, called Singer At Grove (the town in Oxfordshire where Williams is headquartered) to produce more of them. A future gathering of these products will make for a glorious homecoming for certain.