This Ultra-Compact Jet Boat Packs a Ton of Luxury Into a Speedy Little Package
Jet Capsule debuted a bigger, faster and even more baller version of their compact watercraft.
Jet Capsule
Combining speed, maneuverability and 007-like fantasy appeal into a 24-foot-long boat is a tall order, but this Italian-made compact yacht pulls it off. 
Dubbed the "Jet Capsule," every component of this sleek watercraft has been designed to make the most of its diminutive size.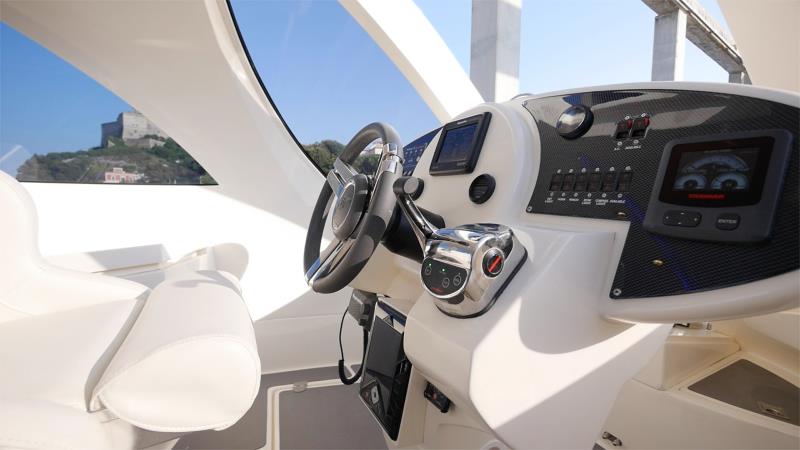 The lightweight body is 70 percent carbon fiber, allowing its 370-HP Hamilton Jet propulsion system to push it across the water at 40 mph flat out. 
The Naples-based company recently launched the ultra-luxe "Royal Version 001." Priced at $285,000, the flagship model is two feet longer and about 30 mph faster than the original Jet Capsule, according to New Atlas. 
Its upgraded teak trim, motorized carbon fiber rear door, plush leather seating for nine passengers and 193 square-feet of floorspace are all showcased in the video above. 
The Royal Version 001 is just one of many bespoke designs Jet Capsule offers. For instance, the "Angle Jet" configuration has seating for four, a small kitchenette and a bathroom.
A wilder crew might spring for the "Party Jet" with its two giant, roof-mounted Bose sub woofers and additional water jet for rigging up a Flyboard. 
Unfortunately, the Al Pacino lookalike helming the Jet Capsule in the photo below isn't included in its $250,000 base price.
Visit their website for more details on purchasing this tiny-but-mighty vessel.  
h/t: Uncrate