The Vanguard Roadster Is a Piece of Art in Motorcycle Form
We can't stop staring.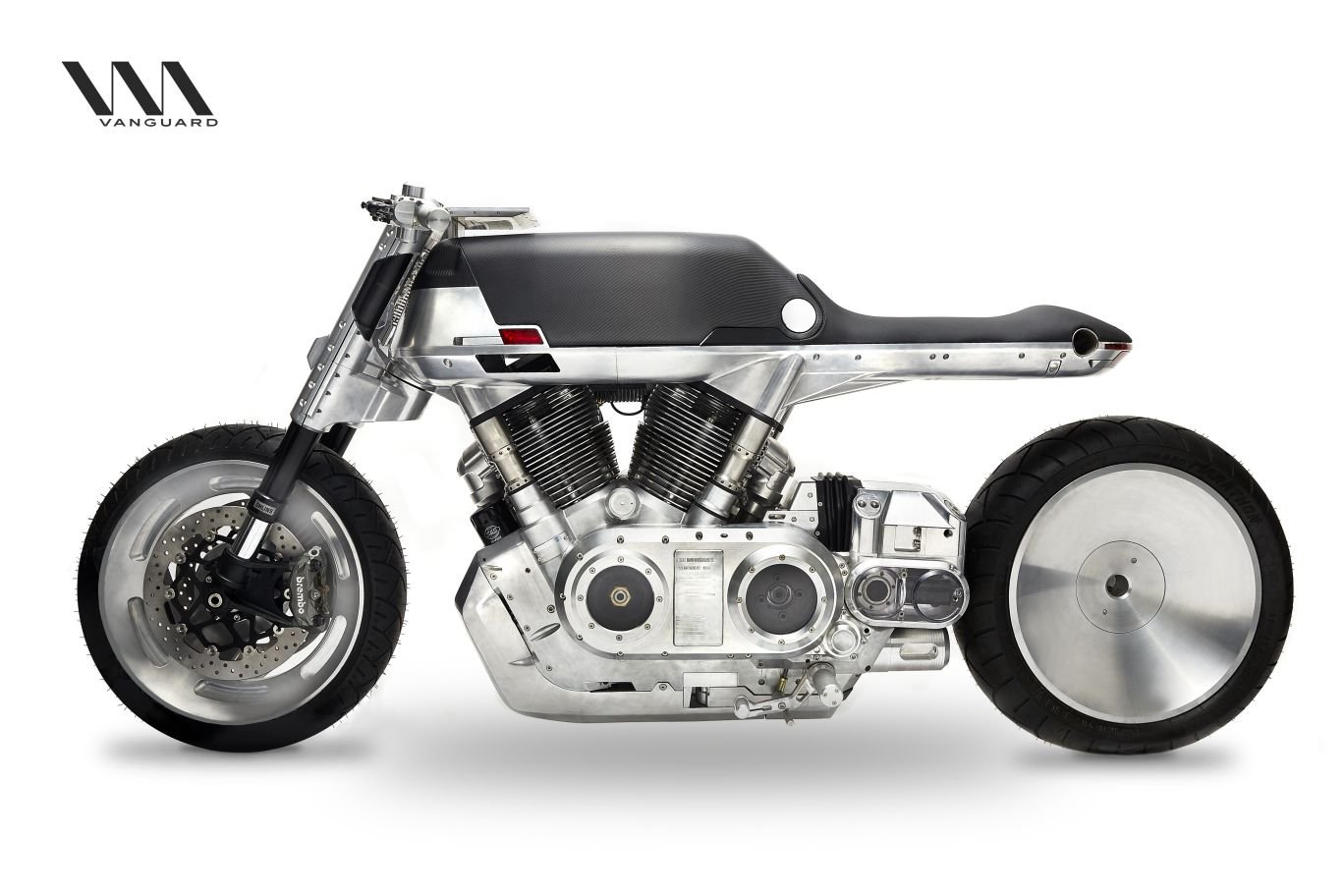 The stunning Vanguard Roadster is a $30,000 V-twin work of two-wheeled art that is so stripped of extraneous accoutrements that it almost appears unfinished. This incredible machine is the work of Vanguard co-founder Edward Jacobs, who previously toiled as a designer of the also-amazing bikes from Alabama's Confederate.
Vanguard rolled out its Roadter prototype at the New York International Motorcycle Show, revealing a degree of integration of its systems and components unimaginable in anything but a one-off custom bike. Not only are the hydraulic lines, wires and other bits hidden from view, but even the exhaust system is buried within the bike's structure rather than hung on to the outside in plain view.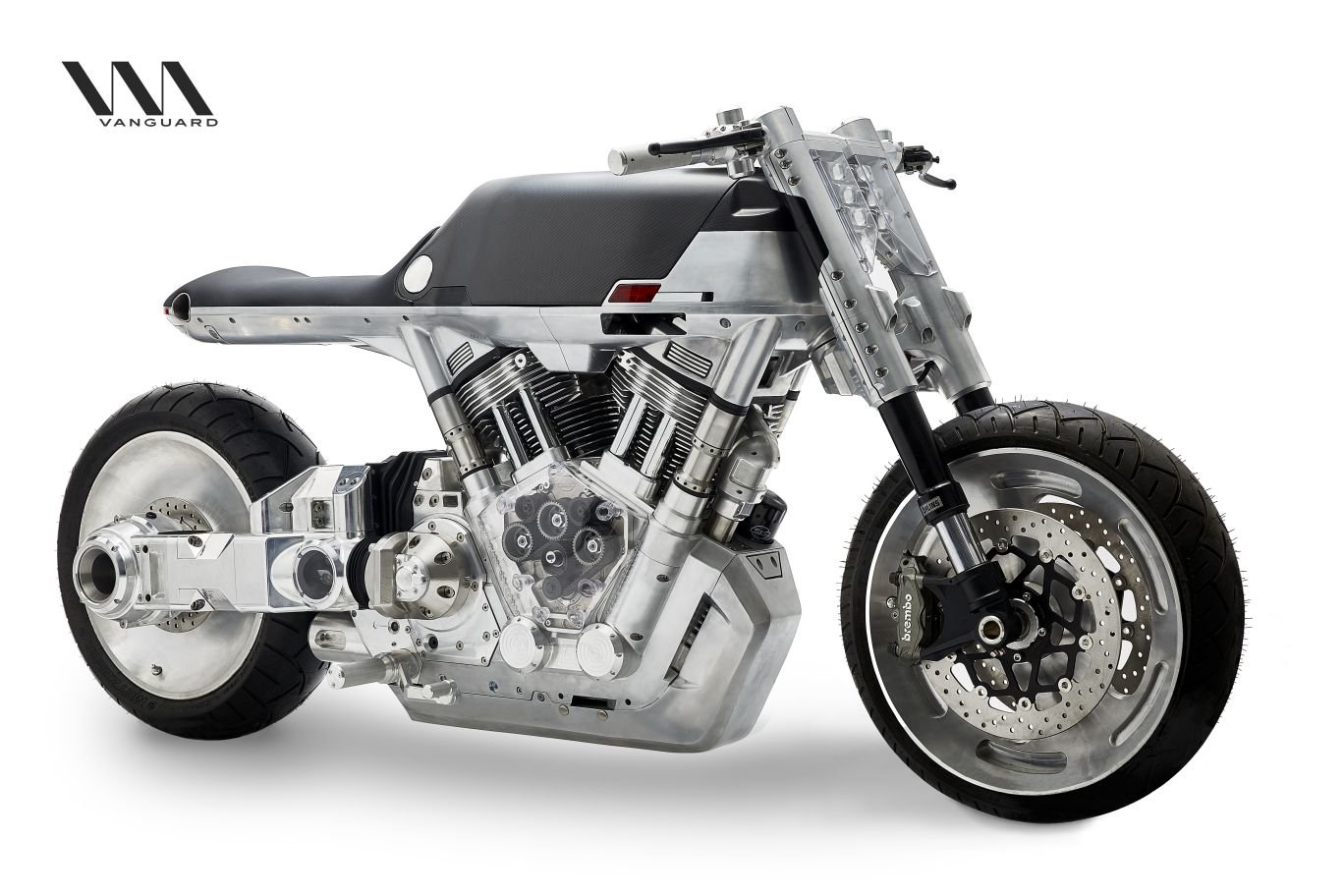 Frame tubes? Nope. What framework there is mounts to the top of the engine, connecting it to the steering head at the front of the bike and supporting the cantilevered seat at the rear. 
The rear suspension mounts to the back of the 1,917cc air-cooled V-twin engine and six-speed transmission combo. As with the Confederate Hellcat, the Roadster wears a clear cover over the engine's timing gears, revealing them to viewers like a mechanical watch with an exhibition case that shows its movement.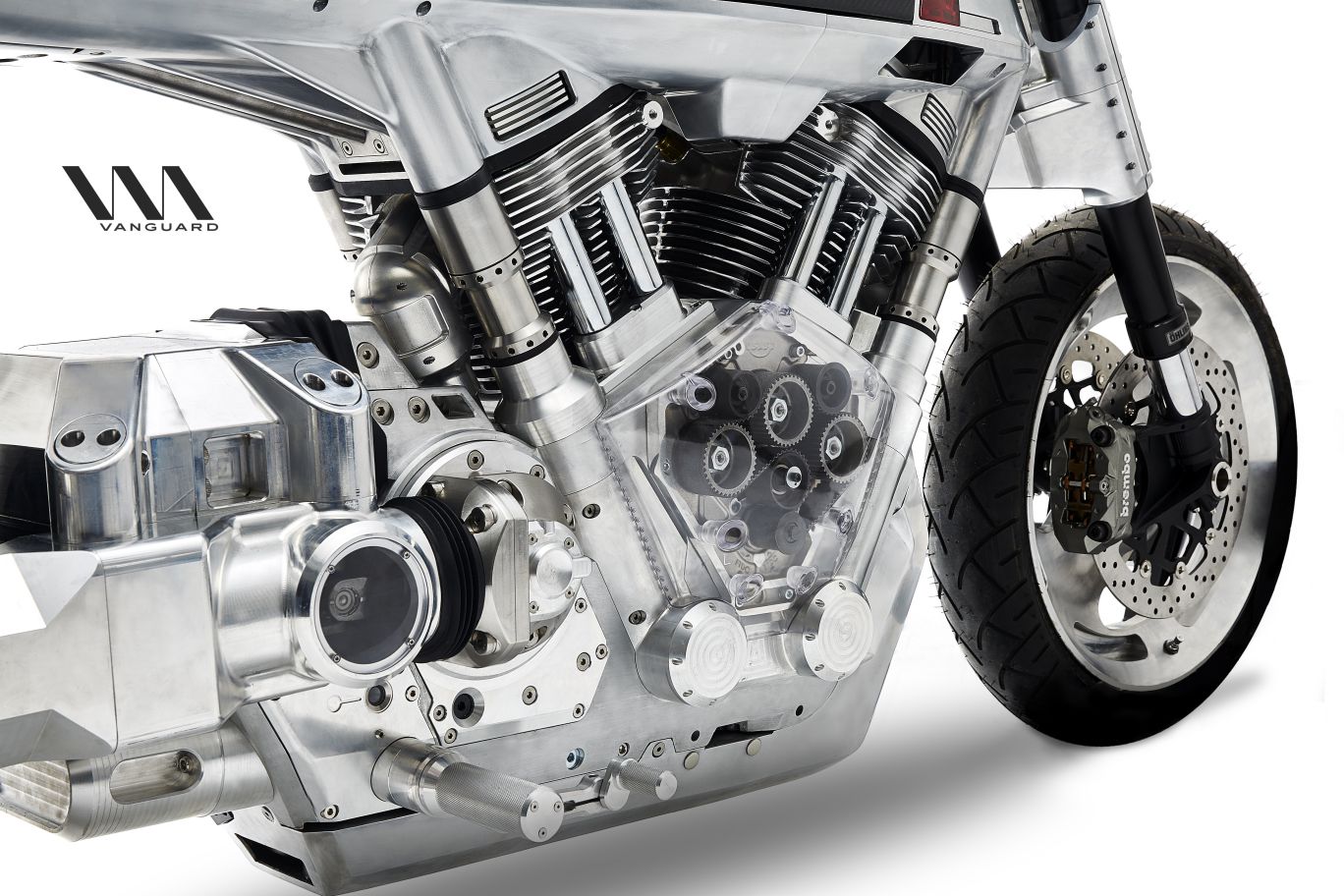 That engine is based on a S&S design, with obvious customization to suit the Vanguard's styling and its extreme integration of subsystems.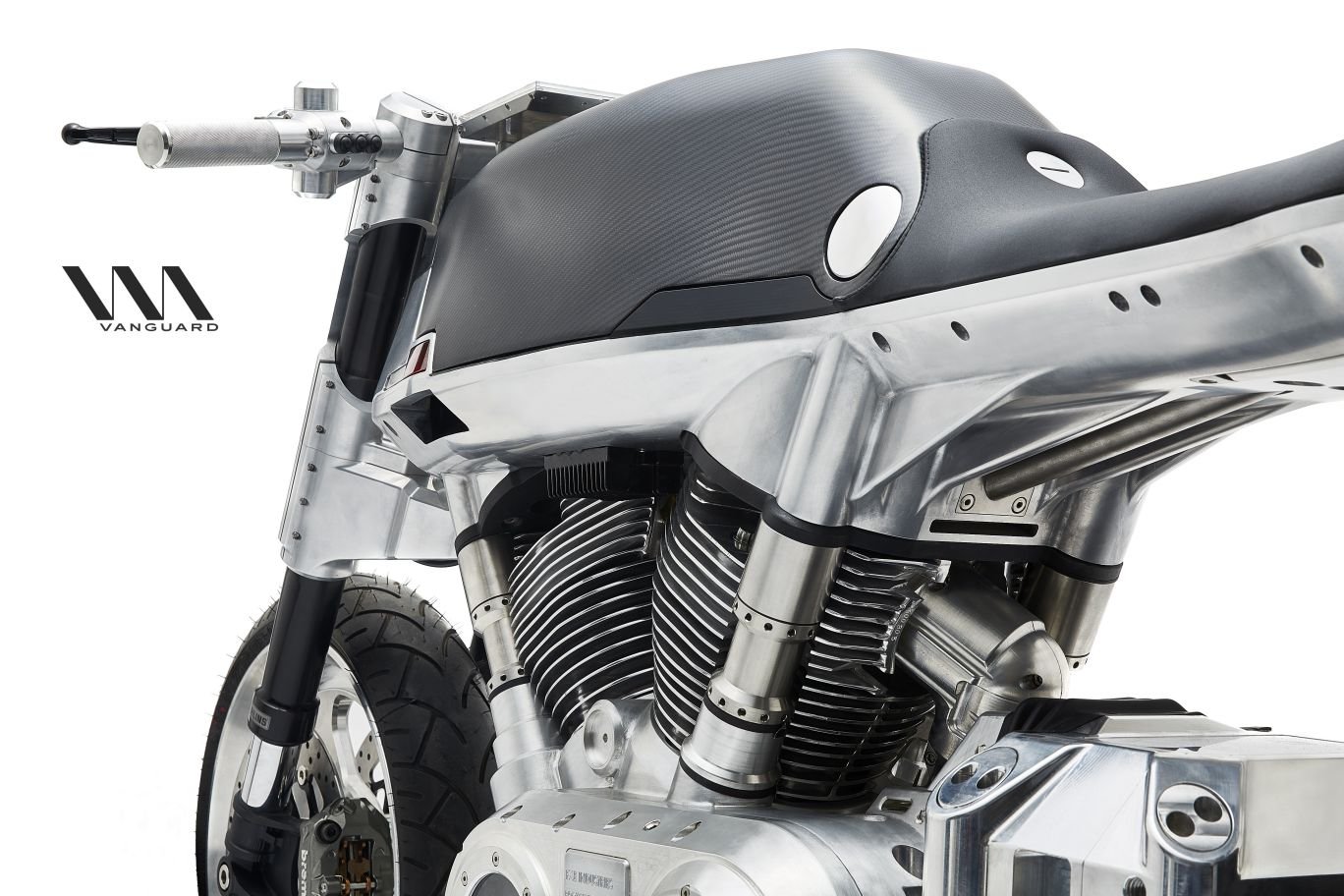 Vanguard turned to some of the usual suspects for other key parts, like the Ohlins fork and rear shock absorber for the single-sided swingarm suspension, Brembo brakes front and rear and Metzler tires.

The Roadster's driveshift is buried, naturally, within that single-sided swingarm, so there is no chain or belt drive in view, again contributing to the impression that there aren't enough parts here to make the bike work, so it must move by some kind of hidden magic.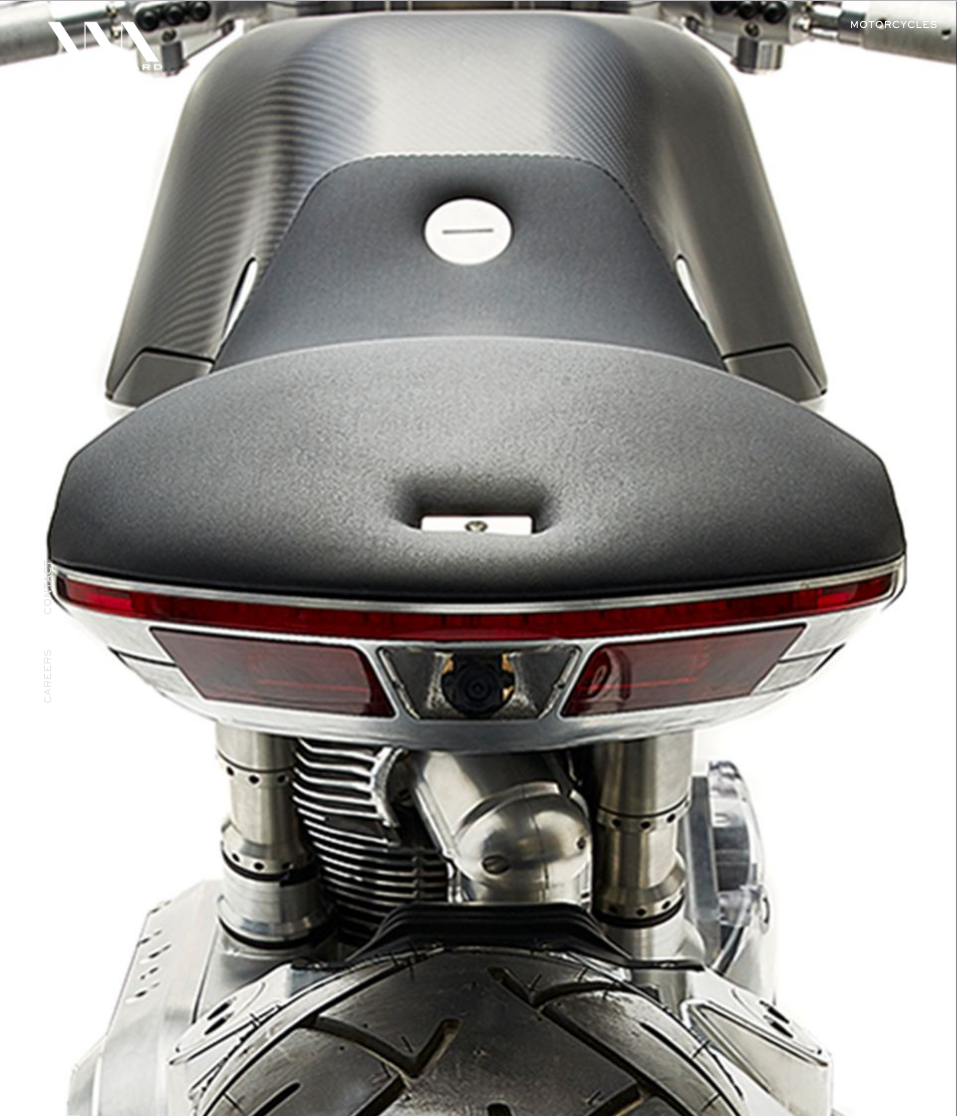 While most air-cooled V-twin motorcycles are obviously influenced by the history of Harley-Davidson's popular models, Vanguard makes no gestures to the past.
"We relied on design and engineering to create our own language, without relying on heritage or nostalgia," said Jacobs. "Our design is based on a utilitarian approach, where each part and each component is here for a reason and has a true purpose."
Deliveries are scheduled to begin in 2018.