The V-10 Powered VLF Force 1 Is The Dodge Viper Of Your Dreams
745 horsepower, a top speed of 218 mph and a Champagne holder in the front seat make this beast a full-throttle pleasure.
Esteemed car designer Henrik Fisker and retired industry titan Bob Lutz wondered what would happen if you took the underlying hardware of the fire-breathing Dodge Viper and wrapped it in maximum luxury and comfort. The result is the menacing-looking VLF Force 1, a 745-horsepower monster that comes with a champagne bottle holder between the seats to quench your thirst for victory.
You might not be at a race track, but rest assured, if you're driving the Force 1, you have already won. If you do want to test its mettle, the Force 1 will accelerate to 60 mph in 3 seconds flat en route to its 218 mph top speed.
" tml-embed-width="560″ tml-embed-height="315″ tml-render-layout="inline
While the Viper's frame and drivetrain serve as the Force 1's foundation, they are supplemented with a sophisticated active suspension system that improves that car's notoriously brutish ride to suit the Force 1's refined customer. It also gains upgraded Brembo brakes, another area where the Viper falls short of supercar expectations.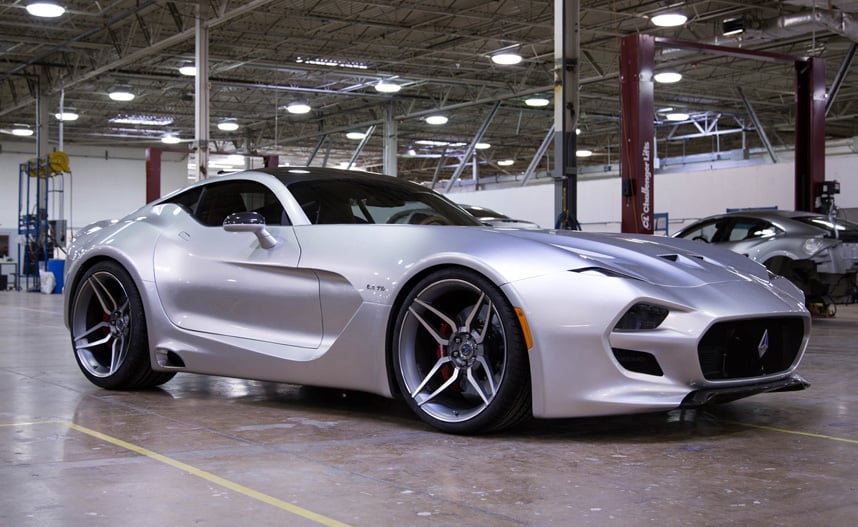 The Viper's basic proportions are retained, though the Force 1's carbon fiber bodywork is entirely new, says Fisker. "The windscreen wraps around into the side glass, followed by an elegant, yet aggressive side-line sweeping up towards the rear deck," he explains. "The graphics are uniquely sleek, with ultra thin lights in front and at the rear, UTV laser blade tail lamps, the thinnest tail lamps in the world."
The Force 1 has sparked conflict between Fisker and his former employer, Aston Martin. The company sees similarities between its DB10, a car built exclusively for the latest Bond movie, Spectre, and the Force 1, and sent VFL a letter demanding they not show the car at the Detroit Auto Show. Fisker responded with a $100 million lawsuit against Aston.
There are some themes here that are similar to the DB10, but the same could be said of many cars, especially recent Fords that have borrowed heavily from the design language of their former subsidiary.
If the legal wrangling is sorted out, the VLF will commence production of 50 Force 1s in April, with deliveries to customers in the third quarter this year. Start digging into your couch cushions for the $268,500 you'll need to place an order.
For the latest car news, follow @MaximRides and Dan Carney on Twitter.