Why The Bentley Bentayga S Is One Of the Best Luxury SUVs Money Can Buy
The $276,000 Bentayga S is an awesomely over-the-top super SUV.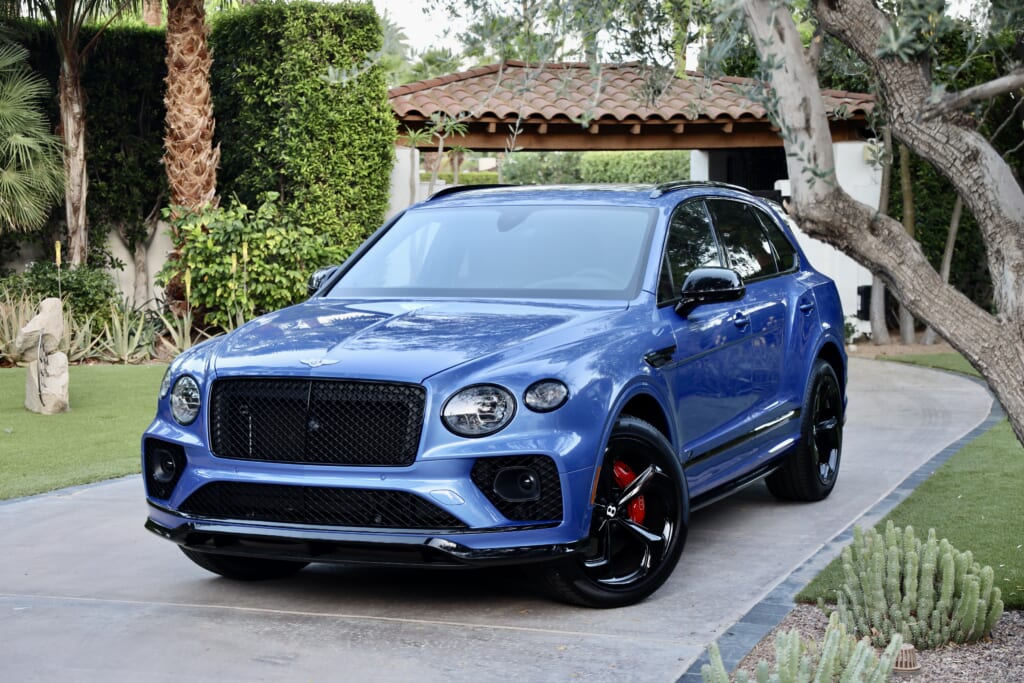 I've never had a bad time in Palm Springs. Only good times and strange times. In the many years I lived in Los Angeles, the desert resort city was always a welcome relief from the sensory assault of Hollywood. Like a de-greeded Vegas on a human scale, where you can still get up to mischief, but the locals don't have to be paid to be nice to you.
When my wife and I first started dating, I took her to Palm Springs for a weekend getaway and we've had a soft spot for it ever since. This year we decided to go back there for our first cross-country trip since the pandemic began. And for our official Palm Springs whip, I lined up a new Bentley Bentayga S—a vehicle just as delightfully over-the-top as our destination.
We breezed through the tiny indoor-outdoor airport, grabbed our bags, and headed across town to Old Las Palmas: a legendary old neighborhood with pristine mid mods and decadent Mediterranean Revivals inhabited at various points in time by Liberace, Elvis, Cher, and DiCaprio, to name a few famous former and current residents.
Driving through Old Las Palmas, we were greeted by walls and hedges hiding much of the architectural eye candy until a pair of thick wooden gates opened onto the grounds of the Spanish-style circa-1926 ranch where we'd be staying. A terracotta-roofed compound overflowing with bougainvillea and mesquite trees that was once owned by Hollywood legend Mary Pickford. Waiting for us in the driveway was a Neptune Blue 2022 Bentley Bentayga S. Audacious in every way, and perfect for the setting.
This was technically the second time I'd been in a Bentley. The first time I rode in a Bentley was when my parents left the church in one after their wedding. No one throwing the celebratory rice as my mother and father ducked into the two-tone silver and black '59 Bentley Continental had any idea that there was a stowaway on board. I guess you could say I've been waiting for a proper drive in a Bentley ever since.
My first impressions of the Bentayga S were that it's as racy as a Bentley can get. The bright red brake calipers highly visible through the sparse spokes of the wheels, the carbon fiber accents with every fiber glittering in the desert sun. And inside, a far sportier cabin than a typical Bentayga. Instead of the quilted leather, for example, a sleek perforated leather in a rich navy.
There are now four Bentayga variants, or five if you count the new extended wheelbase version for 2023. I connected with Albert Robinson, Senior Product Marketing Manager at Bentley Motors, to get a sense of what the vision was for the Bentayga S. It's more youthful than the "standard" Bentayga and Bentayga Azure models, but still sits below the 12-cylinder Bentayga Speed in terms of sheer power.
Robinson boils down the distinguishing features of the Bentayga S to the punchy engine sound, nimbler handling, and contemporary looks. Overall, it feels like you bought a Bentley and let your Italian mechanic friend borrow it for a weekend of tinkering. Which is a good thing. You can still float around town in it like a classic Bentley. The engine will even shut down the un-necessary cylinders for you to run more efficiently. But when you want to feel the power (to the terror of my passenger-host) the V8 is there for you.
As tested, it was just under $276,000. It's always a little tricky for me to evaluate the cost of a vehicle in this price range. But I will say that the owners of the Mary Pickford house had a new Porsche 911 and a new Range Rover in their garage, but still swooned over the Bentayga S in an altogether different way, price notwithstanding.
Whomever this car is for, the details are as good as money can buy. And it's those details, like the expertly stitched leather interior trim, the analog clock on the dashboard, and the polished sport-coat hangers in the back seat that make the Bentayga S feel like you've graduated to another level. I've driven Lamborghinis that felt plasticky inside, but with a Bentley, you can see and touch where your money goes.
Going back to a place you loved years ago can be a recipe for disappointment. Places change and so do you. The last time I was in Palm Springs with my wife, we were young and skinny and newly in love. This time, we were hauling baby beds and car seats. But one thing we learned this time around that we didn't need to know then, is that anything is glamorous when you do it in a Bentley.
Things To Do & See In Palm Springs
Here are a few of our favorite spots to help plan a Palm Springs adventure of your own:
On our first night we went to El Mirasol for Mexican food in a relaxed courtyard setting. The queso is a sizzling iron-skillet delicacy that we washed down with margaritas in globe-sized goblets.
My morning ritual was a stop at Cartel Roasting Co. at the ARRIVE Palm Springs hotel. There was always a parking spot out front for the Bentley, and the lattes and breakfast burritos were perfect to cure a Rat Pack sized hangover.
It's hard to recommend a private golf club to casual travelers, but we went with our local friends to the O'Donnell Golf Club for a few meals and to check out the course. If you are into golf, and can get a tee time here, it smacks of Old Palm springs––Clark Gable, Kirk Douglas, and Bing Crosby are all past members.
A stone's throw from Godzilla-sized Marilyn Monroe sculpture in downtown Palm Springs is On The Mark, a gourmet grocery store perfect for building picnic lunches for your desert adventures or poolside convalescence. Great wine, Laguiole Knives, and seriously good deli sandwiches made to order. You'll know it by the giant pink cow out front. (I think it's running away from Marilyn.)
If you're not driving, and want more poolside decompression than a glass of rosé can offer, stop by the Harvest dispensary for a four-pack of WUNDER THC beverages. We passed a few out to our friends by the pool and it made for a perfect low-dose afternoon.
We took a golf cart to dinner at Farm, a French Bistro with a prix-fixe menu. When Palm Springs does French, it's a kitschy rendition with a live singer and a sprawling outdoor patio with views of the mountains. The food is fine, but the experience is finer.
For a nightcap, we valeted the golf cart outside Melvyn's, a hotel restaurant and piano bar that was the most star-stocked destination in 1970's Palm Springs. At their grand opening, Steve McQueen and Ali McGraw were turned away at the door for not suiting the dress code. Inside, the walls are covered with photos of the late owner, Melvyn Haber, smiling with celebs from Betty White to Frank Sinatra to John Travolta.
We ordered martinis and turned our attention to the piano player. In the audience, a woman in a sequined gown ever-so-casually volunteered that she was a professional singer. "What, what? You want me to come up and sing? Oh no, I couldn't possibly…" (spoiler: she could) And within minutes, she'd taken over the stage and everyone in the restaurant was piling into the bar to listen. It was a spontaneous moment that could only happen in Palm Springs.
For dinner on our last night, we went to Tropicale –a gaudy, pink time warp of a restaurant with a bustling patio and a tiki bar called the Coral Seas Lounge. My wife and I had a dinner on the patio on our first trip to Palm Springs, and it was just as fun this time around to dine al fresco on vaguely Asian tiki fare like giant prawns and short ribs while sipping oversized martinis.
On the morning of our flight back to the East Coast, I still needed a good cover shot of the Bentayga S. After driving around in circles trying to get up to a postcard vista and constantly being cut off by cul de sacs, I finally found my backdrop in the form of the Richard Neutra-designed house once owned by Barry Manilow and made famous by photographer Slim Aarons, which sold a few days after my visit for just north of $13 million. When I parked in front of Palm Springs' most famous mid mod house and pulled out my camera like a paparazzo, I was a little self-conscious until something occurred to me…
Nobody minds a stranger's Bentley parked in front of their house.