5 Reasons the Ram 2500 and Its 900 LB-FT of Torque Will Crush What You Think a Pickup Truck Can Do
Totally badass.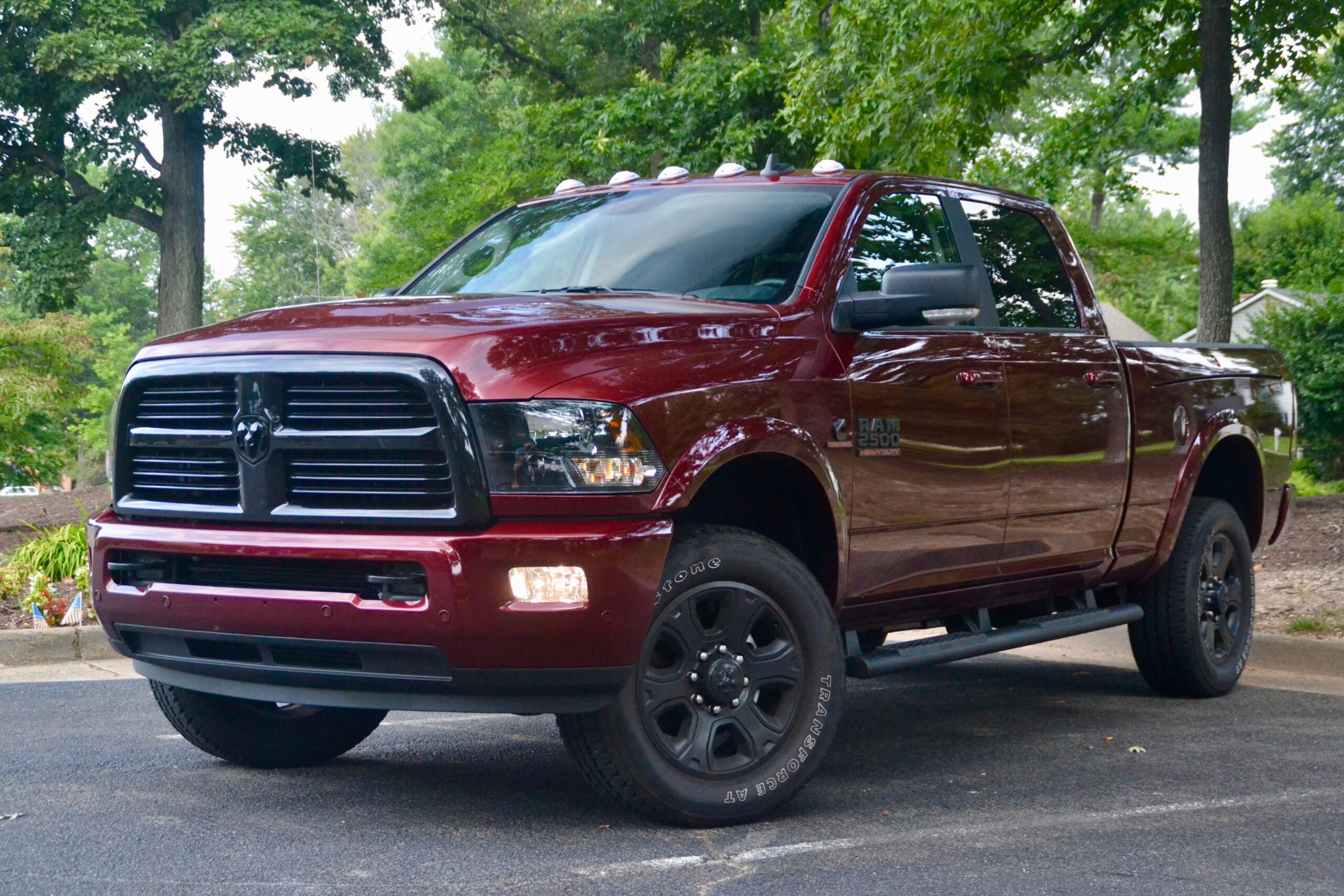 Our Ram 2500 Big Horn Crew Cab 4×4 test pickup arrived in the immediate aftermath of Hurricane Harvey, and only the lack of a boat to hitch to it prevented us taking the Ram to Houston to ford the city's flooded streets ferrying people to safety.
Here in the (currently) quieter weather of the east coast, the Ram was nevertheless a winner, even with no snow to plow or the need to tow a race car to a distant track this weekend.
Instead, we used it for college football tailgating, another activity at which the Ram excels, which prompted us to realize that the badass Big Horn is our new favorite truck.
That isn't to be confused with our new most affordable truck, because the bottom line on the Ram's window sticker read $65,860. But a week behind the wheel had us eyeing the kids' college funds. Here's why:
1. The Ram Heavy Duty has an available front bench seat. When you have a massive monster 4×4 you can actually carry a suitable number of people, with three occupants in both the first and second rows of seats. And they are comfortable, though the middle front row passenger probably needs to be on the short side. This also means drivers can transport their significant other seated close-up alongside them in the middle of the bench seat, as truck passengers have done since time immemorial.
2. The Ram has a traditional column-mounted shifter. Instead of a space-wasting console shifter or some damn fool newfangled pushbutton, twist-dial contraption, there's a real-deal column shifter. The column automatic shifter is an all-time classic design because of its easy usability and the fact that the shifter's position reveals its position by both sight and touch, with both hands on the steering wheel.
Not that the Big Horn is likely to get stuck in snow, thanks to its four-wheel drive low-range, but vehicles that have new-age shifters are likely to be challenging to rock back-and-forth to free from a snow bank.
3. The Ram was the hero of the tailgate thanks to its twin Ram Boxes. They are the truck's locking bed-side storage bins where you can theoretically store tools and other work equipment. But the Ram Boxes happen to be plastic lined, with drain plugs in the bottom, almost as if they want us to pack them with ice and drinks so we can properly prepare for our team's season debut. 
The Ram Box's wide, flat tops also serve as excellent seating surfaces, for those who don't mind standing up every time someone says "beer me." A built-in step in the corner of the rear bumper would making climbing into and out of the bed easier, so Ram can put that on their homework list for improvements (along with the slow-ass 3G wifi router built into the truck).
4. Cummins diesel power. One thing that makes Heavy Duty Rams so awesome is the legendary Cummins turbodiesel beneath the truck's massive hood. The 6.7-liter inline six-cylinder beast churns out 385 horsepower and an astounding 900 lb.-ft. torque. This is how you pull National Guard trucks out of the muck when you're in the Redneck Army!
For reference, the 6.4-liter Hemi V8's 429 lb.-ft. is less than half that of the Cummins.
5. Perfect paint. They sent the Ram in the right color! Ram calls the paint on our test Big Horn "Delmonico Red Pearl," but for the purposes of attending Virginia Tech's season-opening victory at FedEx Field, the hue was close enough to the school's Chicago Maroon to be a satisfactory substitute during the pre-game tailgate. Few other drivers were dedicated enough to arrive in a team-colors vehicle.
Does driving a three-quarter ton truck have any drawbacks? Few that matter. Yeah, the ride is bouncier than in your car, or even in Ram's own 1500 half-ton truck, but it is surprisingly tame for a true work truck.
And you'll keep your parking skills sharp while putting a crew cab pickup into a space, so we'll count that more as a challenge than a drawback.
And while we loved the blacked-out trim that is part of the Big Horn's optional Night Special Edition package, the tinting of the headlight lens exacerbates the truck's poor low beam headlight design, making driving on low beams an irksomely dim experience.
But not enough so to take the shine off the awesome Ram 2500 Big Horn. We hope they'll send it back for an encore visit when it snows in a few months.