This Futuristic Yacht Lets You Watch Movies On the Sails
Maybe don't watch "Titanic"?
Source: Gianmarco Cardia
If you're hanging out on a yacht docked at a friendly marina, socializing will ensue. What better way to ensure you've got the party on lockdown than with the ability to show movies to a captive audience on a big screen?
Designer Gianmarco Cardia has you covered. His project Vela is ideal for making sure you own the night. Or at minimum, can entertain the hell out of passengers in a unique way once you hit the high seas.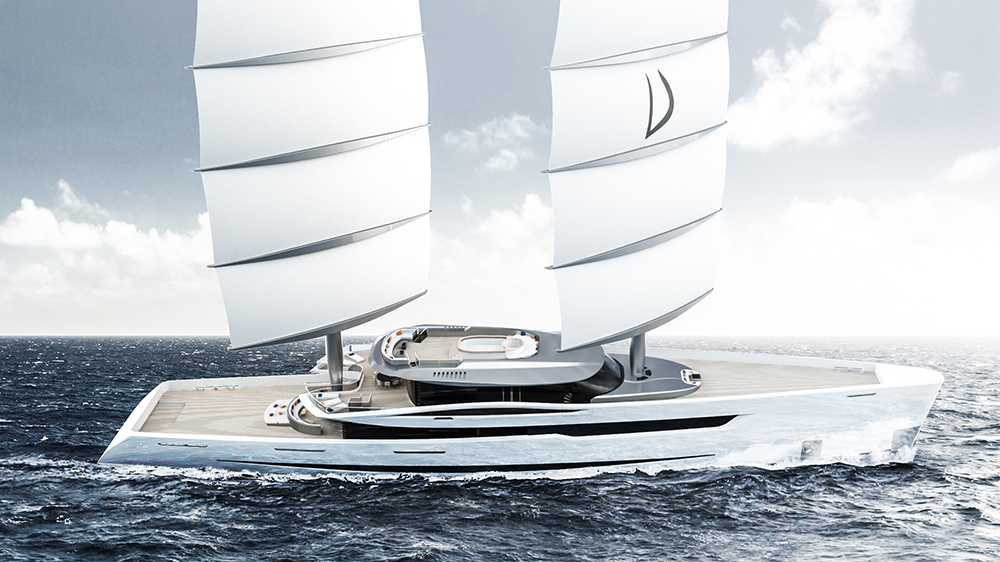 The 262-foot vessel sports a huge 20,182-square-foot sail plan, which is augmented by a hybrid engine, according to Robb Report. Those sails are hoisted up DynaRig masts which have been centered just so in order to perfectly balance their weight.
The key selling point here: plenty of space outside for travelers looking for the best and most relaxing experience possible. Robb Report says Cardia's project includes these amenities:
A bar and "beach club" at water level
A main deck bar and sunbed
Fitness center complete with a spa and pool on the upper deck
Also on the upper deck—a "cinema lounge." 
That upper deck is where the cinematically-inclined could make some magic happen by projecting movies onto the sails. 
Gianmarco Cardia tells Robb Report, "When I designed the exterior, I [wanted] to make something simple." So, he says, he "imagined the body of Vela molded by the wind—without sharp edges—and characterized by flowing lines."
He ended up creating an ideal balance of entertainment both inside and outside the cabins. The whole thing is like a self-contained party palace, gym, and spa getaway.
The designer has his favorite aspects of the Vela: "I think that the terraces on the rear part of the upper deck are the best areas to spend time on board," he reportedly says, "you can enjoy a beautiful panorama while dining alfresco just near the upper-deck lounge." 
After the Vela is built, Cardia believes it could do up to 21 knots once underway. 
Whoever ends up taking this beauty out to sea just needs to be sure they avoid icebergs and great white sharks and it should be a good time for all.