You Can Now Own Elton John's Vintage 1972 Ferrari Daytona
Sir Elton bought the V12-powered Prancing Horse with earnings from his classic album "Goodbye Yellow Brick Road."
One of the many incredible cars once owned by Elton John is going on sale to the highest bidder through Silverstone Auctions.
The knighted singer-songwriter is believed to have bought this exact 1972 Ferrari 365 GTB/4 Daytona—one of only 158 right-hand examples ever produced—with earnings from his classic 1973 album Goodbye Yellow Brick Road, which spawned timeless hits including "Candle in the Wind," and "Saturday's Alright for Fighting." 
According to the UK-based auction house, the vintage ride is probably the first Prancing Horse John ever purchased and was likely stabled next to his 1974 Ferrari 365 Berlinetta Boxer until 1975.
The Italian marque first launched the Daytona in 1972 as a response to the Lamborghini Miura, aka the world's first "supercar." Thanks to a 352-horsepower Ferrari Colombo V12 and a top speed of 175 mph, the Daytona wasn't just faster than the Raging Bull, it world's fastest street-legal ride in its day.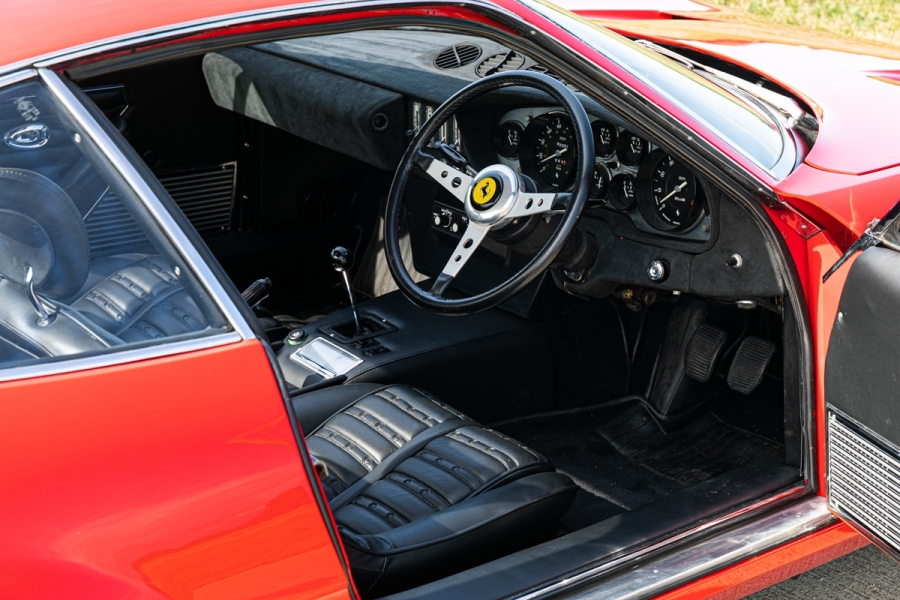 Robb Report has further background details and restoration records on John's Daytona: 
Even though there are 82,000 miles on the odometer, the Daytona has been kept in excellent condition, with its Rosso Chiaro paint job still retaining a "deep shine."

In addition to recent service and inspection, the interior was trimmed in factor specification black leather, and its original magnesium wheels, which are outfitted in Michelin XWX tires, were refurbished in 2017.

The car has passed through the hands of a number of collectors, all of whom are members of the Ferrari Owners' Club. It comes with full documentation, including the original build sheets, delivery correspondence, chronologically ordered service receipts and every MOT Certificate ever issued for the vehicle.
It's expected to fetch between $522,000 and $583,000. Head to Silverstone Auctions' website to inquire.