The Top 10 Super Bowl 2020 Commercials…So Far
Super Bowl 54 ads have it all—from the death of Mr. Peanut to a spot where "Breaking Bad" meets "The Shining."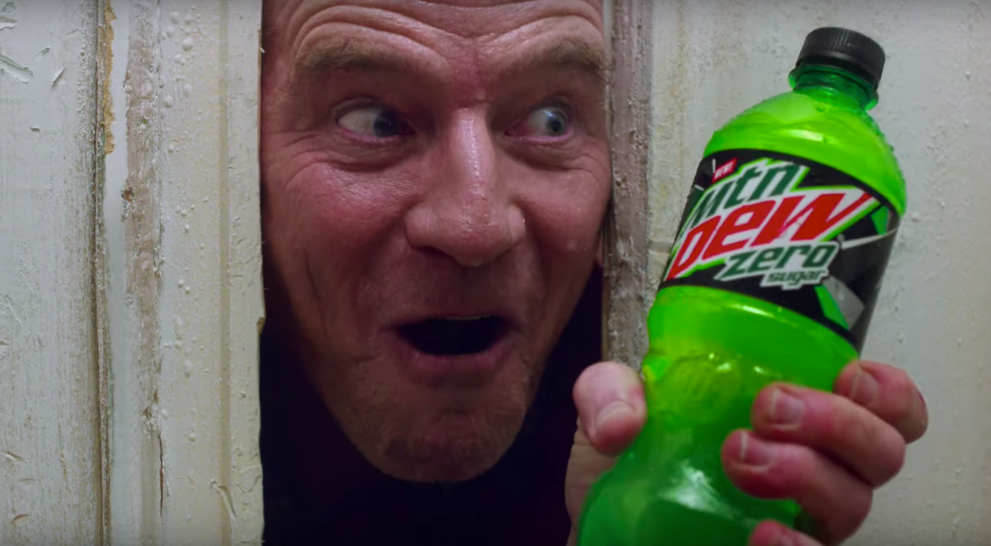 Mountain Dew/PepsiCo
For people who jokingly use words like "feetsball" and generally feel trapped among sports-loving relatives on big game days, the Super Bowl can be torture. There's one saving grace for those folks still smarting from memories of being picked last for dodgeball teams in middle school: the always entertaining parade of Super Bowl commercials.
The Big Game has really become the advertising Super Bowl as well, as each year various brands seek big viral moments with spots many viewers would normally happily ignore as they head to the bathroom or go grab another brew. 
Super Bowl 54 is no different. Some brands—like Pringles with their bizarre Rick & Morty clip—have released teasers for full spots, while others are too giddy to make us wait and they've unleashed full-blown movie trailer length videos (see the Porsche Taycan video). After all, they all want to get their money's worth, given that a 30-second spot reportedly costs up to $5.6 million. 
Here are 10 of the most entertaining and intriguing so far.
The Death of Mr. Peanut
Mr. Peanut does not perish ironically from a late-onset peanut allergy. No, he goes out like the true hero we always knew he was.
Bryan Cranston Recreates "The Shining" For Mountain Dew
Cranston, the man who achieved acting greatness as Walter White, an unassuming teacher who becomes a murderous crime kingpin, does an homage to Jack Torrance as played by Jack Nicholson in The Shining—an unassuming writer and teacher who becomes a murderous maniac. He doesn't murder Tracee Ellis Ross, though; they just enjoy a sugar-free Mtn Dew Zero.
TurboTax: All People Are Tax People
https://www.youtube.com/watch?v=o7G4LppV5qA
It's tough to make the prospect of doing taxes appealing in any way. God bless TurboTax for trying.
Rachel Dratch Coaches Big Papi For Hyundai
https://www.youtube.com/watch?v=Af5PB7NjxcU
You'd think after becoming something of a demi-God in Boston that David "Big Papi" Ortiz would have the cliche (but nonetheless totally real) Boston accent down. Nope, he still needs special coaching, and who could be better to do it than SNL legend and Massachusetts native Rachel Dratch?
Rick and Morty Brainwash Us For Pringles
https://www.youtube.com/watch?v=LnZ4PD95eHI
Morty of Rick and Morty fame goes all They Live in this bizarre teaser, which did actually make us want some Pringles.
Bill Nye the SodaStream Guy
Apparently Bill Nye the Science Guy can be swayed from his skepticism about living on Mars being a scientifically unrealistic goal by the miracle of homemade soda. 
Molly Ringwald Wants You to Eat Avocados
https://www.youtube.com/watch?v=1LLkbXLWIRk
Molly Ringwald, our 80s dream girl, is still hard at work. Let's admit it: she's aged well, though her vibe is more cute mom you flirt with in the produce aisle now and not nebulously virginal teen girl next door. Like keto enthusiasts the world over, she believes in the power of avocados from Mexico.
Budweiser Canada Wants to Know "Wassup?"
If you remember the Budweiser "wassup???" guys from epic ads past, then this very 21st Century Budweiser Canada callback with a twist will give you nostalgic warm fuzzies. Especially if you've already had a few Buds when you see it.
Rainn Wilson Goes Crazy For Little Caesars
Let's not mince words. While Rainn Wilson the actor seems like a perfectly pleasant guy, the man who made Dwight Schrute a nerd icon on The Office does crazy well. In this extended Little Caeasars tease, likely for a new product reveal on Super Bowl Sunday, Wilson reminds us he's good at making unhinged look funny.
Porsche's Taycan Is the Perfect Getaway Car
Porsche certainly doesn't encourage art theft or speeding. Still, one of the points behind this commercial—the luxury sportscar brand's first Super Bowl spot in over 20 years—seems to be that the electric Taycan would be an ideal getaway car. Should you need one. 
But on February 2, 2020, we'll all be too busy watching the San Francisco 49ers take on the Kansas City Chiefs to pull any major heists.