10 Bonkers Facts From the Bestselling History of the USFL, 'Football for a Buck'
Truth is definitely stranger than fiction.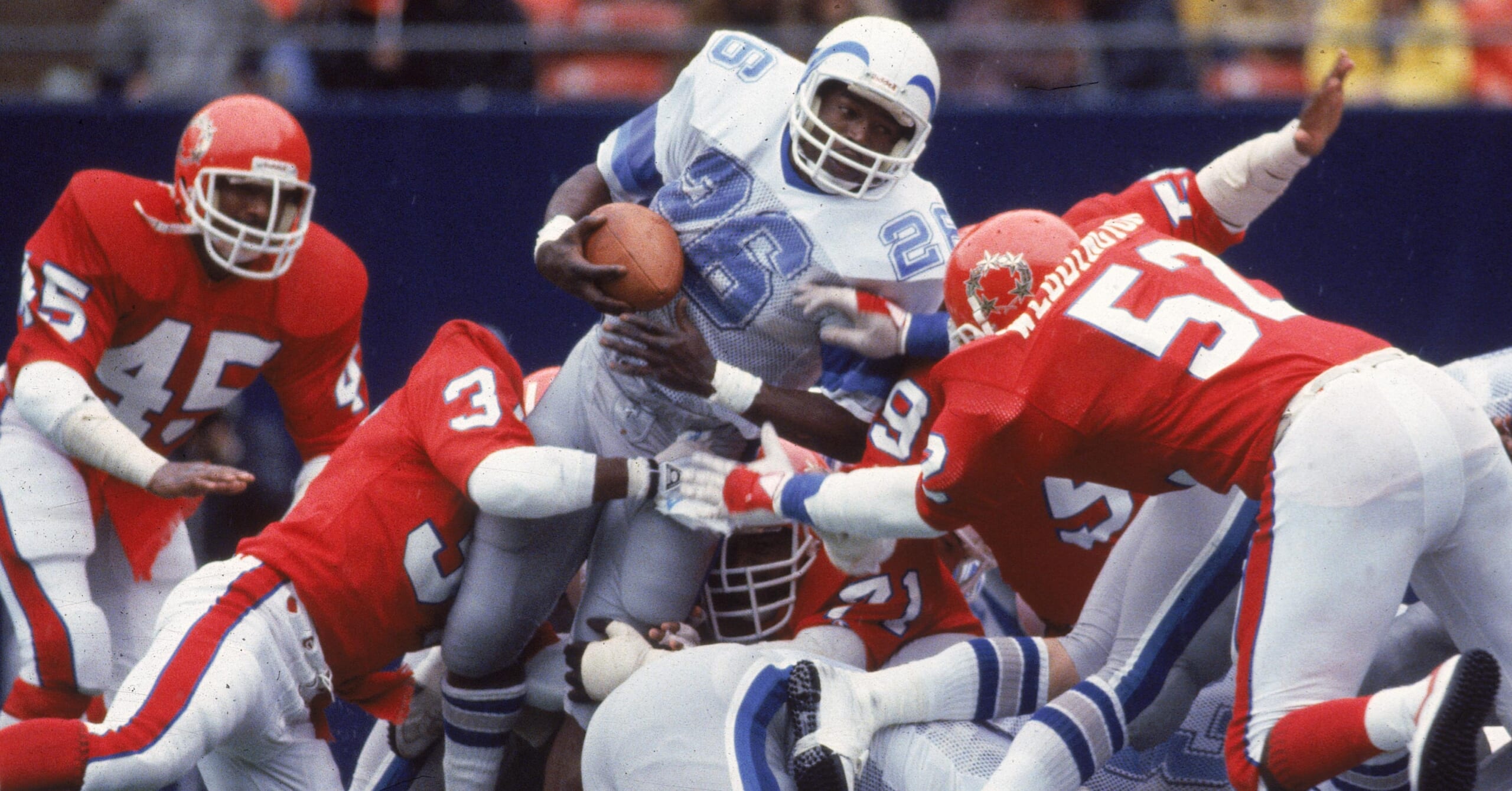 Getty Images
Jeff Pearlman conducted over 400 interviews for his new book, Football for a Buck: The Crazy Rise and Crazier Demise of the USFL. Together they show us the toxic brew of wealth, incompetence, arrogance, insanity—and at times, pretty good football—that was the United States Football League.
Given all that, it may not be surprising to some to find that Donald Trump figures prominently in the story and ultimately in the league's downfall.
Read on to learn some twisted and often funny hidden history.
1. A 5-foot-9 linebacker out of Division III Montclair State was the greatest player to ever play in the USFL

Sam Mills was cut by the Toronto Argonauts of the Canadian Football League and then by the Cleveland Browns before being offered a two year deal for $42,000, plus a signing bonus of $500, by the Philadelphia/Baltimore Stars (1983-85).
Despite his diminutive stature he led the Stars to two USFL championships, was named to three All-USFL teams and is a member of the USFL's All-Time Team.
When the USFL disbanded, Mills was signed by the New Orleans Saints and became a five-time Pro Bowler in the NFL. Jim Mora, who coached Mills both in the USFL and the NFL, said that he was the best player he had ever coached, and that included Peyton Manning.
2. Burt Reynolds was a part owner of the Tampa Bay Bandits

The recently-deceased 70s sex symbol, icon and movie star was given five percent ownership of the team in a tradeoff for the use of his celebrity.
Reynolds was very hands on and involved with the Bandits. For instance, when the franchise name was announced he was there with champagne and a sexy young woman on each arm.
The Smoky and the Bandit star's bombshell girlfriend, Loni Anderson, even got in on the action. She was featured on billboards around town in a tight T-shirt with midriff showing and the tagline "All The Fun the Law Allows."
3. Kelvin Bryant won the league's inaugural MVP award, beating out Herschel Walker

Herschel Walker's signing by the Washington Generals gave the USFL legitimacy. Walker was a former Heisman Trophy winner at the University of Georgia and was featured on the cover of Sports Illustrated with the caption "Hitting Pay Dirt" after he was signed.
Walker did not disappoint in his first season as he rushed for over 1800 yards. Even so, the Generals only won a lackluster 6 games.
However, Kelvin Bryant of the Philadelphia Stars surpassed Walker in the inaugural season with 1,442 rushing yards, 16 touchdowns and 53 catches for 410 yards. He was also named the league MVP.
4. On September 30, 1983 the Chicago Blitz and the Arizona Wranglers traded rosters

You read that right. They did not trade franchise names, they traded entire teams.
This was because multi-millionaire Blitz owner Ted Diethrich did not want to fly to Chicago on the weekends for games. So, he moved the team to him, upending a substantial number of both players' and employees' lives.
5, The San Antonio Gunslingers were a mess

According to author Jeff Pearlman, the Gunslingers were so dysfunctional and therefore so interesting that—if there were a market for it—he would have written a book purely about that franchise and it would have been 5000 pages long.
Chapter 14 of Demise dives into the trainwreck. Highlights include a head coach who had trouble drawing up plays because he only had seven fingers, a 35-year-old backup quarterback who had last taken a snap nine years earlier with Calgary in the Canadian league.
And Greg Fields.
6. Greg Fields was the craziest person to ever play in any pro football league
https://www.youtube.com/watch?v=0Ui-uif0h40
Prior to being signed by San Antonio, defensive lineman Fields had played for the Los Angeles Express for one season before being told he was cut. When head coach John Hadl gave him the news Fields proceeded to punch Hadl in the face before being pulled off the coach by two men stationed outside the door.
Despite this obviously not being a good idea, the Gunslingers signed him. As the 1985 season progressed San Antonio began to miss payroll dates. Fields, becoming increasingly incensed, followed eccentric oil man owner Clinton Manges home one day and chased him down with a baseball bat.
Manges soon emerged from his home with $17,000 in one hundred dollar bills in order to avoid a beatdown.
7. Steve Young's contract with the Los Angeles Express was something to behold

Much like Herschel Walker, the signing of Steve Young was a coup for the young league. In a fixed draft in 1984, Young inexplicably fell to number 10 and into the lap of the Los Angeles Express and their media market.
Some of the stipulations of Young's contract included:
$4 million up front. A $2.5 million signing bonus and a $1.5 million loan.
Receiving deferred appreciated payments that would amount to $30 million starting six years after he signed that would not stop until he turned 65. This money was all guaranteed. 
BYU receiving $180,000 in scholarship money over 20 years.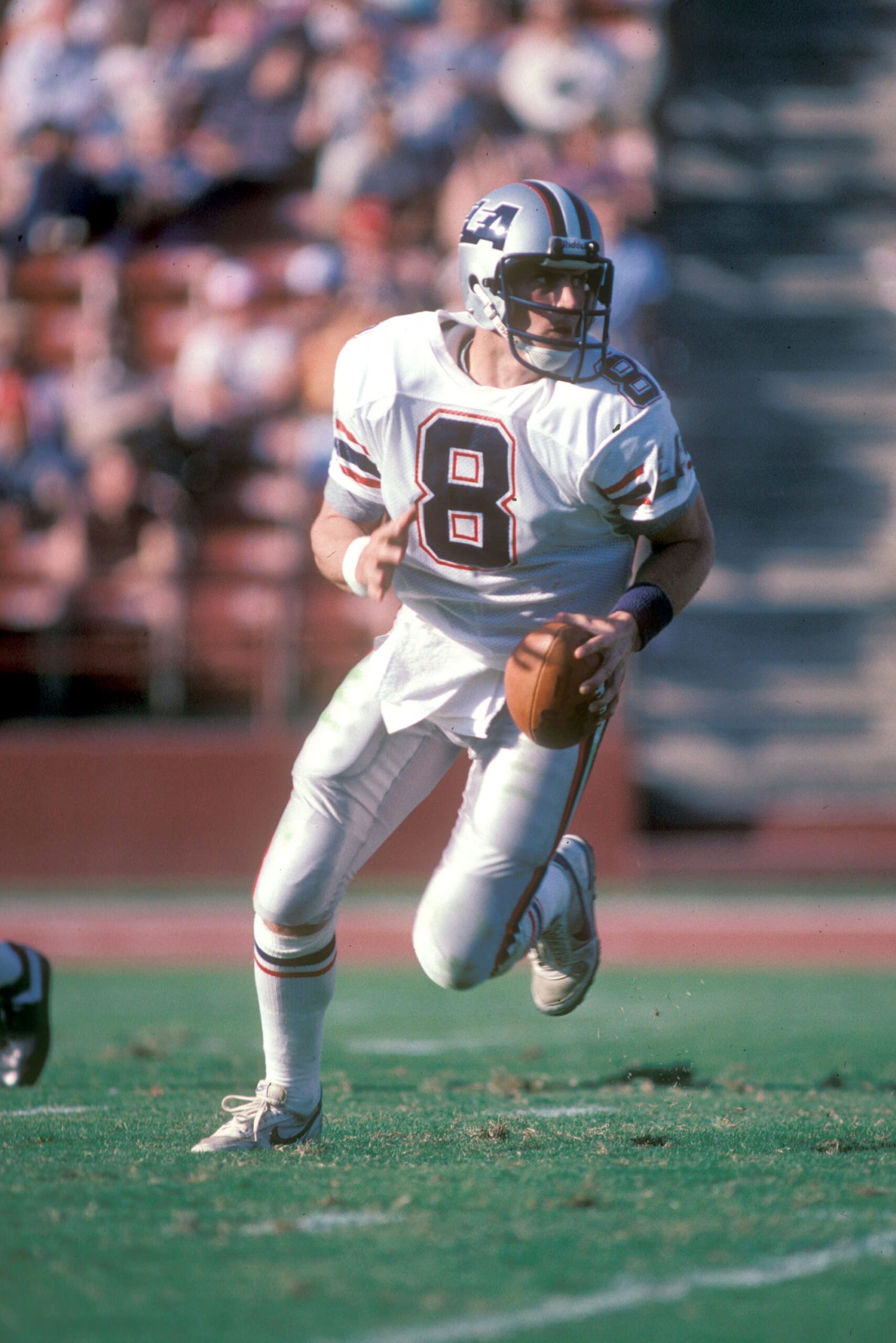 The Express even signed Young's best friend, BYU tight end Gordon Hudson, to a two-year, $530,000 dollar deal. Hudson didn't even play in his first season because he was recovering from a knee injury.
8. The USFL was nothing if not innovative

Despite all the craziness, the USFL instituted real innovation in the realm of professional football.
It was the first place to allow coaches to challenge calls as well as to institute the two-point conversion. Receivers only had to have one foot inbounds for a catch and players were not penalized for excessive celebration after a touchdown—all of which made for an exciting brand of football.
9. The 1984 Philadelphia Stars were so good that many believed they could have beaten the Eagles that season

Led by Sam Mills, Kelvin Bryant and quarterback Chuck Fusina, the Stars defeated the Arizona Wranglers in the 1984 USFL Championship in what was a non-competitive 23-3 romp. This victory avenged a two point loss to the Michigan Panthers in the championship the year before.
Even with the anti-climactic outcome, 250,000 locals lined Broad Street to congratulate a team that many believed could have beaten the 5-11 Eagles that year.
10. This could easily have been a list titled "The Top 20 Craziest Things We Learned about Donald Trump's Involvement with the USFL"
Long before he jumped into politics, the New Jersey Generals were one of team owner Donald Trump's biggest failures.
Some of the memorable Trump anecdotes from Demise include: 
A propaganda film extolling the virtues of Trump and Trump Tower that everyone had to sit through at his offices, including Vince Lombardi Jr., prior to speaking with Trump. 
Despite owning a professional football team Trump knew virtually nothing about football. 
A meeting with NFL Commissioner Pete Rozelle in which Rozelle couldn't get a word in edgewise. Rozelle was not impressed and basically told the real estate magnate that he would never own an NFL franchise.
Trump suing the NFL for an anti-trust violation. He won the case but was awarded just $1 in damages.
" tml-embed-width="640″ tml-embed-height="360″ tml-render-layout="inline