The 5 Greatest 'What-Ifs' in NBA History
These past, present and future hypotheticals put basketball greats like LeBron James, Bernard King and Bill Walton in seriously intriguing scenarios.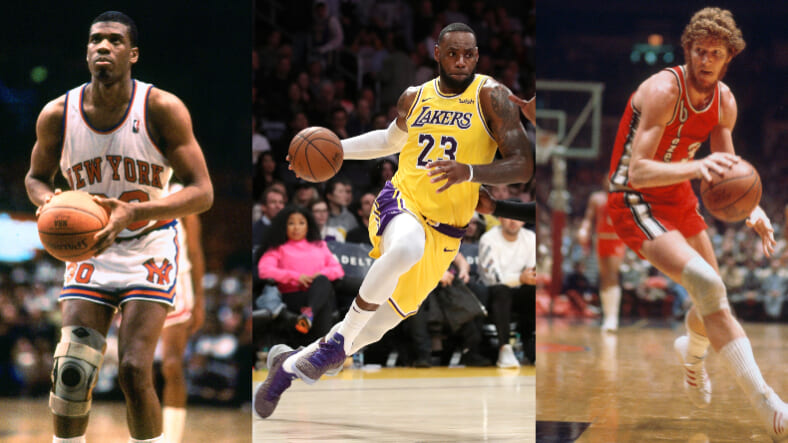 Getty Images
As NBA Free Agency crests, every fan can only help but wonder, "What if?"
The NBA Is the What-If league for a few reasons. It's much more fluid, free-wheeling, and player-centric than the other leagues, but by rule and tradition. 
The NFL is much more sclerotic; where coaches and schemes have a bigger impact than do individual players who can create their own offense. A single baseball player cannot possibly have the impact of a top-tier NBA star. 
As the editor of Upon Further Review: The Greatest What-Ifs in Sports History, I've been reflecting on the What-Ifs of this NBA season, and ranking some of the current conundrums alongside some of the greatest What-If's of all time
.
5. What if the current Lakers and Clippers don't win immediately?
This is not a re-writing of history, but an imagining of a quite possible scenario. 
The Lakers feature a big man who needs the ball and a power forward who likes to dominate the ball. They seem to lack a third great option. Furthermore the LeBron James of Laker vintage is a great player, for sure, just not clearly one of the two or three best in the world. Given how much the Lakers traded to acquire Davis a playoff flame-out before the finals could spell long-term trouble.
But their situation is nothing compared to the Clippers, which gave up the most valuable trove of draft picks to acquire Paul George and Kawhi Leonard. The two represent about $70 million in salary, good for nearly two-thirds of the NBA salary cap of $109 million per franchise.
Leonard and George both showed a lot of grit battling injuries last year, George undergoing surgery on each shoulder this off season and Leonard missing 95 regular season games over the past two seasons. The Clippers could be great or a disaster, owing to the vagaries of shoulders and quadriceps.
4. What if Bernard King had not blown out his knee?
The Knicks were a terrible team with one great, injured player when they won the first pick in the 1985 lottery. 
This means that with Patrick Ewing in the front court and Bernard King in the prime of his career on the wing, the first Knicks championship since 1973 would have been much more likely. 
They'd have had a brief window before Michael Jordan blossomed into greatness. And then even with the Bulls helmed by Jordan, the Knicks would have represented stiff competition in the East.
3. What if David Stern had allowed Chris Paul to be traded to the Lakers?
Of all the "What-If" scenarios, this is the easiest to fathom. The moment that David Stern wielded his commissioner's veto was a tense one in the NBA. 
In 2011 the league was just emerging from a damaging lockout and the commissioner was sensitive to what would soon become the reality in the NBA; player-empowered super teams. 
Stern couldn't know this then, or was too cautious and owner-oriented to trust the players to have such sway, so he interceded thwarting a Laker core of Kobe Bryant, Chris Paul, Andrew Bynum, and later, through acquisition, Dwight Howard. 
The selfless Paul smooths things out, keeps Howard engaged, and, quite possibly, keeps Bryant from being injured via over use. It's intriguing and quite possible.
2. What if Bill Walton's knees had held out?
In a chapter in Upon Further Review, Bob Ryan, Basketball Hall of Fame award-winning sportswriter considers a world with the big red head in possession of a pair of big healthy patellas.
A Portland dynasty is not hard to fathom. Ryan, who interviewed Bill Walton for his input in the story, contends that the Trail Blazers would have beaten the Bullets in 1978, Philadelphia in 1979, all manner of Lakers and Celtics for years to come.
1. What if Klay Thompson or Kevin Durant had avoided injury in the 2019 Finals?
I didn't even want to posit a "What-If" of BOTH the Warriors superstars remaining uninjured, but even one could have made a huge difference to the NBA off-season. 
If one of the two players stay healthy, AND the Warriors win, it could definitely have given Kawhi Leonard more of an incentive to stay in Toronto. 
While The Warriors probably do still acquire D'Angelo Russel, they would be far more incentivized to flip him sooner rather than later, possibly during the current off-season. Who knows what piece the Warriors get back, but remember, their pre-Durant core did win an NBA championship and set a regular-season wins record. 
Thinking about having them as a Western Conference foe might have affected Anthony Davis' desire to play with the Lakers and Leonard's wish to position himself on the Clippers.
Mike Pesca hosts the daily podcast, The Gist. For ten years he reported for NPR, where he primarily covered sports. His work has been featured on This American Life, Radiolab, Inside the NFL, Baseball Prospectus and Basketball Prospectus.