The Lawyer for Aaron Hernandez's Alleged Prison Boyfriend Won't Confirm 'Extent' of Relationship
Kyle Kennedy will give his own statement about his "close friend" in the near future.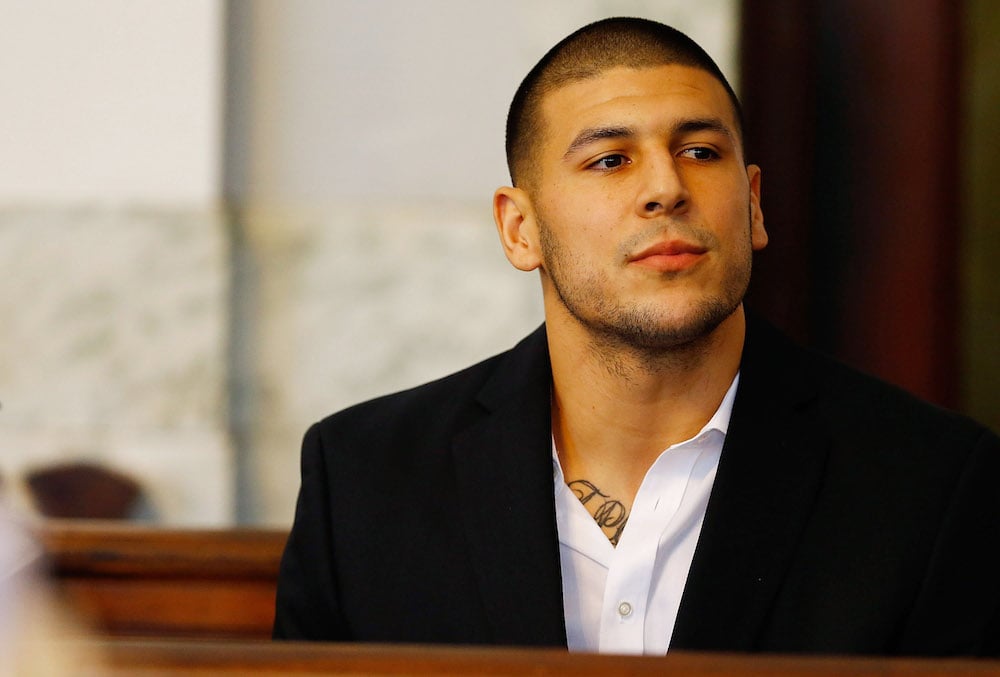 Aaron Hernandez and Kyle Kennedy, his alleged prison lover, were "close friends" who "spent a great deal of time together in prison," the lawyer for the 22-year-old inmate said at a press conference Wednesday. He would not elaborate further, but said Kennedy himself would address the "nature and the extent" of their relationship in the near future.
"He wants those words to come out of his mouth," lawyer Lawrence Army Jr. said.
Army's comments come as new details emerge suggesting that Hernandez and Kennedy were more than prison pals. Among them is the revelation that Hernandez tried to get prison officials to allow Kennedy to move into his cell. The former Patriots tight end was living alone in a cell made for two and tried to have Kennedy transferred.
Prison officials initially granted the request, but walked it back because of the size difference between the two men, Army said Wednesday.
The lawyer also addressed the matter of the suicide letter that was addressed to Kennedy. He said neither he nor Kennedy have seen it, but he's working to change that. "We will be requesting that the letter be turned over to my client as soon as possible," he said.
The letter was one of three found in Hernandez's cell after his suicide. The other two were addressed to the 27-year-old's fiancé and daughter. 
Army revealed at Wednesday's press conference that Hernandez frequently wrote letters to Kennedy's family. He shared a line from one letter that referred to Kennedy as his "brother" and shared an image of another. It was written to Kennedy's step sister and was signed, "Your friend, Aaron."