Aaron Hernandez, NFL Star-Turned-Convicted Killer, Hangs Himself In Prison
The former New England Patriot was serving a life sentence for the 2013 murder of Odin Lloyd.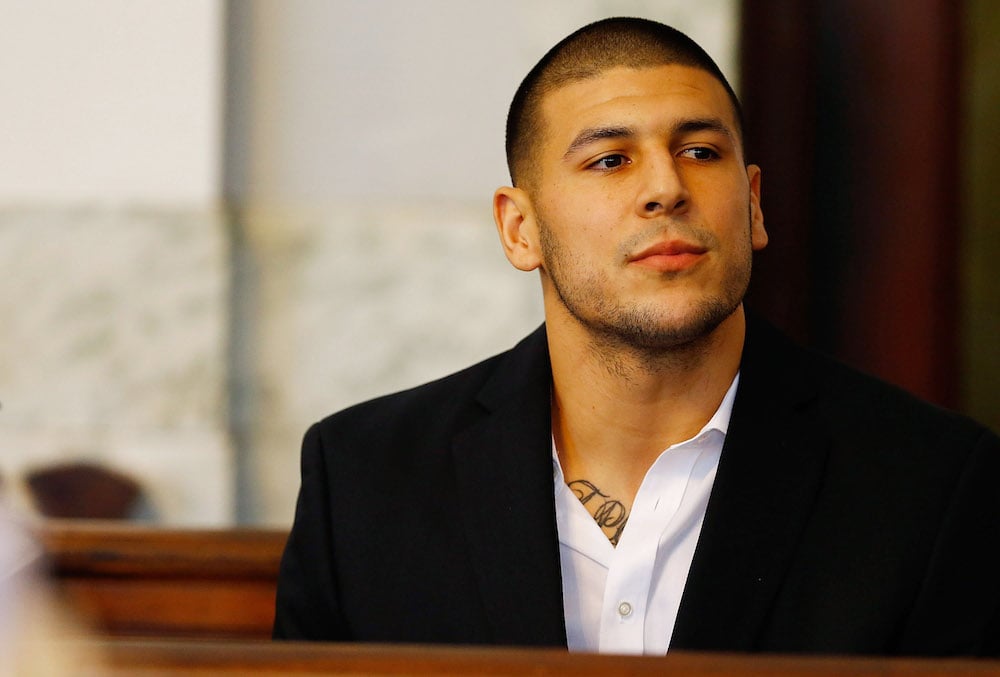 Aaron Hernandez, the former NFL star who was serving life in prison for a 2013 murder, was found dead in his jail cell early Wednesday morning in what officals are calling suicide. The 27-year-old was found around 3:05 a.m. hanging from a bed sheet that was tied to his cell window.
Corrections officials say Hernandez was living in a single-man cell among the general population of Souza-Baranowski Correctional Center in Shirley, Mass. He tried to block entrance into his cell and did not leave a note, they said. 
Hernandez's apparent suicide comes only days after he was acquitted of double murder in the 2012 slaying of two men, one of whom had spilled a drink on Hernandez at a club earlier that night.
Despite that acquittal, Hernandez was still set to spend the rest of his life in prison for the 2013 killing Odin Lloyd, a semi-pro football player who was dating the sister of Hernandez's girlfriend at the time of his death. His lawyer, however, had vowed to fight the earlier conviction and was attempting to get a new trail.
"Aaron's not a killer," his lawyer, Jose Baez, said last week. "What's interesting is that he hung around a lot of bad people, and if he's guilty of anything it's guilty of not forgetting where he came from, and hanging around the wrong group of people."
Born in Bristol, Connecticut, Hernandez was a star football player at the University of Florida, before the New England Patriots drafted him in 2010. After racking up 18 touchdowns in three seasons with the Pats, he was cut by the team after his arrest for murdering Lloyd.
The Patriots, who will visit the White House today to celebrate their Super Bowl win, declined to make a statement on the death of their former player. "We are aware of the reports, but I don't anticipate that we will be commenting today," Stacey James, a team spokesperson, told the Hartford Courant.
Some NFL players who shared a field with Hernandez did chime in though and most of were feeling somber about the latest turn of events in the the sad saga that was Hernandez's life.
https://twitter.com/JOSH_GORDONXII/status/854672090867388416
R.I.P Aaron Hernandez

— Claude B The Name (@ClaudePelon) April 19, 2017
Damn man… Aaron Hernandez wow. Had everything he wanted in life then lost it all. RIP…. damn

— Brandon King (@BrandonKing4787) April 19, 2017
#RIP Aaron Hernandez…something doesn't feel right about him committing suicide…#prayingfor✌🏾…

GOOD MORNING TO ALL…

— . (@Ike_SwagginU) April 19, 2017
Waking up to terrible news. If you have a chance to right your wrongs. Please jump at the opportunity turn over a new leaf and live!

— Jerel Worthy (@I_AM_Worthy99) April 19, 2017