There's a Movie in the Works About Aaron Hernandez's Harrowing Life Story
It's been less than a year since the murderer and Patriots tight end hanged himself.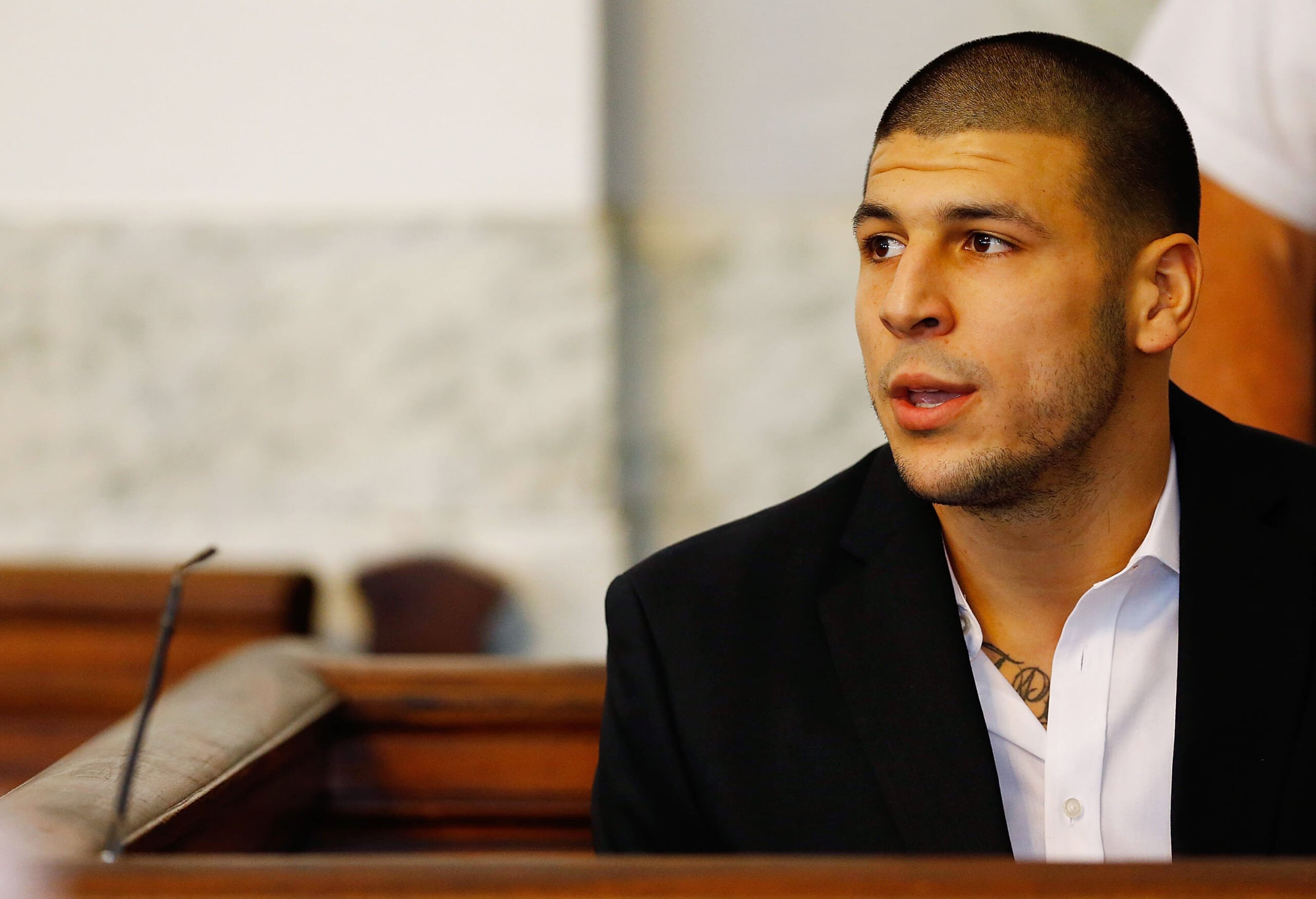 The life of Aaron Hernandez is coming to the big screen. 
Less than a year after the convicted murderer and former New England Patriots tight end hanged himself in a Massachusetts jail cell, The Mark Gordon Co. has picked up the rights to tell Hernandez's story on film. The movie is set up as a adaptation of a forthcoming book from renowned crime writer James Patterson, whose book on Hernandez is out next week. 
The book, titled All-American Murder: The Rise and Fall of Aaron Hernandez, the Superstar Whose Life Ended on Murderer's Row, is "an explosive true story of a life cut short in the dark shadow of fame," according to the publisher.
Born in Bristol, Connecticut, Hernandez was a star football player at the University of Florida before the New England Patriots drafted him in 2010. After racking up 18 touchdowns in three seasons with the Pats, the team cut Hernandez after he was arrested for the 2013 murder of Odin Loyd.
Hernandez spent the next several years in jail and on trail. His May 2015 conviction for Loyd's murder was followed by another trail for his alleged role in a 2012 Boston double murder. Hernandez was acquitted on those charges just days before he committed suicide by hanging himself from a bed sheet.
The drama didn't end there. In the immediate aftermath of Hernandez's death, rumors about his sexuality swirled with some suggesting he had a sexual relationship with a fellow inmate. The saga came to a close, for the time being at least, last May. That's when Hernandez's conviction for Loyd's murder was thrown out because he died before exhausting all of his appeals. 
"The real, shocking events that led to Aaron Hernandez's harrowing fall from NFL stardom gripped America's attention and imprinted itself on today's cultural zeitgeist," producer Mark Gordon said in a statement. "James is unmatched in his storytelling and reporting talents, and he chronicles this story with incredible insight and nuance. There is no other person with whom to collaborate to bring this timely film to life."