Former Agent Suggests Aaron Hernandez Was Murdered as Details Emerge About His Final Hours
Another wrinkle: Because of a legal loophole, the Patriots could owe Hernandez's family millions.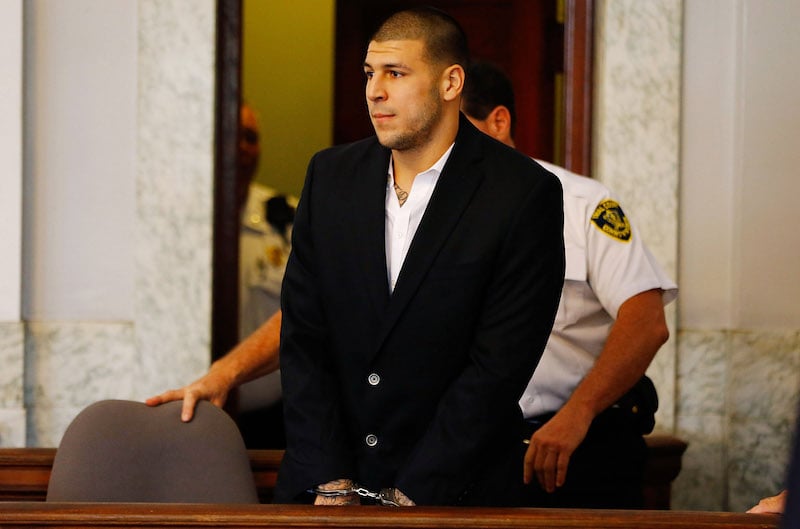 A day after Aaron Hernandez was found hanging from a bed sheet in his jail cell, details are beginning to emerge that may explain why the 27-year-old would kill himself less than a week after he was acquitted of double murder.  
One potential explanation, according to CBS Boston, is that Hernandez may have smoked the synthetic drug K2 hours before hanging himself. That station says local law enforcement is investigating the possibility. If Hernandez did in fact smoke prior to his death, it wouldn't be the first time K2 was implicated in a suicide. A 2012 study found that "synthetic cannabinoid products may potentially lead to suicidal ideation and self-harm behaviors."
Hernandez also reportedly had a bible verse written on his forehead when he was found dead. The verse, John 3:16, is one of the bible's most commonly recited. It reads, "For God so loved the world that he gave his one and only Son, that whoever believes in him shall not perish but have eternal life."
Another local report says that blood was smeared on Hernandez's cell walls. 
But maybe, Hernandez wasn't murdered at all.
That's the suggestion a couple people close to Hernandez are making. Jose Baez, the former Patriots tight end's lawyer, said Hernandez's family is "determined to find the truth surrounding his untimely death."
"The family and legal team is shocked and surprised at the news of Aaron's death. There were no conversations or correspondence from Aaron to his family or legal team that would have indicated anything like this was possible. Aaron was looking forward to an opportunity for a second chance to prove his innocence," Baez said in a statement. 
Meanwhile, Hernandez's former agent Brian Murphy said there was "no chance" he could commit suicide.
Absolutely no chance he took his own life. Chico was not a saint, but my family and I loved him and he would never take his own life.

— Brian Murphy (@A1Murph) April 19, 2017
However Hernandez died, one thing that appears clear is that his conviction will be overturned now that he's dead. In Massachusetts, a legal loophole called "abatement ab initio" ensures that if a person dies before he has exhausted all appeals of a conviction, the conviction will be overturned. 
While that won't change Hernandez's reputation, it could have a dramatic impact on the lives of the family members he left behind. When he was arrested, Hernandez was owed $3.25 million toward the signing bonus on his contract with the Patriots. The team never paid. But now that Hernandez will be, in the eyes of the court, an innocent man, the team may be compelled to pay his estate the remain signing bonus.
If the Patriots pony up, it could ultimately be the family of Odin Lloyd, the man who Hernandez murdered in 2013, that benefits most. Lloyd's family has a pending civil suit against Hernandez seeking damages for his killing. If Hernandez' estate suddenly comes into millions of dollars, Lloyd's family may have claim to that cash.