Aaron Rodgers Next NFL Team Odds From MaximBet: Broncos, Steelers And Buccaneers Are Favorites
The four-time MVP could quarterback one of these teams if Green Bay can't convince him to stay.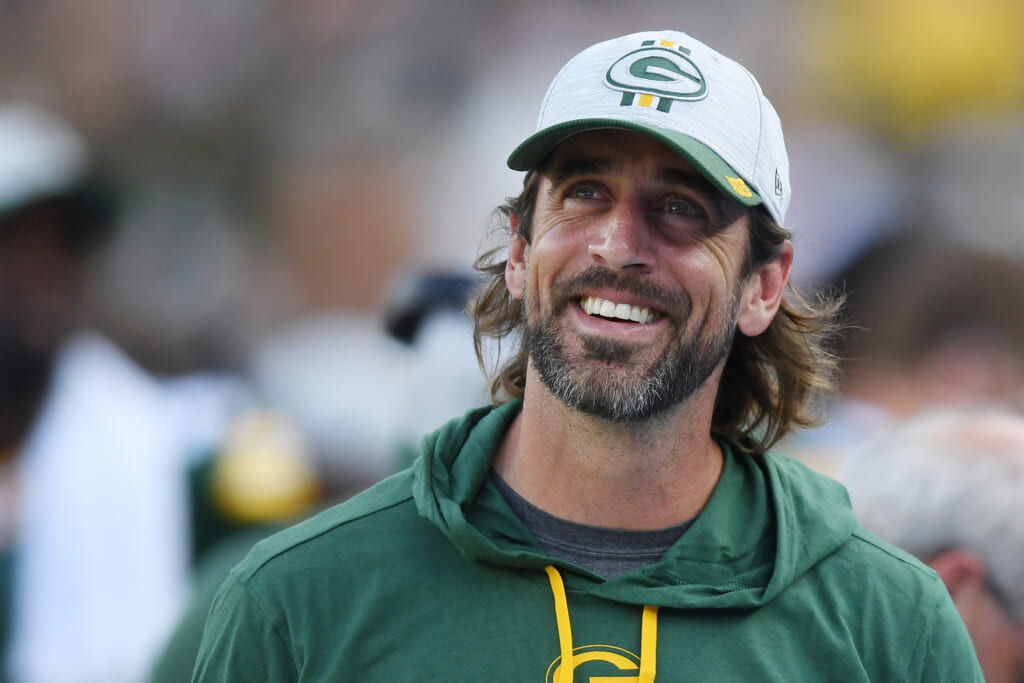 I hope you are sitting down. If you're downing your second or third cup of Ivermectin for the day, maybe take a break. We don't want to ruin your phone or computing device with a cow parasite paste-filled spit take.
After a 2021 offseason of turmoil, Aaron Rodgers and the Green Bay Packers made peace before the regular season started, getting him in training camp and all in to make another one of those patented "Rodgers Runs" through the playoffs where he watches from the sidelines of Lambeau Field while another quarterback drives his team down the field for the winning score (This year it was the 49ers winning in Wisconsin as 5.5-point NFL underdogs at MaximBet.)
It was all done with the idea that Rodgers would pick his own destination in 2022. He'd give Green Bay one more year to do right by him, do literally every single thing he asked, sign or trade for every player that he wanted all for that sweet, sweet NFC Divisional Round elimination.
Now the NFL's curtain has fallen, and Rodgers presumably has more time than ever. The four-time MVP's engagement to actress Shailene Woodley also reportedly just ended, with gossipy sources blaming his dedication to football for the breakup.

So Rodgers can go ahead and shop around for a new destination if Green Bay can't talk him into another go in 2022. And what's not to go for? Another NFC North title? Another home playoff game? Watching a new team celebrate winning a playoff game on your home field while Rodgers chews on his own beard?
Who wants to leave that behind?
Well, if Rodgers does want to hit the ejector button, he'll have plenty of suitors, all willing to pay the Packers' asking price — presumably two or three first round picks and maybe a player or extra picks.
So, let's take a look at the odds for Rodgers' next team, according to MaximBet.
Who Will Aaron Rodgers Play For In 2022?
Denver Broncos +400
Pittsburgh Steelers +500
Tampa Bay Buccaneers +600
San Francisco 49ers +1000
Indianapolis Colts +1200
Minnesota Vikings +1200
Seattle Seahawks +1500
Miami Dolphins +1500
New Orleans Saints +2000
Cleveland Browns +2000
Las Vegas Raiders +200
Philadelphia Eagles +2500
Tennessee Titans +2500
Baltimore Ravens +2500
Washington Commanders +3000
Chicago Bears +3000
New England Patriots +4000
Arizona Cardinals +4000
Carolina Panthers +5000
New York Jets +5000
New York Giants +5000
Houston Texans +5000
Detroit Lions +7500
Dallas Cowboys +10000
Los Angeles Chargers +10000
Los Angeles Rams +10000
Jacksonville Jaguars +15000
Cincinnati Bengals +25000
Buffalo Bills +25000
Kansas City Chiefs +50000
First off, while Rodgers will have some say where he could possibly be traded to, there's no way the Packers let him go to an NFC team. Matt LaFleur doesn't want to face off against Rodgers once a season and definitely not in the playoffs. That's a recipe for disaster across the board.
So, regardless of how much sense it would make for Rodgers to slide into Tom Brady's empty seat in Tampa Bay, it's not happening. The 49ers too don't have the draft capital to spend, even if they didn't want to toss the keys to Trey Lance. The Saints don't have the cap space to keep the players on their roster now. They can't add a $30 million QB.
Sticking in the AFC, the Broncos (+400) easily make the most sense. They made the most sense last offseason and were apparently involved in some talks. With Nathaniel Hackett, Rodgers' former offensive coordinator, hired as the new head coach, it appears the stage is set for a triumphant trip to the Rockies for Rodgers and his bovine intestinal distress supplement collection.
Denver is built to "win now," with solid offensive players across the board. They also have plenty of draft capital, not only with their first round picks in this and upcoming drafts, but with the Rams' second and third rounders this year thanks to the Von Miller trade. Three first rounders, a second and a third for Rodgers is a solid return for Green Bay and immediately makes the Broncos a contender.
But the Steelers (+500) shouldn't just let that happen. I personally think Pittsburgh will look more at free agents like Marcus Mariota and Mitchell Trubisky or cheaper trades like Jimmy Garoppolo, but Rodgers probably puts them in the AFC Championship picture.
But those payoffs pale in comparison to two other, I feel, realistic destinations for Rodgers if he's content to leave the frozen tundra — the Browns (+2000) and the Titans (+2500).
Both the Browns and Titans offer a similar situation that made the Rams the best spot for Matthew Stafford last season. Namely, if the Packers trade their franchise quarterback, they can get some draft picks and a starting QB in return.
We still don't know what Jordan Love is capable of doing in the NFL, but if last season's reps are indicative, it's not much. There's no question that Baker Mayfield or Ryan Tannehill would be upgrades over Love and keep Green Bay in playoff contention, especially in a relatively weak (at least for now) NFC North division.
Rodgers has already bought some land in Nashville, I assume to live amongst his fellow anti-vax, anti-mask plague rats, but that's interesting and suspicious.
Rodgers on the Titans or Browns immediately makes them a preseason Super Bowl contender and pundits will talk about non stop until Rodgers, standing on the sidelines in Cleveland or Nashville, watches Joe Burrow take the Bengals down for the winning score during next season's Divisional Round.
Adam Greene is @TheFirstMan on Twitter.
Ready for some football action? Take advantage of MaximBet's massive welcome offer that puts a 100% bonus up to $1,000 back into your betting account after your first deposit. Sign up here today to maximize your sports betting experience with MaximBet.