The 5 Greatest Things That Happened At NBA All-Star Weekend
Including the courtside cleavage that won Saturday night's Dunk Contest…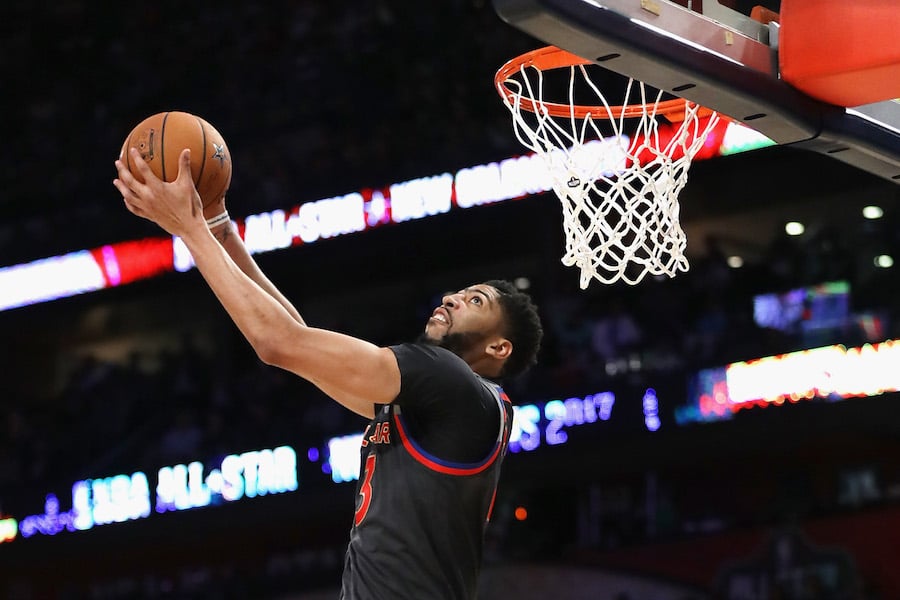 NBA All-Star Weekend is always a whirlwind of action, from the celebrity game to All-Star Saturday night to the game itself Sunday. It's impossible to catch your breath until it's all over, which is why today is the perfect time to look back at best moments from New Orleans. 
1. Russell Westbrook and Kevin Durant make up
The animosity this season between Russell Westbrook and Kevin Durant has been one of the most intriguing storylines in the NBA. And Sunday night they took the court together, on the same team, for the first time since Durant spurned the Thunder last year and signed a new deal with the Warriors. The result? A little blast from the past as the formerly dynamic duo connected on a gorgeous give-and-go. The reaction from the Western Conference bench was almost as good as the play itself. 
https://www.youtube.com/watch?v=f3FHVkWXAbE
2. Elise Gordon's cleavage steals the show
Saturday night's underwhelming dunk contest at least provided us with this: The show- topping video below of a woman's ample cleavage that set Twitter into a frenzy. Turns out, she's Elise Gordon, the sister of former dunk contest participant Aaron Gordon. Check out the clip here to see what we mean…
3. Kyrie Irving's science lesson
Here, presented without comment, is the much-mocked argument the Cavaliers point guard made regarding the shape of the Earth:  "This is not even a conspiracy theory. The Earth is flat. The Earth is flat. … It's right in front of our faces. I'm telling you, it's right in front of our faces. They lie to us."
4. NBA Stars Remember Craig Sager
Another notable moment from All-Star Saturday night that had nothing to do with the dunk contest or three-point shootout, came when a group of NBA stars raises money for the foundation of the late Craig Sager. The longtime NBA sideline reporter, who died in December, is a beloved figure in the association and this scene Saturday night was a touching reminder as half a million dollars was raised for the Sager Strong Foundation.   
5. Jack Daniel's Joins Forces With The NBA
Jack Daniel's kicked off its new multi-year partnership with the NBA by hosting All-Star weekend's hottest party, featuring a performance by T-Pain and a myriad of themed rooms that channeled backstage rock and roll decadence, an EDM dance party, an NBA locker room and a hidden speakeasy, among other experiential flights of fancy. Attendees included Maxim Entertainment Advisor Nick Cannon, billionaire Dallas Mavericks owner Mark Cuban, and rap legends Fat Joe and Master P, along with hundreds of other lucky revelers who are probably still recovering from the night's fun.