Triple Crown Winner American Pharoah Now Earns $30 Million Per Year Having Sex
What a stud!
Getty Images
American Pharoah has transformed from a racing machine into a sex machine. 
Following his legendary Triple Crown and Breeders' Cup Classic wins in 2015, the American thoroughbred retired to a stud's life of eating, sleeping and breeding at the Castleton Lyons farm in Lexington, Kentucky. 
Coolmore Stud, the company that purchased American Pharoah's breeding rights, lists his price to cover—i.e. impregnate—a mare as "Private." But this recently updated article from Sporting News reveals that his champion swimmers are worth millions: 
He now commands $200,000 per cover (impregnation)… and has taken to his new career with the same drive and skill as he did on the race track.

He should make about $30 million for Coolmore this year alone and has already has success in the breeding shed with an 80 percent "strike rate."  
The breeding season runs from February to July—hotter months enhance female fertility. The horses are given plenty of food to meet energy demands, and a team of veterinarians and supervisors do their best to optimize an otherwise inexact science.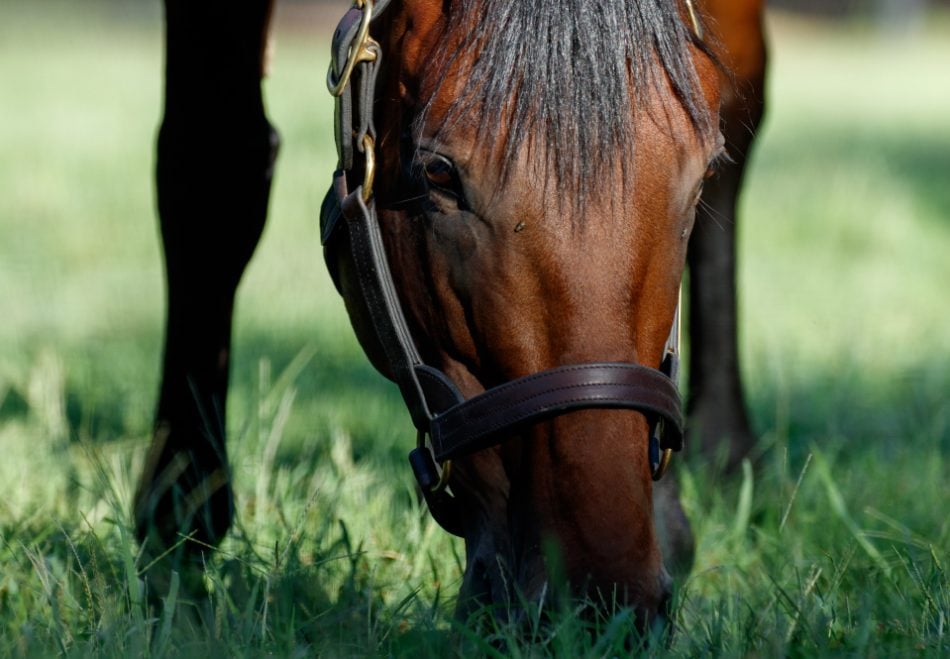 Per Sporting News:
The breeding sessions take just a few minutes. A group of supervisors lead the stallion to the mare (female) in the shed to make sure the deed gets done. They then examine a small semen sample to make sure it will swim adequately.  

Once breeding season begins, mares are closely monitored by their veterinarians. They look at ovulation cycles and forecast what day would be best for impregnation. The stallions, on the other hand, just do their thing, day in and day out.  

Horses spend the other half of the year on a looser schedule, frolicking in the pastures and generally enjoying life. 
There's no telling whether one of American Pharoah's foals will follow in his hoof-steps to win the Grand Slam of Thoroughbred racing, but the first crop of weanlings look promising, according to Bloodhorse. 
"She has fantastic size, great scope with a wonderful shoulder and hip, and she just moves well," breeder Kerry Cauthen said of the champion race horse's first foal. "She has so much scope that you can project forward and see classic form."
Look out for the next generation of "Pharoahs" on the track in the next few years. 
h/t: Bro Bible