Watch Awesome Full-Length Trailer for 'Andre The Giant' HBO Documentary Here
"He was stronger than all of us. He was bigger than all of us." –Hulk Hogan
(HBO)
During his 1980s heyday, Andre the Giant was literally the biggest sports celebrity in the world. 
So we were totally psyched to watch the first full-length trailer for the HBO documentary, Andre the Giant, a movie dedicated to "The 8th Wonder of the World" who was quite possibly the most beloved figure in pro wrestling history. Watch it above.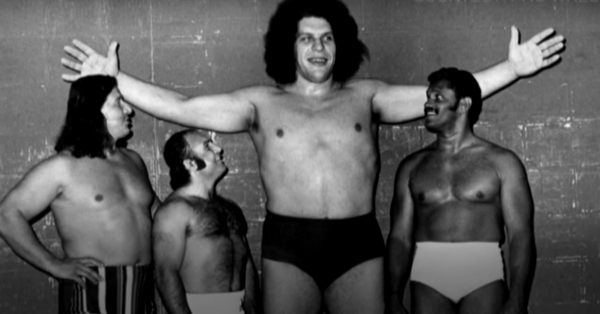 The 7-foot-4, 477-pound Frenchman, born André René Roussimoff, died of congestive heart failure in 1993. Hulk Hogan, Ric Flair, Vince McMahon, "Mean" Gene Okerlund, Jerry "The King" Lawler and Billy Crystal, his co-star in The Princess Bride, are among those who remember him in the new trailer, which follows a 40-second teaser released back in December.
"He was stronger than all of us, he was bigger than all of us," Hogan recalls in the latest clip. 
Andre the Giant premieres April 10 on HBO, and we honestly can't wait to see it. The film is produced by HBO Sports, WWE, and the Bill Simmons Media Group.