Antonio Brown Going to War With Patriots, Raiders, and NFL With Record 9 Appeals and Grievances
Brown is looking to recoup more than $61 million he thinks he's owed.
Getty Images
Antonio Brown is not going gentle into early retirement. He's putting up a fight and ESPN reports he's taking on, well, everyone.
That means his former teams—the Raiders and briefly the New England Patriots, who dropped him after he was hit with rape allegations in a lawsuit—and the NFL. As far as he's concerned he's owed over $61 million and will keep the league on notice till he gets paid.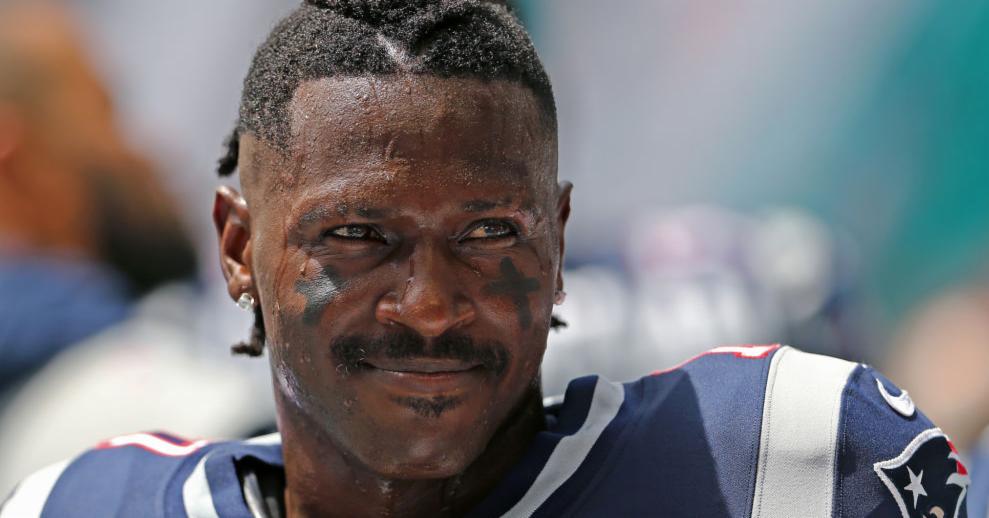 The grievances and appeals involve the following issues and sums of money:

• Fine appeals with the Oakland Raiders: $215,000
• Salary guarantees with Oakland: $29 million
• Signing bonus with Raiders: $1 million
• Oakland's unpaid Week 1 salary: $860,000
• New England Patriots' salary guarantee: $1 million
• Patriots signing bonus: $9 million
• Patriots' unpaid Week 3 salary: $64,000
• Patriots' option year in 2020: $20 million

As if that wasn't enough, if the NFL disciplines Brown and suspends him — which is well within the realm of possibility — Brown could appeal that as well, which would make him the first player in NFL history to have nine different appeals generated from one season.
Brown is apparently ready to pretty much fight anyone. On Saturday he got into a Twitter beef with Cleveland Browns QB Baker Mayfield that made for a few minutes' worth of entertainment. 
Someone accused Mayfield of making an Antonio Brown-like post on social media and Mayfield replied, "you're right… let me call out my teammates and throw a fit about my helmet then go freeze my feet off"—references to issues involving Brown in the past.
The helmet, for example—Brown raised a big stink when playing for the Raiders after being told he couldn't use the same helmet he'd worn for nine seasons. 
Brown caught wind of Baker Mayfield's comments and went on a tweeting spree:
In a tweet he figured was a bit too far, apparently, Brown also wrote, "Sorry ass Chico keep rolling right you ain't done nothing in this league the internet only place u would ever talk too or about me; you know u get beat quick slice u up some humble pie."
Brown also went at it on social media with Los Angeles Rams player Eric Weddle.
Keep you luck duck ; listen to your team stay focus on your opponent not AB ! AB is the brand not the individual! Clearly An AB fan ! Even know about education oh realllyyy https://t.co/rP8tVxCWsP

— AB (@AB84) September 26, 2019
Antonio Brown is an unrestricted free agent after being let go by the New England Patriots. But he's facing allegations from two women of sexual assault and misconduct, so at the moment he's pretty much poison to the NFL—and the XFL doesn't want anything to do with him, either. 
The NFL is investigating the accusations against Brown. 
Meanwhile, Antonio Brown has enrolled in online college courses and is even using Twitter to solicit aid with English papers. 
As everyone knows, Twitter is full of trustworthy scholars. So good luck with that.