Astros Win Their First-Ever World Series, And Stud Shortstop Carlos Correa Celebrates With a Proposal
George Springer is your MVP after one of the most thrilling fall classics of all time.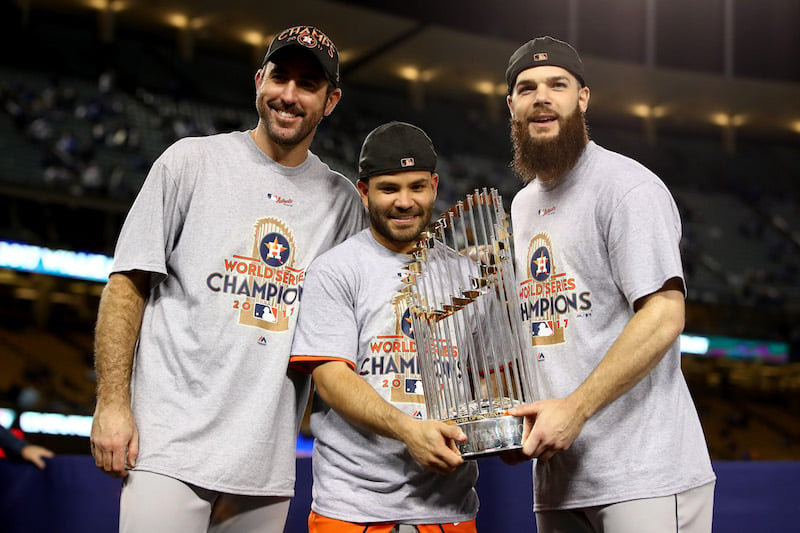 After a 55-year wait, the Houston Astros won the franchise's first-ever World Series on Wednesday, beating the L.A. Dodgers 5-1 in a game seven that didn't quite match the excitement of the previous six. 
Not that it mattered to the guys in orange, black and gray, who celebrated the win in ways both conventional and surprising. There was, of course, the requisite dog pile.
And no World Series celebration would be complete without an outfielder in a banana hammock and wrestling-style championship belt.
But Astros shortstop Carlos Correa provided a bit of a surprise when he proposed to his girlfriend in the post-game celebration. 
The Astros had a lot of time to think about how they'd celebrate this win. Wednesday's game seven effectively ended in the second inning after George Springer, who'd go on to be named World Series MVP, launched a two-run homer. That put Houston up 5-0 and deflated the crowd of more than 50,000 at Dodger Stadium. 
The Dodgers had chances to chip away at the lead, but despite putting at least two runners on in four of the first five innings, they failed to push one across until the sixth when little used and oft-injured veteran Andre Either hit an RBI single into right. 
Even that wasn't enough to restore hope in Chavez Ravine though. The Dodgers feckless offense, which struck out nine times on Wednesday and left 10 runners on base, was simply not up to the task.
The Astros title puts a lid on a long rebuild for the team that lost over 100 games in 2011, 2012 and 2013 as they stock-piled prospects. After finishing the past two seasons over .500, the front office went all in for 2017, signing veteran free agents and trading for ace right hander Justin Verlander at the deadline. The plan worked.
And there's even better news in Houston: This team will be around for a while. It's core, especially the hitters, is young and incredibly talented. And the fruits of its rebuild haven't fully ripened, with the team's farm system remaining among the 10 best in baseball. 
Of everyone who deserves credit for this win though, it's hard not to single out one. In June of 2014, Sports Illustrated went out on a limb and declared on its cover that the Astros would be 2017 World Series champs. That's a hell of a call, and one they are rightfully gloating about today. 
https://www.instagram.com/p/Ba-ojVAliEE