Bare Knuckle Boxing Is Coming to America, and It's Gonna Get Ugly
America's first legal bare knuckle bout since 1889 is happening next month. Here's why it's bound to be a brutal debacle.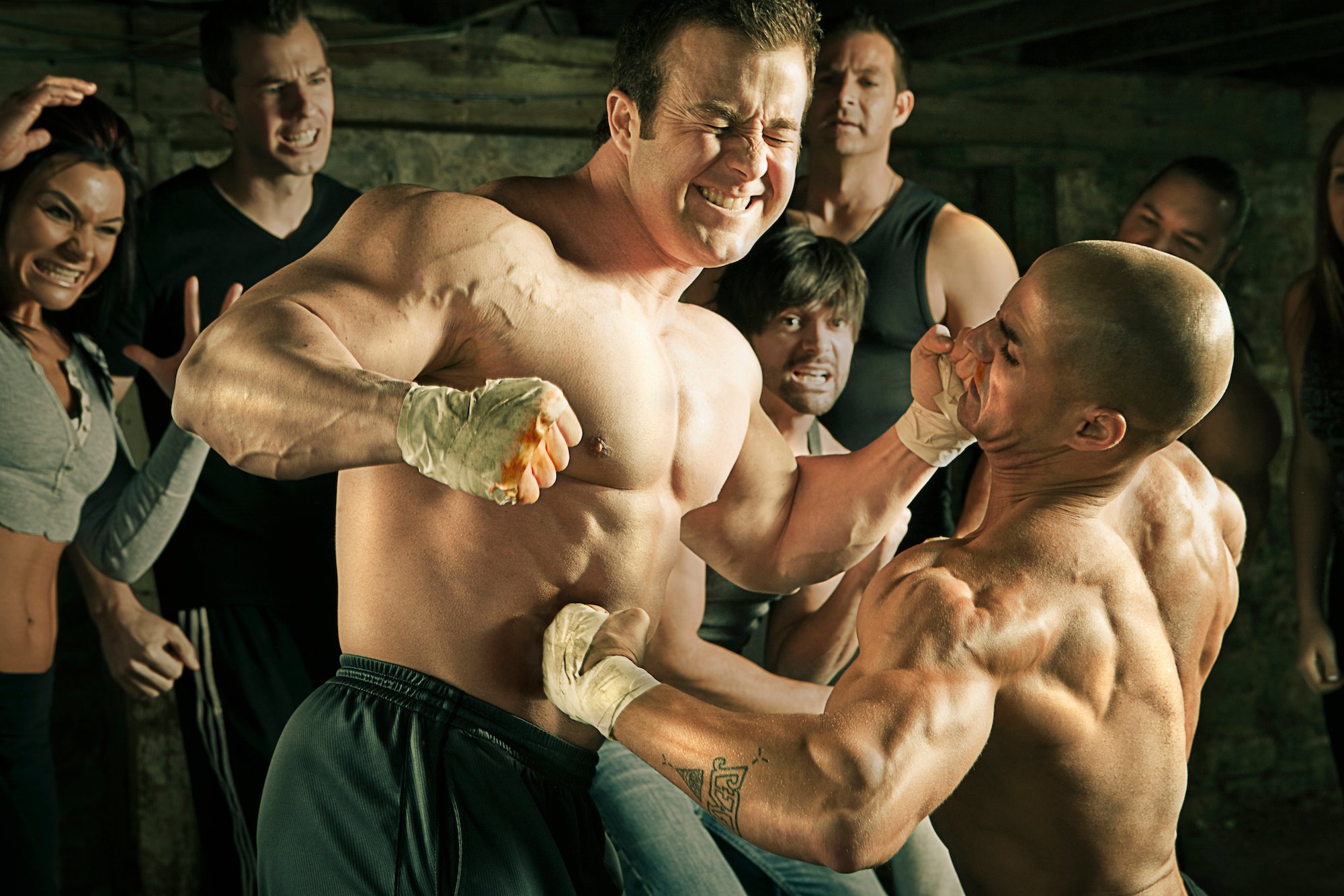 Bare knuckle boxing — essentially boxing without gloves — has been thriving in the United Kingdom for years. Other bare knuckle combat sports, like Myanmar's Lethwei, have been getting punchy elsewhere for centuries. Yet in modern America, bare fisted combat has been reserved for unsanctioned fight clubs, YouTube knockout videos, and puke-spattered sidewalks outside bars.
That will soon change, as a new organization, aptly named Bare Knuckle Fighting Champions (BKFC), is promoting the USA's first legal night of bare knuckle boxing since 1889. It all goes down on June 2 in Cheyenne, Wyoming.
At a glance, BKFC's debut show looks like it could be a thriller. The event will feature a number of recognizable names, including former UFC heavyweight champion Ricco Rodriguez, former Bellator heavyweight Eric Prindle, and former boxer Paul Spadafora. The show is also set to include what BKFC has dubbed the "first-ever" women's bare knuckle match — though the sport's shadowy history makes this difficult to verify — as former UFC strawweight-turned-flyweight Bec Rawlings takes on boxer Alma Garcia.
In press release after press release, social media post after social media post, BKFC has promised that, when these fighters step into the ring in Cheyenne, we're in for a kind of raw, unbridled action that can not be found in traditional boxing or even MMA.

We're in for a rugged spectacle that no state athletic commission has been willing to touch since the 1800s, when the National Police Gazette magazine organized what's regarded as the most recent night of legal bare knuckle boxing to occur on American soil. We're in for something different, the BKFC promoters say, something wild, something violent…
If your interest has been piqued, that's understandable. There is something inherently riveting about the sight of naked knuckles skittering across a cheek or jawbone. When it's happening, it's hard to look away. This is surely one of the reasons for the world's captivation with Kevin "Kimbo Slice" Ferguson (RIP), who held our attention from his early days as a street-fighting YouTube sensation, to his final chapter as a barely-competitive member of the Bellator roster. 
While any excitement surrounding BKFC's debut event is absolutely justified, however, the whole show starts to look quite grim once the microscope has focused. The issue is the motley crew of mixed martial artists and boxers BKFC has collected for this inaugural event.
Ricco Rodriguez, for example, who briefly held the UFC heavyweight championship in the halcyon days of MMA, has recently fallen on hard times, losing five of his last six fights by TKO.

His last outing was particularly rough, as he was knocked senseless by former UFC middleweight Alex Nicholson at CamSoda Legends, an event that generated moderate buzz for being the first MMA event to stream live on a porn site, and was really as low as MMA can stoop while still being considered an actual sport.
Eric Prindle, meanwhile, who once won a heavyweight tournament under the Bellator banner, has also been enduring a rough stretch. He's lost six of his last ten MMA bouts, and is quickly plummeting toward the .500 mark, with an overall record of 11-9.
Then, there's Bec Rawlings. In terms of relevance and actual ability, Rawlings is undeniably the top mixed martial artist competing on this inaugural BKFB card. She was a member of the UFC roster just two months ago, and could easily have found a home in respected women's MMA promotion Invicta Fighting Championship had she not accepted this bare knuckle offer so quickly. That being said, Rawlings has lost her last four fights, which certainly gives the impression that her best days are behind her.
Finally, there's the former boxer Paul Spadafora. Spadafora, who amassed a solid 49-1 pro record over the course of his career, gained special notoriety for reportedly whooping boxing legend Floyd Mayweather in a sparring session many years ago.

More recently, however, all Spadafora headlines have been centered around his troubles outside the ring, the ugliest of which occurred when he was charged with attempted murder after shooting his pregnant ex-girlfriend. While he has not exactly shown the signs of a fighter on the decline, he is the kind of villainous figure that most promotions wouldn't touch with a ten-foot pole. And yet he's found a new home in BKFC…
The intention here is not to disparage the fighters set to compete at BKFC's first event. They've all accomplished plenty in the perilous arena of combat sports, and will surely fight their hearts out, gloves or no gloves, on June 2 in Cheyenne. Nevertheless, it's hard to deny that the majority of the fighters on the bill seem to have passed the point of relevance.

Several, such as Rodriguez and Prindle, don't even seem to have the goods to compete in small-scale regional shows, while Spadafora is a downright criminal who would probably struggle to find work at a Cheyenne corner store. When you consider this, BKFC suddenly looks less like the next exciting stage in the evolution of American pugilism, and more like the sad, blood-stained corner where combat sports careers go to curl up and die.
The bare knuckle promotions that have been thriving in the United Kingdom have played a similar role in the careers of several once-respected mixed martial artists and boxers. Melvin Guillard, for example, who was a once a top-performer in the UFC lightweight division, turned to British bare knuckle boxing after losing a long string of MMA bouts. So too did Julian Lane — though he was basically only ever famous for his weird, testosterone-fueled meltdown on The Ultimate Fighter reality show.
Interestingly, the arrival of bare knuckle boxing in the United States coincides with a waning interest in MMA. The UFC's pay-per-views have been generating continually worse sales numbers, while Bellator has been hemorrhaging viewership over recent months. It's unlikely that this is all a coincidence.

You can almost imagine a handful of bare knuckle boxing enthusiasts, huddled around a table in a dimly-lit Wyoming dive bar, assuring each other in excited whispers that their moment had come, that MMA is dying, and that their beloved gloveless sport is the heir to the combat sports throne.
Unfortunately, it's hard to imagine BKFC gaining any kind of meaningful, long-term traction in America. While its debut show, and any others it promotes down the road, are sure to be quite entertaining, the combination of bare knuckle fighting's inherently brutal nature and the promotion's roster of aging legends, wash-ups, and criminals will make it unpalatable to all but the most hardcore of combat sports fans.
In a way, the arrival of bare knuckle fighting in the United States is somewhat reminiscent of XARM, a downright laughable fusion of MMA and arm-wrestling that UFC co-founder Art Davie attempted to sell us years after he'd left the MMA industry. Davis told us XARM would be the next big thing, that it would dispose of MMA's less exciting aspects (like that darn jiu-jitsu), and give us the kind of frenzied action we truly want.
"When I created the UFC, the boxing community, and martial artists from karate to taekwondo said it was too brutal, and a freak show… a unicorn sport" Davie once said on his blog, which was deleted years ago, and now has a 403 error message for an epitaph.

"Now some in MMA are taking shots at my new sport, XARM, saying it's too extreme. Oh, how history repeats itself! What XARM does is take the best three minutes of any MMA fight, removes the ground game, and gives fans what they want — raw, uncensored, nonstop action! Get off the ground and step up to the table!"
In a release on the BKFC official website, company president and former boxer David Feldman says something quite similar, assuring that his promotion will usher in "a new era in combat sports," and crown "the best pure striker on the planet."

While it's certainly possible that BKFC accomplishes both of these things, it seems more likely that the promotion becomes pugilism's latest flash in the pan, as a host of aging and declining fighters pummel each other into further disrepair, exchanging what remains of their battered brain tissue for paychecks and the howls of a bloodthirsty crowd.