Becca Longo Could Be the First Woman in the NFL, And You've Gotta See Her Kick the Football
She's already the first woman with a D-II scholarship. Could the NFL be next?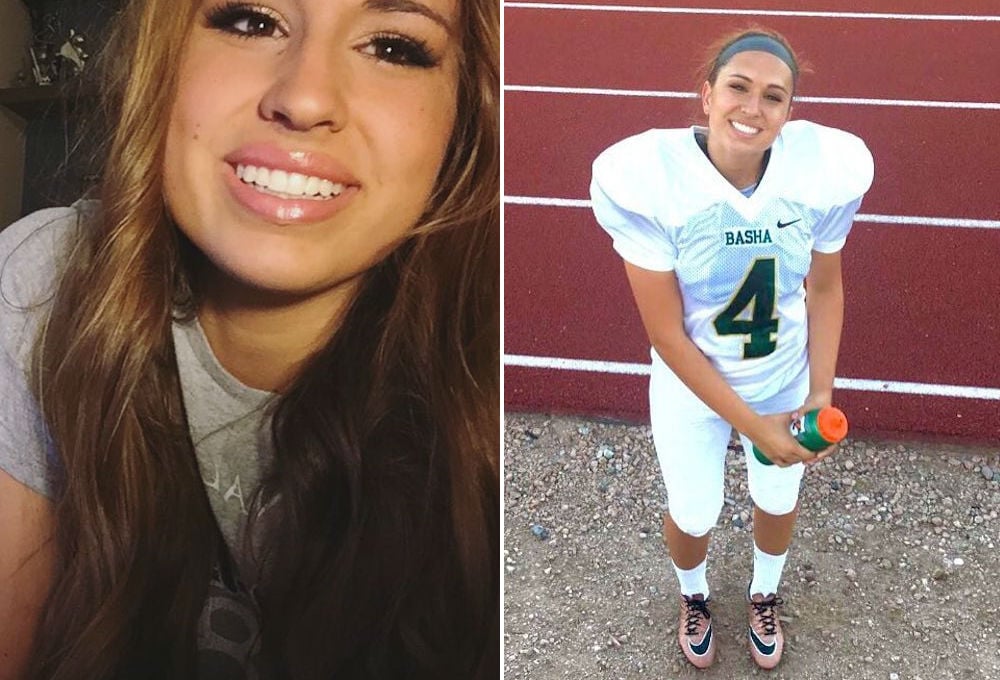 When 18-year-old Becca Longo was a little girl, she came to idolize Heidi Garrett, a high school kicker who played with Longo's older brother and once nailed 48-yard field goal, the longest every for a female kicker. 
Now, more than a decade after Garrett's bomb, Longo is following in her footsteps as a barrier-breaking women in a sport long dominated by men. Just check out this video:
In April, Longo signed with Division II school Adams State in Colorado, becoming the first woman to ink a football scholarship to a D-I or D-II school.
"To me, there is no doubt she can be competitive. She has a strong leg, and she can be very accurate," her new coach Timm Rosenbach said at the time.
Longo's leg is so strong that she routinely nails 45-yard field goals in practice. But if she wants to achieve her ultimate goal of playing in the NFL, she's going to have to get even stronger.
https://www.instagram.com/p/BP3NSwqlHYN
That's why she keeps working. Longo trains with a personal kicking coach who has "who has coached seven All-State kickers in Arizona since 2006 and who has had four family members kick in the NFL," according to Bleacher Report. 
https://www.instagram.com/p/BRpKX_wAkj5
And hey, if the NFL doesn't work out, she can always try to go pro in another sport. At Adams College, Longo will be playing basketball, too. 
https://www.instagram.com/p/BPQgxOnFb1Ihttps://www.instagram.com/p/BVJNDOOgYCOhttps://www.instagram.com/p/BVTIO4nA-El