Why Brooklyn Net Ben Simmons' Return To Philly Is A Really Bad Idea
Just how hostile will 76ers fans get when Simmons returns to Philly Thursday to sit on Brooklyn's bench?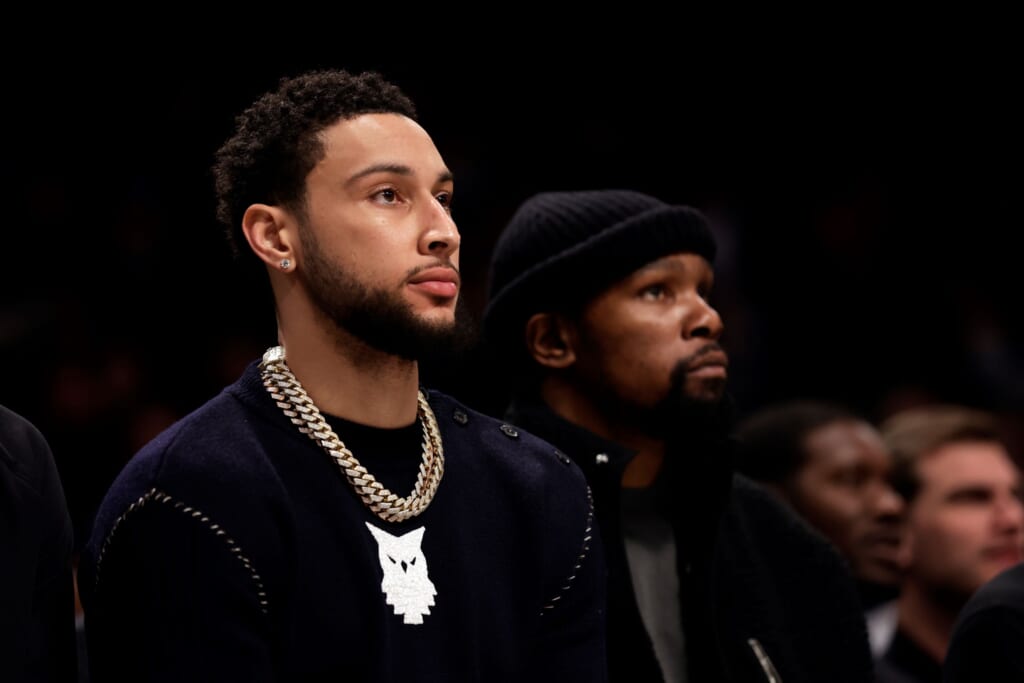 Never put anything past Philly fans, who once booed Santa Claus at an Eagles game. And that is far from the worst moment in that sports-mad town's fan behavior history.
Ever seen a car burning? No? Well, get yourself to southeastern Pennsylvania the next time a Philly team is competing for a championship. Win or lose, somebody's vehicle is going up in smoke. It was not all that long ago that charred vehicle shells dotted the city where Ben Franklin invented bifocals.
Which leads us to this point: What on earth do the Brooklyn Nets see as a positive in their decision to send Simmons to Philadelphia to sit on the bench and get abused by 20,155 fans at the Wells Fargo Center when the Sixers play host to the Nets on Thursday night (the 76ers are 4.5-point favorites on the NBA odds at MaximBet), a game that will be televised by TNT.
Last we checked, dudes with fragile psyches are best handled with care when trying to restore them into the good graces of whatever society they used to be adept at navigating. In Simmons' case, is it really advisable to have him sitting just a few yards from the spot where he famously passed up a wide-open dunk against the Atlanta Hawks in last year's playoffs?
That moment that instantly became a part of infamy in the sports history of a town that brought us the Broad Street Bullies and battery tossers back in the day. The Nets are apparently are taking mental health advice from someone even more clueless than the folks at the CDC who are still advising parents to mask their children younger than 5-years-old.
But in the NBA, misinformed and uninformed decisions trickle down from the desk of clueless commissioner Adam Silver. And so the Nets are putting Simmons in harm's way just as he is trying to recover from the mental health issues that, combined with his not wanting to play in Philadelphia anymore, have kept him from practicing his preferred profession since last spring.
How badly are the Philadelphia fans going to let him have it? That is where we are making things interesting.
"I don't think he's naive to think he's not going to get some boos. I hope he enjoys it, it's a part of the game," said Nets coach Steve Nash, noting it'll be good for Simmons to face the Philly crowd. "It's great. He's on our team, he needs to be with his teammates and get the whole Philly thing out of the way a little bit. Maybe it never goes away, but the first time it's always nice to kind of deal with it and move on."
But what exactly will Simmons have to deal with? MaximBet has posted some fun prop bets on the different types of reception that Simmons will experience, listing the possibility of Simmons' passed-up dunk vs. the Hawks being shown on the arena scoreboard at -140.
It should be noted that the NBA's game operations people will be watching this one closely and will likely fine the Sixers franchise if they cross some sort of a taste line, but that may not matter to the folks running the show at the arena who are probably just as mad as the fans for Simmons underperforming not only in last season's playoffs, but in previous postseasons, too.
"I think it is going to be, for lack of a better work, an electric crowd, one of the loudest they've had in a long time," said beat writer Keith Pompey of the Philadelphia Inquirer. "They'll give Simmons some razz for not wanting to play this season. Initially, the bad feelings stemmed from what happened in the playoffs. But then it was because he quit on the team and did not want to play."
MaximBet also has posted odds on what kind of physical interaction we should expect to see from Simmons and former teammate Joel Embiid, who has become the runaway frontrunner to be voted MVP.
A fist bump between the two is the favorite at +175, followed by a handshake/handslap (+200), a handshake and hug (+250), a hug only (+750), a punch (+1000), a face slap (+1200) and a butt slap (+2500).
"He'll be fine. He's a big boy, he'll be fine and he's excited to join our team. He wants to be there on the bench with his teammates," said Nash, who apparently is going to learn the hard way that Kyrie Irving is not the most difficult personality he'll coach this season.
Whatever comes the Nets' way is deserved, it says here, because the franchise has been dishonest with its fans from the get-go this season, beginning before training camp, when general manager Sean Marks said there was a "plan" to have everyone on the team vaccinated against COVID-19 by the time the first practice was held.
Apparently, that "plan" included crossing their fingers and hoping for the best.
The fact that the game is being nationally televised is going to provoke at least a few Sixers fans to cross whatever passes for a line these days in Philly. It's the franchise that has embraced James Harden since the Simmons trade as the 76ers have gone 5-0 with the Bearded One in the lineup since the deal. The deal also sent Andre Drummond, Seth Curry and a pair of No. 1 picks to Brooklyn, with Paul Millsap heading to the Sixers.
Philly's championship odds are +650 at MaximBet, making them the second choice in the East behind these very same Nets. Brooklyn just got back to .500 on Tuesday night by defeating Charlotte 132-121 behind 50 points from Irving, who is no stranger to hostile fans after engineering testy exits from Cleveland and Boston during his NBA career.
Irving also predicted that Simmons would be able to shrug off whatever comes his way Thursday night, which just goes to show you one of the effects of living a privileged life in Silverland making millions and becoming ever more disengaged from the sport's fan base.
Clearly, Irving was unaware that the Sixers had to install protective fencing in the area where players run from the locker room onto the court out of fears that projectiles would be headed Simmons' way. And that was when he was still on the team.
As a visitor, he should expect a level of hostility that should probably be prompting the Sixers' arena staff to be building a second wall behind the Brooklyn bench.
It should be good theater Thursday night, but good theater can get out of hand very quickly if somebody goes too far. We all learned that from the Malice at the Palace episode, didn't we? Well, maybe not. Only time will tell, but if you expect the worst from Philly fans, you should wind up satisfied.
Ready for some basketball action? Take advantage of MaximBet's massive welcome offer that puts a 100% bonus up to $1,000 back into your betting account after your first deposit. Sign up here today to maximize your sports betting experience with MaximBet.