Justin Bieber Joins Amanda Nunes in Trolling Ronda Rousey After Her Crushing UFC 207 Loss
We're still pretty sure Ronda would give Bieber a beatdown, though.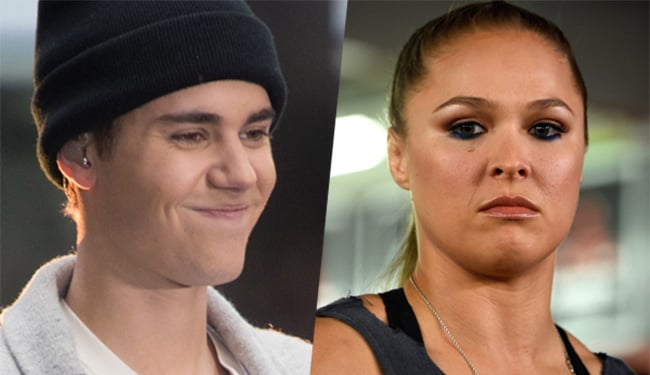 (Getty)
Justin Bieber and Ronda Rousey have something of a history, and it isn't pretty.

You may recall that Rousey once called out the pop superstar for refusing to take a picture with her little sister. And then there's also Bieber's BFF-status with frequent Rousey tormentor Floyd Mayweather. So it's no surprise that Bieber didn't hold back when Rousey was totally destroyed in 48 seconds by Amanda Nunes Friday night at UFC 207.
Last year, after Rousey said Bieber was "really rude" to her Bieber fan sister at the 2014 Cannes Film Festival when she asked him for a picture. Bieber later apologized on Entertainment Tonight and begged Rousey not to "kick his ass".
Later in the interview, Bieber said he wanted to become a better boxer himself. Then he brought up Rousey's first knockout loss to Holly Holm: "Did you see Ronda Rousey? She got knocked out cold! Oh my God, she got knocked out so bad. Yeah, no, she got pummeled."
As if Bieber's barbs weren't bad enough, Nunes is also roasting Rousey on Twitter by sharing this curious image:
"That's it for her," Nunes said after the fight. "She's gonna retire. She can't take it anymore. If we do the same fight again, we're gonna do the same thing."