This Superhuman Adventurer Became the First BLIND Athlete to Summit Mount Everest
Erik Weihenmayer has redefined what's possible for people with disabilities.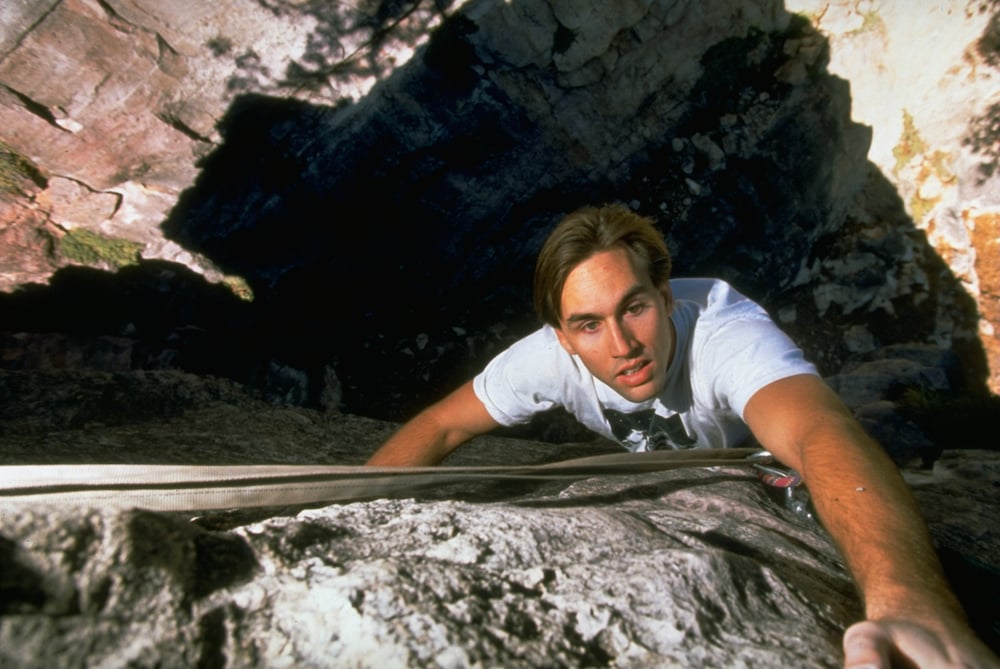 One day in January 2012, a few days into a two-week kayaking trip down the jungle-flanked Usumacinta River in southeastern Mexico, Erik Weihenmayer, a relative novice to the sport and a blind man, found himself in a bad spot. The kayak for that stretch of the rapids, a rubber model known as a "ducky," had just been sucked into a vicious whirlpool, tacoing the vessel. Hanging desperately off the side, feeling his shoes being pulled off by the vortex, Weihenmayer thought, I might die here. But he was fortunate that day; he and the ducky survived, relatively unscathed. It was another close call in a life full of them.
People say that seeing is believing, but for Weihenmayer it is something like the opposite. The American adventurer, who is totally blind, has summited the highest peak on every continent; he was the first blind person to top Everest. At 49, he has kayaked the full 277 miles of the Colorado River through the Grand Canyon; scaled the infamous nearly 3,000-foot "Nose" route on Yosemite's El Capitan; and completed some of the world's most grueling endurance races. Compared to the average, sighted Joe, Weihenmayer's feats seem downright superhuman.
https://vimeo.com/113723356″ tml-render-layout="inline
When not out shattering stereotypes or penning best-selling memoirs about his exploits, he spends his time working with No Barriers USA, a nonprofit cofounded in 2003 by Mark Wellman, a record-setting paraplegic climber, and eventually involving Weihenmayer and Hugh Herr, a doubleamputee climber and visionary prosthetics engineer. The group, which seeks to empower people with unique challenges through outdoor pursuits, is flourishing. 
For the first time, they have acquired a home base—near Fort Collins, Colorado—and are also expanding their outdoor programs, especially with wounded veterans. For Weihenmayer, the adventures never cease. On the docket for 2018 is an ice-climbing expedition in the Alps as well as a mountain bike journey along the White Rim Road in Utah's Canyonlands, complete with climbs up six desert rock towers.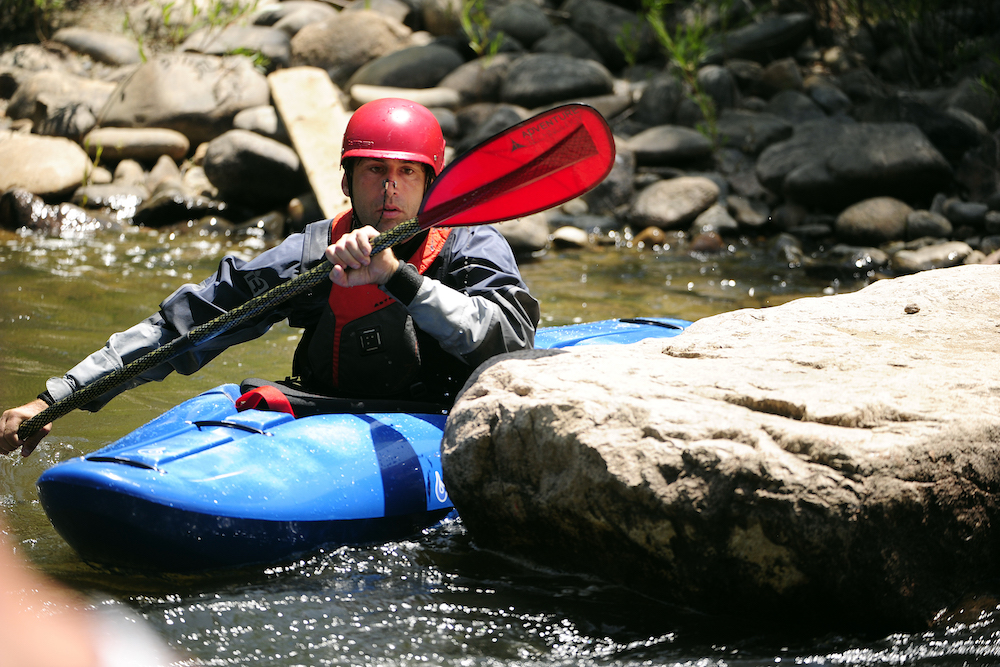 When it comes to motivations, Weihenmayer makes it clear he is not in it for the gasps: "I try to keep it positive rather than like, 'I'll show you!' " he says, with characteristic geniality. "That doesn't take you that far." Weihenmayer's real drive, he says, is simpler: redefining what's possible.
As a baby, Weihenmayer was diagnosed with a rare degenerative eye condition called juvenile retinoschisis, an inheritable condition which causes the retinas to disintegrate over time. By 14, the Connecticut teen was fully blind. It would have been easy to fall prey to despair, but the headstrong Weihenmayer took pains to stay active—and it was painful. Activities became harder as his sight diminished, and as he initially spurned standard assists like canes and guides, he often fell: down stairs, on trails, in matches with the high school wrestling team.
https://www.instagram.com/p/BbNDcvxhFm_
When he was 15, Weihenmayer went rock climbing for the first time. Where the others struggled, he emerged as a natural, able to feel his way up a route like a gecko, following the chime of a small bell worn by a guide above. That freedom he felt on the wall empowered and inspired him. It left a mark: He would build a life chasing that feeling and, with some breaks and bruises, perfecting the art of sightless sport.
"He's just got this amazing sense of his own body—it's magical," says Wellman, the paraplegic climber. "He's super-motivated, really gung ho about doing things."
Yet Weihenmayer's life was, if you disregard his going blind, almost normal. After graduating from Boston College with a double major in English and communication, he landed a job as a fifth-grade teacher (Jay Leno once quipped to him, "Aren't you just spitball city?") and wrestling coach in Phoenix. 
Through rock climbing, he met some local mountaineers, who pushed him to do something bigger. In 1995, while still a schoolteacher and after tackling some smaller peaks, Weihenmayer summited Alaska's Denali, the highest mountain in North America. It was a torturous, "miserable" experience, but he was forever changed by the triumph. By realizing what he, a blind guy, was capable of, Weihenmayer realized the potential of all disabled individuals.
He moved on to other monsters. El Capitan in '96, Kilimanjaro in '97, a failed attempt up Aconcagua in '98 followed by a successful one in '99. Then Elbrus, Kosciuszko, Carstensz Pyramid—the list goes on.
None of it was easy. During the 2001 Everest trek, for instance, it took Weihenmayer 13 hours to navigate through the Khumbu Icefall, a treacherous section of a sprawling glacier, at an altitude of 18,000 feet. Considered the most dangerous portion of the climb, Weihenmayer had to be guided while feeling his way with trekking poles. Adding insult to injury, he suffered an ice axe to the nose when a teammate ahead slipped.
https://www.instagram.com/p/Ba4sqWuhmZr
There is one thing which Weihenmayer stresses profusely: Nothing he has done he could have done solo. There is a clear and deep humility to the man, which is striking coming from someone who has accomplished so much. But it makes sense when you consider how many times he has had to ask for help. While white water kayaking, Weihenmayer relies on radio communication with a team that provides directions; in solo paragliding it is the same (he also uses a bell, hung from the tail of the glider, as a landing alert). During Colorado's infamous Leadville Trail 100 MTB mountain bike race, Weihenmayer rode tandem with a partner who told him which way to fall if they stumbled, to avoid the cliff. People often glorify going it alone, but in Weihenmayer's world recalcitrance is a fatal trait. So is recklessness.
"What doesn't motivate me is risk," he says. "I'm not an adrenaline junkie, believe it or not. I don't enjoy risk for risk's sake. I've always been pretty careful."
https://www.instagram.com/p/BX5xJD0BJfh
But in such a life, sightless or not, danger abounds. Speaking from his home in Golden, Colorado, Weihenmayer was recovering from a broken rib sustained on a recent climb in Europe. While navigating Piz Badile, a legendary north face on the Swiss-Italian border in the Alps, roped in, Weihenmayer had fallen over 20 feet down, then another 20 across in swing, banging himself up on a ledge. Still, mercifully numbed by adrenaline, he and his team completed the climb (on the way down, though, they heard news that the Swiss village where they had spent the previous day had nearly been decimated in a landslide, reported to be the largest in Switzerland in decades).
Though friends find it hard to believe, Weihenmayer foresees doing fewer big invested expeditions in coming years. He and his wife have two teenagers, Emma, a high school senior, and Arjun, a freshman, who was adopted from a Kathmandu orphanage in 2008, and he wants to spend more time with them. Weihenmayer is also a writer (as well as a prolific reader). His third book, No Barriers: A Blind Man's Journey to Kayak the Grand Canyon, came out in February 2017.
https://www.instagram.com/p/47pb3hBnQq
So even on the home front Weihenmayer keeps busy. But it is easy to hear the longing in his voice, that itching for another outing, with "the sun in my face, the wind…the rhythm of swinging my tool into the ice and hearing that thump." After all, it is the natural question of the adventurer: What's next?
This article appears in Maxim's January/February issue. Be sure to subscribe so you never miss an issue.