Marine Crawls to the Boston Marathon Finish Line to Salute Fallen Comrades
This is what guts look like.
A veteran of the United States Marine Corps displayed the kind of grit and determination we've come to expect from veterans as he crawled across the finish line of the 2019 Boston Marathon.
Ohio resident Micah Herndon completed the grueling 26.2-mile race in honor of three fallen comrades. He told Ohio's Record-Courier that he fought off the urge to give up by repeating their names: Mark Juarez, Matthew Ballard and Rupert Hamer.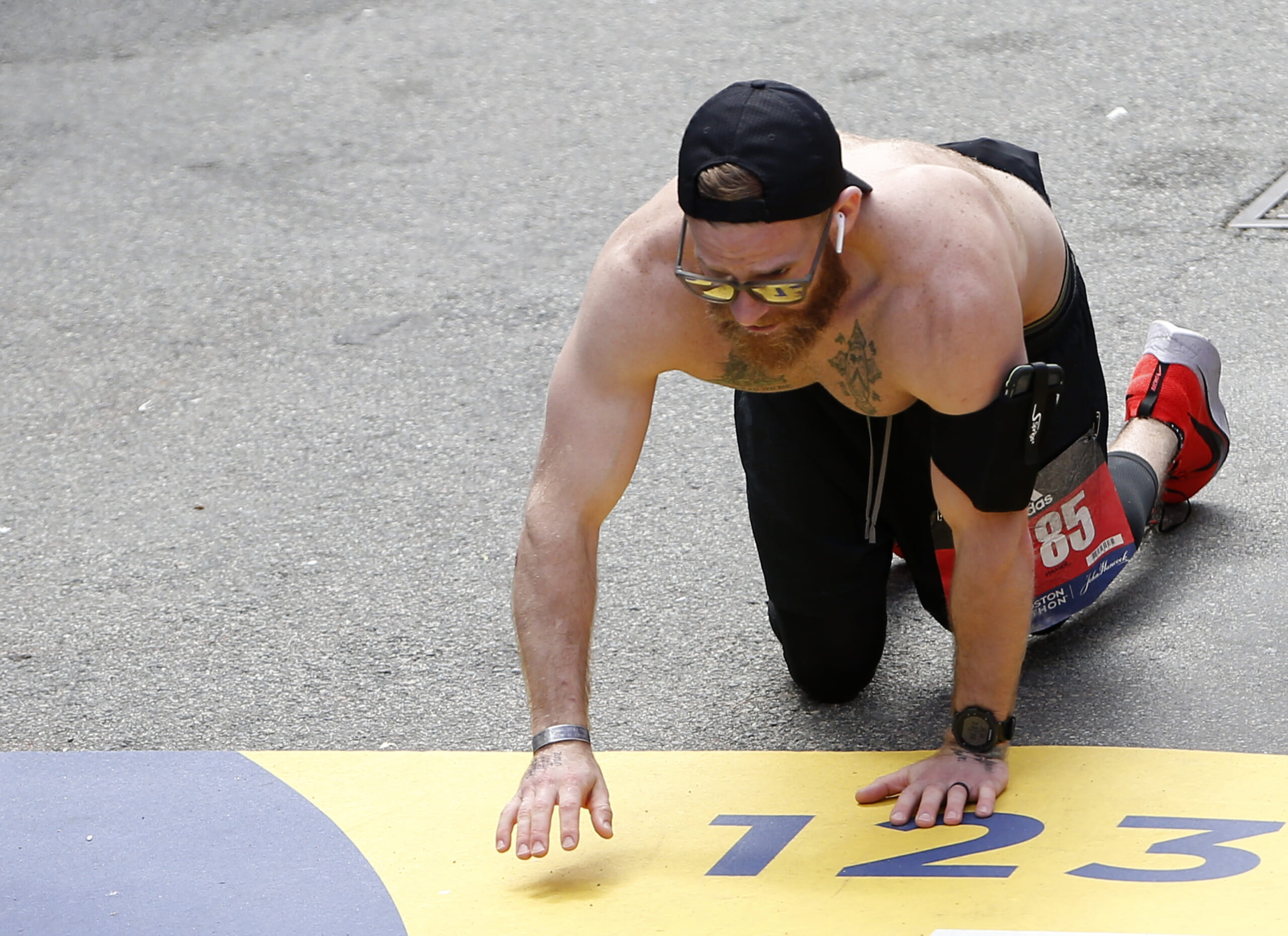 Herndon served as a lead machine-gunner in the Marine Corps' "Lava Dogs" division through numerous deployments to Iraq and Afghanistan. 
Fellow Marines Juarez and Ballard, as well as British journalist Hamer, were killed when a 400-pound Improvised Explosive Device (IED) hit the seventh vehicle of their convoy.
A second IED failed to detonate when it hit Herndon's vehicle. Incredibly, he later survived a third IED that did explode and left him unconscious. 
It's the memories of his three friends that keep him going. Their names are printed on the the tags of his running shoes.  
" tml-embed-width="500″ tml-embed-height="502″ tml-render-layout="inline
"I run in honor of them," Herndon told the Record-Courier. "They are not here anymore. I am here, and I am able. I am lucky to still have all my limbs. I can still be active. I find fuel in the simple idea that I can run. Some cannot." 
This was Herndon's first full marathon, which he completed in just under three hours and 40 minutes, according to CBS Boston. His legs locked up at around mile 22, at which point he began inching forward on his hands and knees.  
"I feel like if I am not running, then I am doing something wrong with my life," Herndon said. "If I get a heat cramp while running or my feet hurt or I am getting exhausted, I just keep saying their names out loud to myself." 
"They went through much worse, so I run for them and their families."
As one YouTube commenter wrote, there's no such thing as a former Marine.