Brock Lesnar's Return to the Octagon to Fight Jon Jones is Reportedly 'Imminent'
This would be amazing.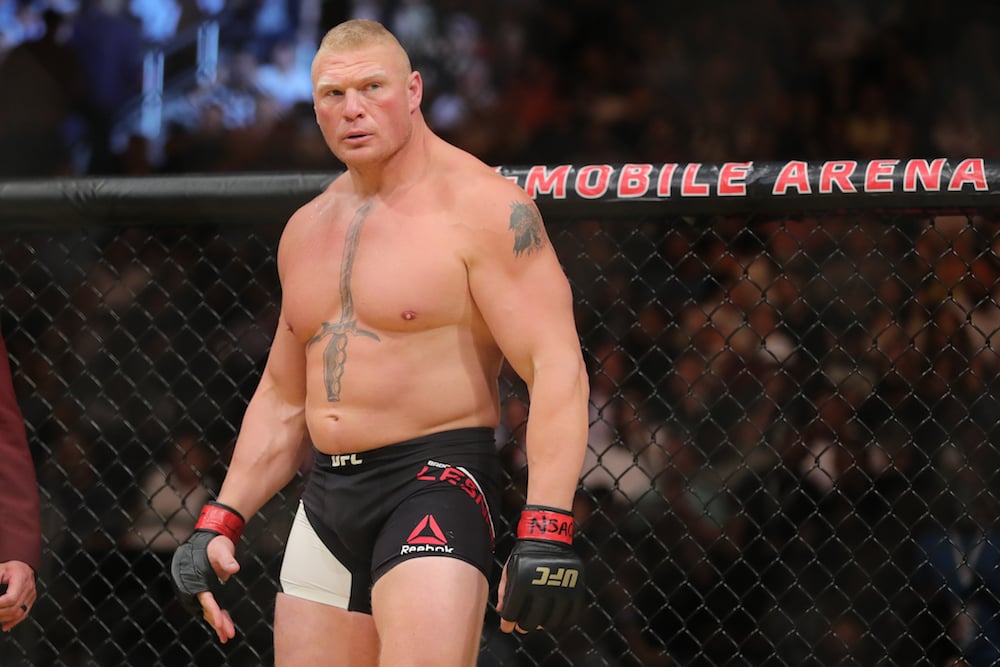 Brock Lesnar's unlikely return to the UFC has gone from pipe dream to definite possibility to, according to a recent report from Sports Illustrated, "imminent."
SI.com has learned that Lesnar's return to the UFC is imminent, and he will fight Jones as well as fulfill his WWE obligations at the Royal Rumble and WrestleMania 34. 
This is huge news for Jon Jones and the UFC, which hasn't had a true megafight on its hands since Conor McGregor and Nate Diaz squared off for the second time. That's the good news. The bad news is that it looks like everyone is going to have to wait a while.
There are a few hurdles standing in Lesnar's way before he can return to the cage. First, there's his pending PED suspension. When Lesnar "retired" from the UFC earlier this year, the clock stopped ticking on his six-month suspension. If he wants to return to the Octagon, he's got to re-enter the USADA testing pool and stay clean for six months. 
Let's imagine he does that today and is successful in his attempt to keep the juice out of his veins. Then he'd be cleared to fight at the start of 2018. 
That's where the next problem comes in. Lesnar's WWE contract would all but certainly require him to play a big part in shows like the Royal Rumble and WrestleMania. Those take place in January and April, respectively. So even if Lesnar completes his suspension, he'd had other obligations to fulfill through April. 
That puts the earliest fight date for him and Jones in June or July.
Some have suggested that this whole charade is just a ploy for Lesnar to boost his pay by the WWE—that he doesn't really want to fight in the UFC again anyway.
But Jones' interest is unquestionable. As his manager says, the 30-year-old fighter looks at Lesnar and sees a payday.
 "I think Jon is realizing that there is an opportunity to make a lot of money, and I think the biggest money fight out there for him right now is Brock Lesnar," Malki Kawa said on The MMA Hour. "And if that can happen, I think that's the fight that he would prefer over everything else."