A Bullfighter Was Gored Through the Throat, Still Insisted on Killing Bull Before Going to Hospital
This is totally insane.
Photo: Getty Images/Europa Press
https://www.youtube.com/watch?v=jmjya46Cm6s
Bullfighter Arturo Macias does not deserve your sympathy. He doesn't deserve your praise either. But his participation in a "sport" that's, at best, an outdated tradition and at worst, the ritualistic murder of innocent animals, doesn't mean he doesn't deserve your awe.  
Over the weekend, the 35-year-old matador was fighting a bull in Mexico when everything went wrong. Tossed into the air by the hard charging animal, Macias was gored in the throat, the bull's sharp horn barely missing his windpipe. 
The Mirror says Macias was quickly taken to the infirmary, where it was determined he needed to go to the hospital. Obviously. But Macias ignored doctor's orders and returned to kill the bull with blood still drying on his shirt. Here are photos of Macias finishing the job with the injury still fresh. 
He eventually made it to the hospital, where doctors found air "had entered the matador's chest and neck as a result of the gaping wound," according to Yahoo.com. Just how gaping was the wound? Big enough for a doctor to shove his finger right in. 
https://twitter.com/JLMNoticias/status/922298399747031040
Throat goring's aren't exactly rare in this "sport." Earlier this year, 23-year-old Daniel García Navarrete had his throat and moth gored by a thousand-pound bull in his debut as a matador.
The wildest throat goring we can remember though came at the expense of Julio Aparicio, whose mouth was "shredded" when a bull gored him. 
Here's how Der Spiegel described the injuries:
The horn had penetrated below the left side of the face, passed through the lower jaw and split the tongue in half. Parts of the upper jaw were shattered. Five teeth were sitting loosely on the jaw and protruding horizontally out of Aparicio's mouth.
The words make it sound bad, but you've got to see the picture to appreciate this one.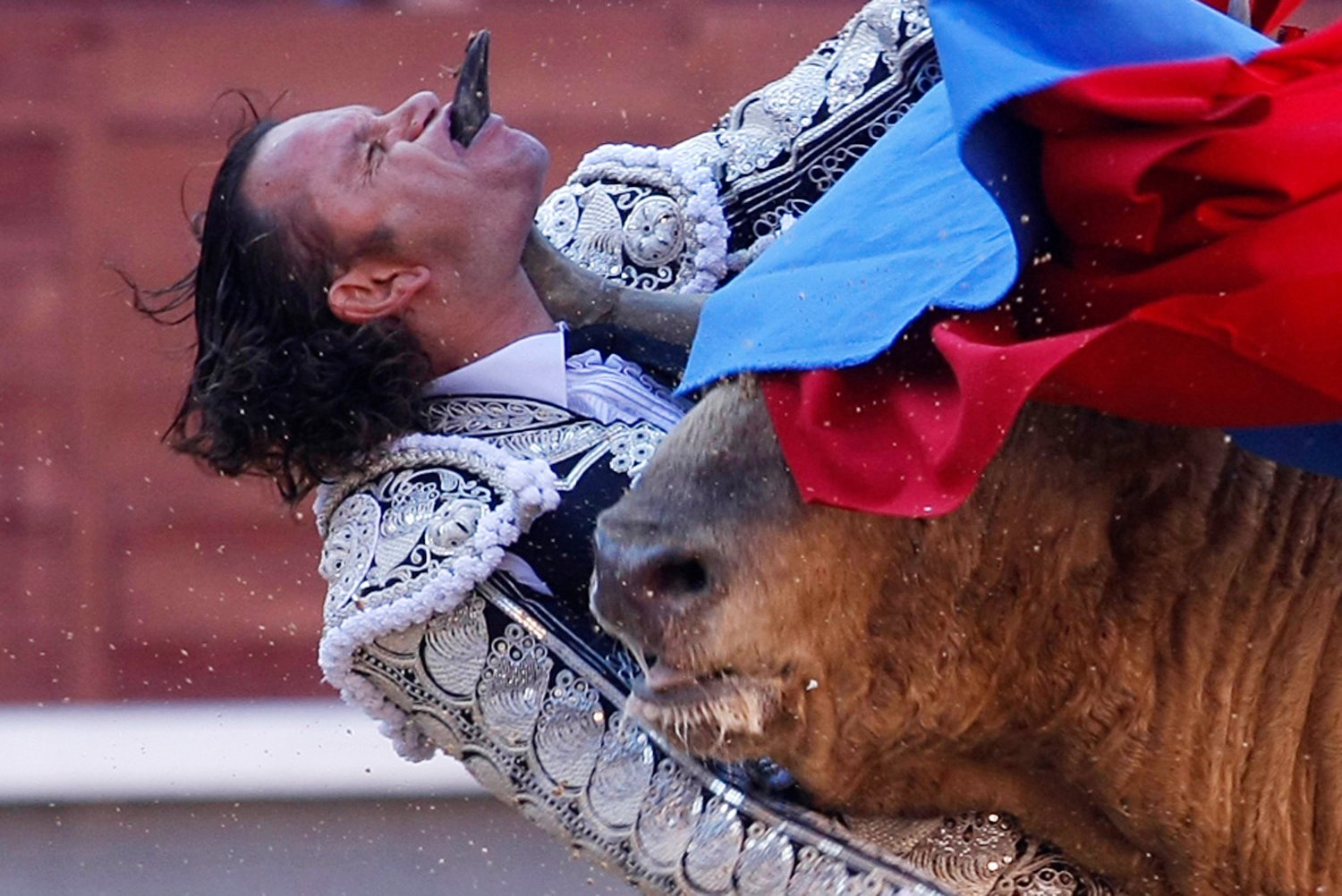 That's gotta hurt.