Canelo Alvarez Beats Daniel Jacobs by Unanimous Decision to Win Unified Middleweight Title
"We just did our job."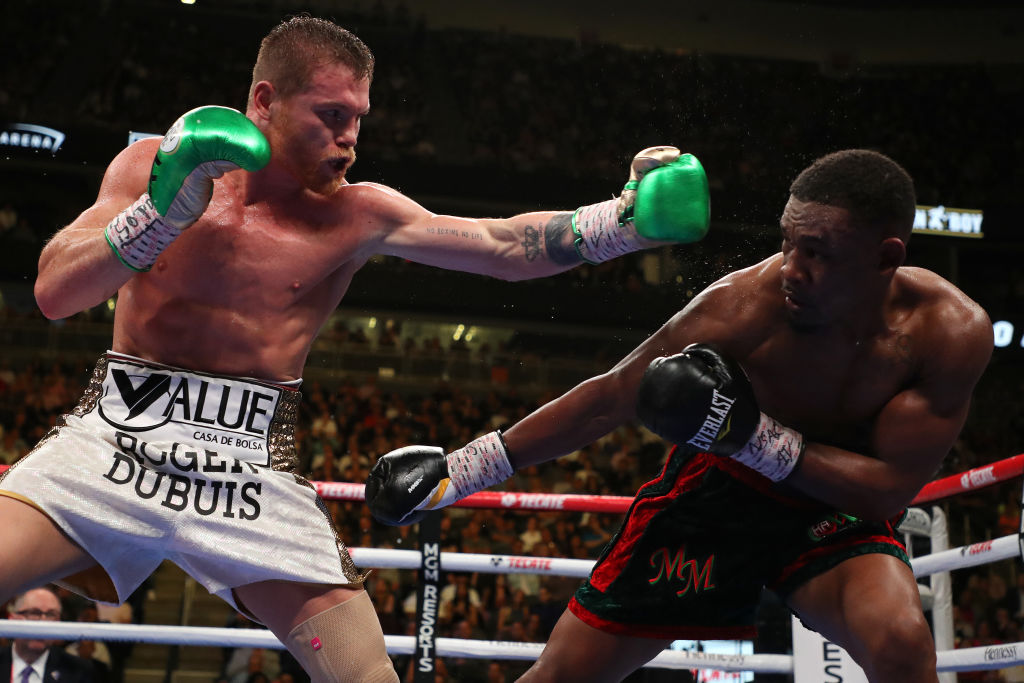 Boxing's biggest star, Saul "Canelo" Alvarez, and number two contender Danny "Miracle Man" Jacobs finally faced each other Saturday night at the T-Mobile Arena in Las Vegas. After a week of talk, predictions, a weigh-in scuffle and a fight-day weight controversy, the middleweights squared off to determine who would claim bragging rights as the best boxer in the world. 
In the end "Miracle Man" couldn't pull off a miracle. Jacobs lost to Alvarez by unanimous decision despite the latter's superior height and reach. 
Jacobs entered the arena first, walking to the ring to Jay-Z's "Empire State of Mind." Canelo Alvarez entered next, looking like an Aztec deity in a gold and white poncho. His arrival sent the overwhelmingly-pro Canelo crowd of 20,203 into a frenzy. 
A few minutes before 9 p.m., announcer Michael Buffer stepped to the microphone. "For the thousands in attendance and the millions watching around the world," he said. "Let's get ready to rumble!"
The rumbling wasn't evident early. Both men were cautious in the first few rounds. Canelo stalked Jacobs but didn't attack much as he felt out the the taller man's range. Jacobs was content to keep moving backwards, wary of Canelo's lightning pop-shots.
https://twitter.com/abdulamemon/status/1124895516544897024
Fans chanted "Can-el-o! Can-el-o!" throughout the match, but this was a tale of two fights. By the sixth round both boxers had gotten more comfortable. Channeling some of the bad blood from the weigh-in, they exchanged flurries with bad intentions. Jacobs was the one attempting that more is better approach, but Canelo's precision and punching power only became evident. 
In the seventh round, the crowd jumped to its feet as the fighters went at it in the middle of the ring.
The action didn't let up in the eighth and ninth rounds. Jacobs even switched back and forth into a southpaw stance to try and throw Canelo off his game, but this didn't fluster the Mexican superstar. 
By the tenth round, Jacobs' eye was swelling. The Brooklyn fighter still managed to get Canelo on the ropes and unleashed one of the best flurries of the fight. The last two rounds were much of the same, two of boxing's best emptying their tanks.
Judges gave the win to "the pride of Guadalajara, Mexico," with scores 116-112, 115-113 and 115-113 respectively. Canelo raised his arms in triumph.
Through an interpreter Alvarez later said Jacobs "was just what we thought. We knew he was going to be a difficult fighter, but thank god we did things the right way, what we were going to do. It was just what we thought because of the style of fight that he brings, but we just did our job."
Jacobs told reporters, "I feel accomplished, l feel great." 
"I have to go back to look at the tapes to see exactly what the judges thought," he continued. Jacobs indicated his corner said he was up, and he kept "pushing forward" in order to "finish strong." 
Canelo is "a tremendous champion," Jacobs concluded, "and I tip my hat to him. I gave my all out there. You'll see Daniel Jacobs bigger and better next time."
Alvarez's accuracy and power was the key. According to Compubox, Canelo landed 40 percent of his punches compared to Jacobs' 20 percent. 
None of the fans in T-Mobile Arena—including Gennady "GGG" Golovkin and WBO middleweight champ (and possible future Canelo opponent) Demetrius Andrade—could argue with the judges' unanimous decision.
Canelo himself—with a $35 million dollar payday and now owner of three of the four major middleweight belts—appeared pretty pleased with his performance.
"Viva la Mexico!" he shouted to the enthusiastic crowd.