Canelo Alvarez On Dealing With Adversity, His Love Of Golf, And Life After Boxing
The reigning super-middleweight king opens up about his pugilistic career.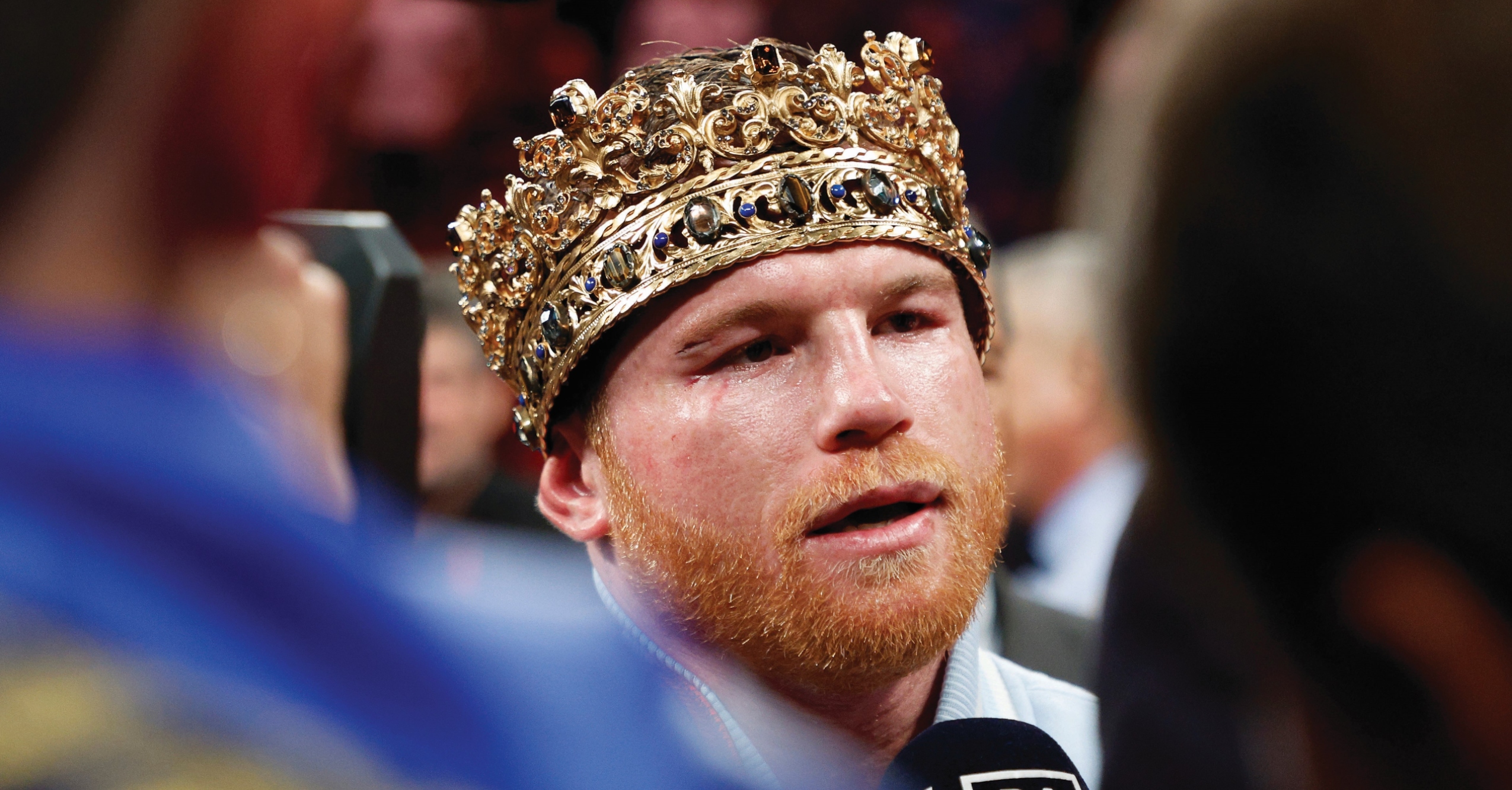 (Sarah Stier/Getty Images)
It was a nagging pain Canelo Alvarez walked away with following his May, 2022 defeat at the hands of Russian light-heavyweight champion Dmitry Bivol. Of course, pain is an occupational hazard for a fighter, but persistent pain could be something to take seriously—if you let it slow you down.
Which Alvarez didn't, completing a fraught trilogy of battles with middleweight Gennady Golovkin last September with a win, revealing only after the fight that he could barely use his left hand. Undergoing surgery in November, Alvarez, whose career spans roughly 17 years with a record of 58-2-2 with 39 KO's, is currently weighing a rematch against Bivol, only the second fighter ever to beat him.
Some say Alvarez, who has won multiple world championships across four different weight classes, was mismatched, scaling up to fight a boxer who was just too big for him.
"Obviously I now have more weight on my body to move and I'm not used to it, but I don't care about that," Alvarez says about the prospect of a rematch. "I just need to be able to train 100 percent, no injury, nothing, and I'm going to be great. It's about being 100 percent in my body. I started healing and I feel good."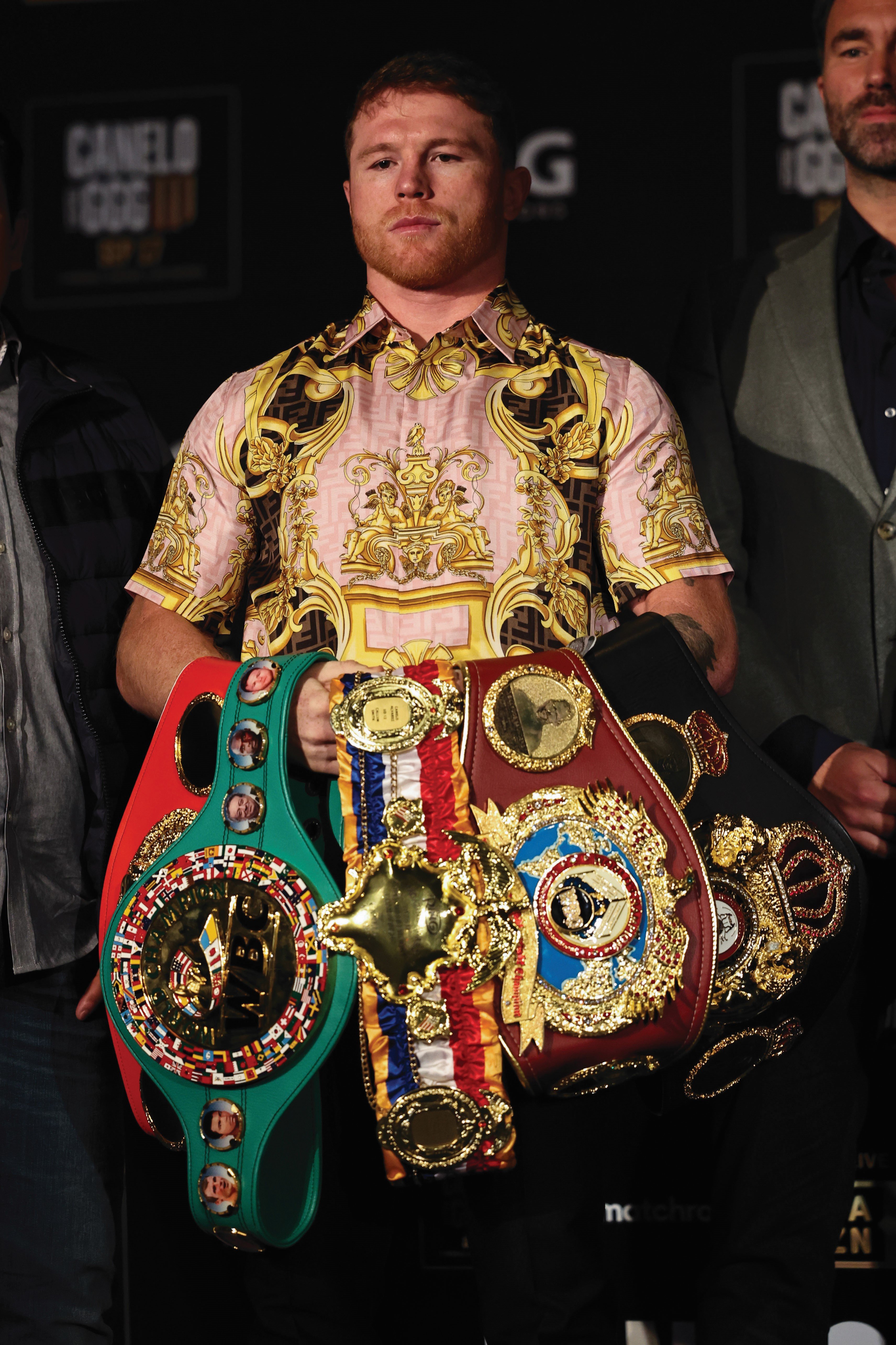 Growing up on the family farm in Jalisco, Mexico, Canelo was the youngest of eight children, seven of them boys, and all of them professional boxers. He started fighting when he was 13 years old. Within two years his amateur record was 44–2 with 12 knockouts. He went pro at 15, putting together a sterling record with only two losses that has aficionados calling him the best pound-for-pound fighter alive.
On May 6, Alvarez returned to his native Guadalajara and defended his four super middleweight title belts against Britain's John Ryder in his first fight in his home country since stopping Kermit Cintron in 2011. The Mexican superstar didn't score a knockout against the gritty Ryder, but cruised to a wide unanimous decision victory.
"I'm happy being number one 'cause I sacrificed all my life to get here," Alvarez says. "But I need to keep training harder than ever because you need to maintain that number one, because everybody wants that place. So, I think you need to love what you do and still train like you are nothing."
That's all well and good, but training is hardly a game plan. Then again, what's the use of a plan when, as Mike Tyson so cogently suggested, "Everyone has a plan until they get punched in the face."
"You need to regroup sometimes," Alvarez notes. "In the ring, as a fighter you try and make a little plan, but sometimes you get clocked and it's not the plan you chose and you need to be able to improve in the ring. You need to be able to improvise and that happens a lot of times in fights."
Alvarez's only other loss besides Bivol was his 2013 fight with Floyd Mayweather when Alvarez was a mere 23 to Mayweather's 36. Shortly after being beaten by Bivol, Alvarez said on the DAZN Originals series, The Making Of, "Simply, it was down to experience. If I compare that Canelo with Canelo today, they are completely different. It'd be a completely different fight now (against Mayweather)."
An outstanding counterpuncher, Alvarez is known for dodging danger and exploiting openings. When asked about the worst punch he ever took, he recalls one that left his liver stinging. "All the fight I feel the pain. I don't remember the name of the boxer, but I remember the pain." At the age of 32, there's no doubt he's feeling the pain, especially in his hand.
But only a fool would underestimate the ferocity of his punch. Just ask Billy Joe Saunders, who suffered a broken eye socket care of Alvarez's formidable right uppercut. Still, he's only five years away from his announced retirement age of 37, after which he will indulge in his second favorite sport, golf.
He practices an average of four hours a day, and plays every weekend, whittling that handicap down to a six while learning English on the course with friends.
"I'm going to the golf course to be more calm, and get out of boxing," he says. "That makes me feel better when I go on training in boxing. My wife doesn't like it a lot cause I'm always on the course. But I love it."
He also loved appearing (where else but on a golf course), in the Michelob Ultra Super Bowl ad alongside star athletes like Serena Williams, Tony Romo, Miami Heat forward Jimmy Butler, soccer star Alex Morgan and L.A. Sparks forward Nneka Ogwumike. The massively popular Michelob ad coincided with Álvarez's cameo in Creed III out earlier this year.
"I always say I could play a Viking or something wild, maybe," he says, considering his on-camera options. "But I don't see myself in a movie."
And when retirement comes, he still has no plans to turn away from boxing. In 2010, he established Canelo Promotions with his trainers, father-and-son team Chepo and Eddy Reynoso, operating mainly in Mexico.
"I always dreamed to be a world champion but not of this magnitude," he laughs, looking back on a remarkable career. "I stay humble and calm and grateful with life and everybody around me."